The Pandemic Is Breaking the Bonds Between Texas Families and Their Beloved Public Schools: Why Some Are Stepping Off the Reopening Roller Coaster and Unenrolling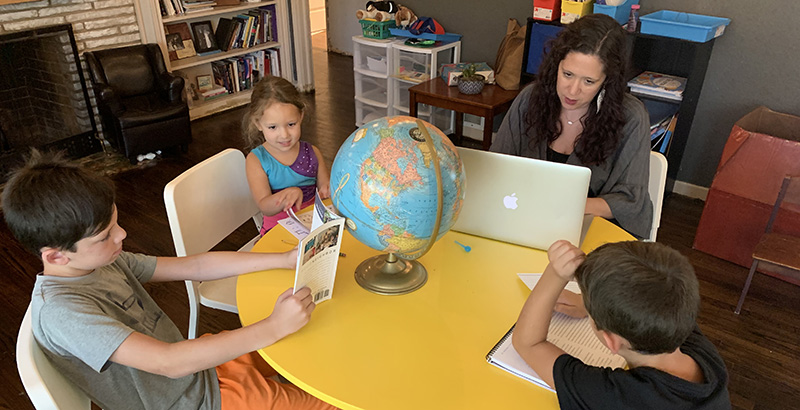 San Antonio schools start taking virtual attendance next week — and some kids won't be there.
When officials announced that schools would not reopen for in person learning, parents across the city started wrestling with whether to return to remote learning or start considering other options.
As similar scenarios play out across the country, a growing number of San Antonio families are unenrolling from public schools, opting to create "pods" with private teachers, tutors, or to homeschool.
"It feels like we're kind of having to make a blind decision," said Amber Meegan, who withdrew her two sons from North East Independent School District in order to homeschool. "They're all pretty unfortunate options."
While these decisions to leave public schools are not necessarily begrudging, parents like Meegan also acknowledge there is a cost to the system: When students leave their public schools, the funding goes with them.
Some parents say they will re-enroll their children when in-person learning is an option, but outbreaks and temporary closures are likely to make that less appealing for those with stable set-ups at home.
"While 'learning pods' are a creative solution to a difficult problem," said Michelle Smith, Vice President of Policy & Advocacy for Raise Your Hand Texas, "like many choice-based schooling options, they will likely segregate students into learning environments with those who have similar life experiences, and pull resources away from more diverse, traditional schools."
Experts warn pods will follow a predictable trend: As families leave public schools, it becomes easier for others to follow. As the trend grows, goods and services such as tutors and homeschool curriculum are created to support it. For parents who can support it, the new alternative becomes more and more appealing as public schools slog through a long semester of uncertainty.
It's too early to say how large the exodus from public schools will be, school district spokespeople across San Antonio said, but confirmed withdrawals are happening. With just one week until the first day of online instruction in many districts, parents are still exploring options.
Here are vignettes from three different districts, as parents decide whether to opt-out.
Fighting for control in Alamo Heights
Within days of the affluent enclave district announcing local public schools would remain closed and children would continue to learn remotely, the parents of Alamo Heights were furious.
As a parent petition circulated demanding the wealthy district supersede local health authorities and reopen schools in person on Aug. 17, many of its signatories lined up to speak at an in-person school board meeting on July 20.
And some parents added this threat: If the district didn't open, they would pull their children out of school.
"My family has made the difficult decision to unenroll my son from Howard [Early Childhood Center] until face-to-face learning is available," said Annabell McNew. "We hope that this will be soon so that we can re-enroll in the school district that we have carefully chosen to live and invest in."
For years, while surrounding districts lost students to charter schools, and poorer districts lost students to white flight, Alamo Heights has retained a loyal base. Many, like McNew, are third and fourth generation alumni. The 5,000-student district has an "A" rating from the Texas Education Agency and parents fund and support a district lacrosse club and business incubator at the high school, as well as numerous booster clubs.
But the strain of the pandemic appears to be testing that bond.
McNew's comments underscored a theme at the board meeting: parents had chosen to live in Alamo Heights for a reason — the schools. Average home values in Alamo Heights are triple that of San Antonio, as is the average household income ratio. Parents wanted their children to get the education they pay for with their tax dollars.
They also downplayed the health risk of in-person learning, and insisted that the online environment was untenable and dangerous.
"Right now we're advocating hiding instead of getting them out there and developing perseverance," said varsity football mom Ashlee Kinsel, expressing concern about the effect of social isolation, comparing it to solitary confinement in prisons.
"Screens don't build joy. Zoom calls don't build joy," she said. "Let the kids play."
Staying online, kids had easier access to pornography and other vices more easily than to their coaches and mentors, Kinsel said. "Right now it is easier for our teenagers to access pot and drugs than it is to have face to face access to a coach."
Her comments also revealed a growing chasm between parents and teachers, something rarely seen in Alamo Heights, where the district's nonprofit foundation last year dedicated $250,000 of its $1 million budget to augment teacher salaries.
During virtual learning, Kinsel said, "teachers didn't give a shit."
Talia Howard, an Alamo Heights teacher and representative of the Texas State Teachers Association, was one of a cohort of teachers who spoke, intermingled with the parents. Their comments, she told the board, left her feeling "disrespected" and "insulted."
She quoted several of the parents who had accused teachers of not being willing to "do their jobs," calling their comments "demoralizing and disheartening."
"Some Alamo Heights parents are failing to recognize the fundamental health rights of employees," said parent Kelly Lipkin, who warned of an "unmendable divide" between wealthy parents and teachers.
Filling in gaps
Lara Kilgore, the owner of tutoring company Beyond Education, was at the meeting, trying to understand the needs of parents, some of whom may soon be her clients.
Kilgore has seen a lot of new interest in private tutors, mostly to supervise kids doing virtual lessons from schools, but in some cases to serve as teachers who would create lessons for homeschool families or small groups. Her rates are $17.50 to $40 per student per hour.
Demand for the latter has been driven by the "inability of schools to guarantee any kind of consistency," she said. Reopening plans laid out in four-week increments has left parents searching for something more predictable.
Kilgore is aware of the inequities of private instruction, but also feels it has the potential to help. While she tries to anticipate the needs of the parents on her doorstep, she's also reaching out to local districts and nonprofit organizations to find a way to make free or subsidized tutoring available to low income families worried about falling behind.
"Beyond Education's core value is 'your child is born to be successful,'" Kilgore said, "It only made sense that we, as a company, lent our resources and experience in whatever way possible to remove barriers."
Uprooted in North East ISD
For some parents, like Meegan, the choice to unenroll has been agonizing.
"We love our school," she said. Castle Hills Elementary School is on a year-round schedule, so the decision came earlier for her family. By July 20 they had unenrolled.
Meegan felt she was being asked to risk her children's wellbeing in the name of solidarity with the district. Her second-grader struggled with the screen time required for virtual learning in the spring, and she saw some of her fourth-grader's anxiety symptoms returning.
"Ultimately we chose what we thought would be the best decision for our elementary-age boys," she said. And that means unenrolling from Castle Hills and homeschooling until in-person learning resumes.
Meegan continues to support the PTA at Castle Hills Elementary, where her children were enrolled, and she has been a supporter of RootEd, a public school advocacy initiative started by parents to counter the marketing of charter schools. After decades of steady growth suburban North East ISD reported declining numbers in the 2010's, and attributed that to growth in the charter sector.
She hates feeling like she's abandoning her school, but she also doesn't see her motivations as similar to those leaving for charters.
Parents unenrolling during the pandemic don't feel like they've found a better option, Meegan said — they're trying to find a less terrible one. She can only homeschool because she works part time, and her husband helps with the kids as well, though he works full time. "That cushion makes a big difference," she said.
Meegan is focused on helping parents who don't have that flexibility, trying to schedule regular outdoor play dates, or a pod-like arrangement so that single moms can get work done.
"I do recognize that our choice is privileged, and I have a lot of guilt about that," she said.
Coming back home to San Antonio ISD
Rose Blanco won't be unenrolling her students from San Antonio ISD. Quite the opposite, actually. She had been one of the thousands of district parents to leave for charter schools in recent years, steepening decades of enrollment decline as the once-diverse district lost white and middle class students.
The pandemic brought her back.
"I think that they're going to do an excellent job, because even in the first round of [distance learning] they did so well," Blanco said. The school, an SAISD school partnered with charter operator Democracy Prep, was "on point" with laptops, tablets, and tech support, she said. "If you had need, they would say 'yes,' no questions asked."
She still had one child enrolled at the school, she said, but Democracy Prep at Stewart Elementary extended academic, social, and tech support to the whole household, including her children who attended non-district charter schools. The support from Democracy Prep was much stronger than from anywhere else, she said.
The school kept constant tabs on food, tech, and housing conditions, Principal Virginia Silva said, and tried to make sure that not only their students but their entire community felt secure.
The teachers stayed engaged over the summer with meditation classes, and community workshops with families, Silva said. "Teachers have gone out of their way to make it creative."
Blanco was so pleased, she decided to enroll all of her kids at Democracy Prep for this year.
The roll out of back to school plans has been very organized, Blanco reported. "They're even considering and thinking of working parents," Blanco said, offering evening and weekend options for Zoom sessions, and handing out binders full of need-to-know information.
Silva understands the desire for parents who can to join pods, to homeschool, to do whatever they need to do to get through the pandemic. She's staying focused on her community, almost all of whom are low income, and making sure that their lack of options does not equal a lack of opportunity, she said.
"It's our moral imperative," she said, "to make sure that we are reaching out to the people who don't have that security to fall back on."
Support The 74's year-end campaign. Make a tax-exempt donation now.