A School Budget 'That Doesn't Recognize There's a Pandemic': Experts & Advocates Sound Alarm That DC Is Underfunding Key Elements for All-Virtual Learning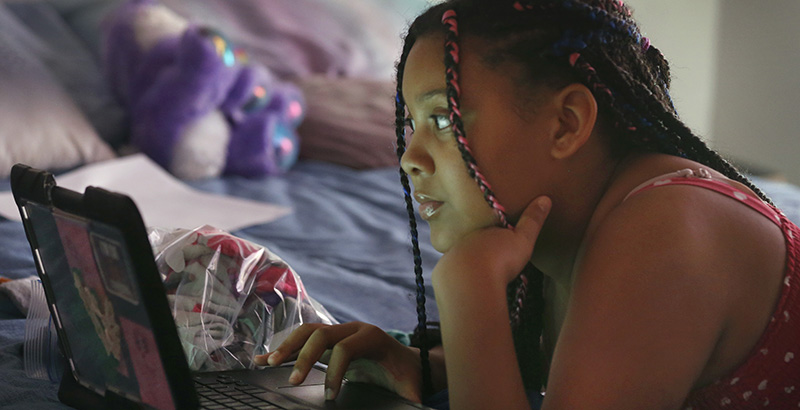 D.C. Public Schools announced its all-virtual reopening plan a week after the D.C. Council approved the local FY21 budget, worrying experts and advocates that current funding levels aren't enough to meet the challenge.
While remote learning is expected through at least Nov. 6, nearly half of respondents to an ongoing DCPS survey — 49 percent —know a student needing a device. Child care providers, advocates say, need more stabilization funding so they can stay open and serve D.C.'s youngest learners. Children and families need access to mental health services, mold-free housing and eviction protections so students have a safe place to learn.
Eight experts and advocates interviewed by The 74 say these areas require millions more than was funded in the $8.6 billion local FY21 budget, approved July 23 and going into effect Oct. 1.
"It's a budget that doesn't recognize that there's a pandemic," said longtime D.C. budget expert Mary Levy, adding that the local budget "is critical" in ensuring that students get the supports they need.
Council members have said the city had to make "very difficult decisions" as D.C. stares down $1.5 billion in projected revenue shortfalls through next fiscal year from COVID-19 — a hole that may deepen with revised projections expected this month. Overall school funding, advocates noted, did stay intact for FY21 while school districts like New York City face millions in cuts.
Still, they said the budget was a missed opportunity for the mayor, council and school district to be proactive in addressing students' and families' pandemic-era necessities. City leaders will now have to "step up" and revisit the budget in coming months, they added — likely with building pressure to tap rainy day funds or implement contentious wealth taxes. Federal relief funding, especially with the current administration, is not something D.C. should "count on," Levy said.
"We could've gotten ahead of the curve," Maya Martin Cadogan, executive director of parent organization D.C. PAVE, said. "Now we're going to salve the wound."
Ready or not for reopening
Getting students online is even "more important" now that DCPS's 52,000 students will be learning virtually through fall, said parent Grace Hu with Digital Equity in D.C. Education. And it isn't cheap.
For a successful virtual experience, every student needs a device, like a laptop, Hu said — and there has to be "added attention" to building capacity for IT support, such as hiring technicians. Students also need low-cost, high-speed internet options beyond Comcast's $9.95/month package that Cadogan said isn't cutting it for families who expect a "high-quality virtual option."
Results from an ongoing district survey reveal that a growing percentage of respondents — 49 percent as of Tuesday, up from 44 percent last week — have a student in need of a device. Twenty-two percent of respondents don't have a hotspot or reliable high-speed internet.
Groups like Digital Equity and the teachers union had requested an additional $11 million in the FY21 budget to ensure a 1:1 student-device ratio. District officials, however, had told the council's education committee chair, David Grosso, that they didn't need more than the $6.9 million budgeted.
"[We're] disappointed that we didn't see a more concerted effort to invest in technology" earlier, teachers union spokesman Joe Weedon wrote in an email.
Levy added that with the FY21 budget running from Oct. 1 through Sept. 30, 2021 — well past the slated all-virtual learning period — the lack of line items in the budget for personal protective equipment necessary for in-person learning is also concerning.
"My advice to parents and staff about in-person learning is, 'Show me the money,'" she said. "Reassurances are not enough."
Asked if the FY21 budget is well-equipped to serve students this coming year, Grosso said in a statement, "While not perfect, [the budget] seeks to blunt the impact of the pandemic" for students, and it marks "the fourth straight year of increased investments in D.C. schools." He added that DCPS is using $4.9 million of more than $21 million in federal CARES Act money for technology, along with $1.2 million in "local dollars for technology support."
The district hasn't released spending breakdowns of its federal funding, despite requests. DCPS Chancellor Lewis Ferebee on Tuesday maintained confidence in the budget, saying it "promotes access to high-quality learning" and "mak[es] clear the district's firm commitment to students."
Advocates acknowledge that DCPS could be starting the year on Aug. 31 in a more precarious fiscal position. All D.C. public schools will see a 3 percent increase in per-pupil funding — a projected $330 more per student that Cadogan says "is going to be critical." The council also green-lighted $3.2 million for expanding school-based mental health programs, which the D.C. Fiscal Policy Institute's Qubilah Huddleston said should fund mental health clinicians for nearly 60 schools.
Implications for learning across the budget 
Budget shortcomings outside of education could also be harmful to students this fall, advocates said.
"Students live in families, and if their families are struggling, if their families are struggling to pay rent … or go to work, that impacts the students as well," Huddleston said.
With DCPS's pre-K classrooms virtual, child care centers are an especially critical option to support working parents and continue building youngsters' socialization skills, said Jarred Bowman of the Under 3 D.C. Coalition.
D.C. is reportedly at risk of losing 20 percent of its child care seats, about 6,500, due to COVID-19. The coalition had asked for $10 million in emergency grant funding to help providers reopen, and another $10 million in FY21 for implementing safety protocols, like purchasing class partitions and hiring more cleaning staff.
The council approved $5 million in emergency grant funding and $1.4 million for FY21.
While the funding is still "a win," Bowman said, the mayor and council failing to "ensure that there is not a significant child care shortage in D.C. is a real point of concern."
Some programs that could nurture a safer, stabler environment for students learning at home also appear underfunded, experts said.
Fair Budget Coalition D.C. requested $10 million more in FY21 toward repairing public housing, which often has "mold … [and] rodents that make it unsafe for people to be in their homes even though we're being asked [to]," said Stephanie Sneed, executive director of the coalition. Emergency rental assistance program funding, too, secured only half of the $12 million the coalition deems necessary.
Evictions are "a traumatic thing for a kid, any month, any year, but particularly now in the current [year]," she said.
A $9.5 million boost to community-based mental health was also slashed at the last minute to $5.5 million after the council opted to forgo an advertising tax. The federal government matches these investments for Medicaid expenditures, so the drop could limit services for families in lower-income Wards 7 and 8, who may "need it most," D.C. State Board of Education member Zachary Parker said.
"There is still a great need for equity in this city" for students and families, Parker said. "We need to move beyond words."
The council is now out into September, though the mayor can propose a supplemental budget pending revised revenue projections. Those projections are expected this month.
Get stories like these delivered straight to your inbox. Sign up for The 74 Newsletter