In First K-12 Hearing Under Democratic Control, House Ed Committee Shines Spotlight on School Spending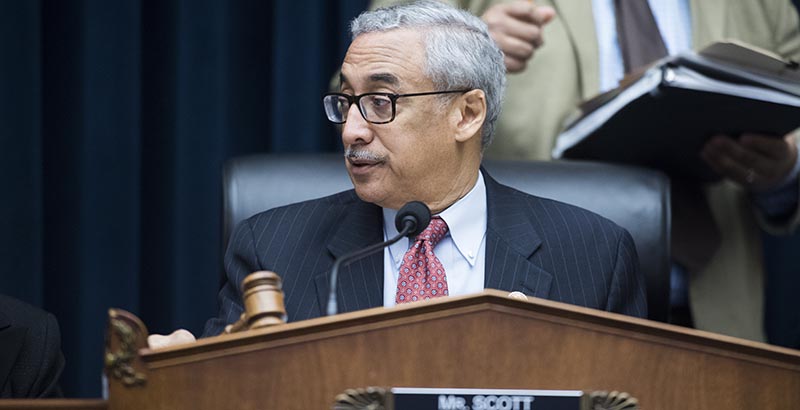 The House Education and Labor Committee Tuesday came to wide agreement on perhaps the least controversial tenets of K-12 policy: public schools should provide a quality education for all children, teachers should be paid more, and schools shouldn't be falling apart. There was plenty of disagreement, however, over how to accomplish those goals.
The hearing, the first to focus on K-12 under the new Democratic House majority, was specifically called to focus on school spending, with an emphasis on "underpaid teachers and crumbling schools." The meeting, which stretched to just shy of three and a half hours, came the day after teachers in Denver went on strike and two weeks after Rep. Bobby Scott, the committee's chairman, introduced a $100 billion school infrastructure spending bill.
Democrats used the hearing to highlight several examples of crumbling schools, from ones infested with mold in New Jersey to a frigid classroom in Washington where a science teacher and her students used a hot plate to keep warm.
Scott insisted that the infrastructure bill "must be part" of any big infrastructure spending package like the one President Trump called for in his State of the Union address.
But Republicans are skeptical. The solution to improving public schools isn't more federal spending, particularly on a new program, they said. They instead called for more local control and innovation from the ground up.
Rep. Virginia Foxx, the top Republican on the committee, mocked Democrats, saying they haven't had a new idea in decades to improve schools beyond more spending. (Scott, for his part, took it as a compliment that Democrats have long advocated for increased spending.)
Rep. Dusty Johnson, Republican of South Dakota, said his state has a special tax to pay for school infrastructure and had recently raised taxes to give teachers a raise. A federal program, like the $100 billion infrastructure bill Scott proposed, would amount to "rewarding bad behavior" of states that hadn't set aside sufficient resources, he said.
"Rather than coming together to figure out how we properly invest in our existing programs and in our existing obligations, we are instead going to create another program so that we can once again over-promise and under-deliver," he said.
The discussion, ultimately, was largely theoretical: the House Education and Labor Committee, when writing legislation, can recommend how much money should be spent on particular programs, but it's up to the Appropriations Committee to set specific spending levels. Federal education funding hasn't kept up with inflation or with the increasing student population, according to the Committee for Education Funding, a coalition of education advocacy groups.
Much of the hearing focused on testimony from Ben Scafidi, an economics professor at Kennesaw State University in Georgia, who said that since the 1990s, total spending on schools has gone up 37 percent, even though inflation-adjusted pay for teachers has fallen slightly and student performance has remained stagnant.
Scafidi attributed much of that increased spending to non-teacher staff, who now represent a greater share of school district employees than teachers. By cutting back on non-teacher staff, states could provide raises to employees or private school scholarships to needy children, he said.
Many Republicans seized on the issue as mismanagement of resources.
"When the majority of employees are not teachers, it's upside down," said Rep. Ron Wright, Republican of Texas.
Democrats on the committee and Randi Weingarten, president of the American Federation of Teachers, attributed the increase in non-teacher staff to increased educational services provided to students with disabilities and schools' attempts in recent years to meet broader student needs, like mental and physical health.
"We have shifted to thinking about the well-being of children as first and foremost. You need to meet the needs of children before you can get to their instructional needs," Weingarten said.
Under questioning from Democrats, Scafidi couldn't say what positions should be eliminated. Many of those staff are essential, he said, "but the issue is in what numbers and what capacities."
Democrats also pointed out that even if spending has increased nationwide, the picture varies widely by state and school district.
Get stories like these delivered straight to your inbox. Sign up for The 74 Newsletter