How Arizona Is Building Its Own Talent Pipeline to Solve the Stubborn Teacher Shortages Hitting State's Low-Income Schools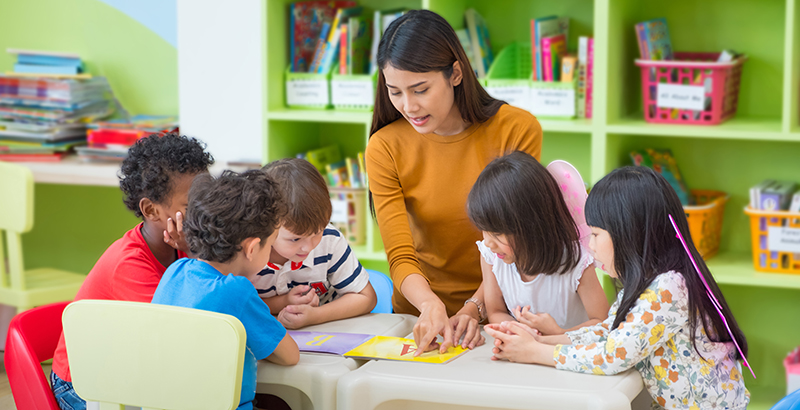 Rimmed by spectacular mountains and 200-year-old desert cacti, the Vail school district in southern Arizona has grown from a few hundred to more than 12,000 students over the past two decades, spurred by the growth of nearby Tucson further into the scrub land of the Sonoran Desert.
The district's expansion has been managed by a respected and resourceful district leader who credits much of the success of its schools, which rank among Arizona's best, to its selection of teachers.
Teachers who have earned credentials through traditional programs "remain our meat and potatoes," said Calvin Baker, the superintendent who has run Vail schools for 30 years. But the district also serves as its own school of education, training non-certified staff — as well parents and community volunteers — to become educators.
"The true benefit of having your own [training] program is the changes it makes in the school culture," Baker said. "If you get a classroom aide, teacher's aide, a paraprofessional, and they're struggling learning to teach algebra, their approach to students who get can't homework done is going to be different than other teachers. We're a community of learners. And when they do become teachers, they offer a symbol for all the other paras and aides in the organization."
Vail's work has intersected with an education plan launched by the Arizona Chamber Foundation, a research-based affiliate of the state's Chamber of Commerce, around a bill signed into law by Gov. Doug Ducey in 2017 — despite opposition by teachers unions — that allowed schools to not merely train aspiring teachers but issue credentials to them as well.
With a $50,000 seed grant from the U.S. Chamber of Commerce Foundation, ACF began in 2014 to work with educators in implementing a set of workforce-building strategies called Talent Pipeline Management. Elsewhere in Arizona, and in other states, TPM has been used as a blueprint for employers trying to build a better labor pool in industries like energy and health care.
ACF officials were convinced the pipeline method could also be effective in helping districts solve persistent teacher shortages in hard-to-staff, low-income schools. And they believed the new teacher licensing law, which still requires a college degree, two years in a classroom, and data showing candidates were effective, offered an opportunity to prove it. In the new scenario, district leaders and principals were equivalent to the corporation owners and managers in other industries.
ACF's education arm, called A for Arizona, had already "back-mapped" the state's effective teachers, based on student test scores, to where they had been trained, and interviewed K-12 and higher education leaders across Arizona.
"We surveyed education leaders in high-performing schools, and very few felt they were getting the kind of teacher talent they need to close the achievement gap," said Rebecca Hill, ACF's director of research and policy. "They all said the best provider was themselves and the training they gave in the school. They said external providers were not generally focused on what they needed."
The organization determined it could help 86 schools statewide that earned the highest academic rating while also serving student populations where at least 60 percent were eligible for free or reduced-price lunch. Forty percent are charters in a state where charter schools educate almost one-fifth of students, the highest percentage in the nation.
"One thing we noticed was how many were in southern Arizona, including Nogales," Hill said of the border city, which is nearly 100 percent Hispanic and poor. "It was a real mythbuster of what low-income English language learners were capable of. They had some of the highest results in the state. And lessons we learned there translated to our urban schools."
As with TPM in industrial settings, where employers in the same sector are encouraged to collaborate with ideas for improving the labor supply, A for Arizona convened schools to identify common recruitment and evaluation issues and create bespoke systems for attracting strong classroom prospects.
The effort faces statewide obstacles. A September survey by the Arizona School Personnel Administrators Association found that nearly 25 percent of the state's teaching positions remained vacant, and about half were filled with staff lacking certification requirements. The Arizona Republic began an August report on similar findings by saying, "There's a good chance the teacher in front of your child's classroom this year isn't fully trained to teach."
Some classroom educators left, or stayed away entirely, because of the state's low pay, which ranked among the worst in the nation until the governor agreed to a three-year, 19 percent raise last spring, ending the teachers' five-day statewide walkout.
Ducey's "grow your own" licensing bill may eventually emerge as a broader, if still partial, fix.
"We jumped all over the state law," said Baker, the Vail schools chief. "If someone has been in a regular workforce, if they've been in sales, law enforcement, management, they bring a different perspective to kids — and to the teacher meetings in the teachers' lounge. They're intimately familiar with the world we're trying to prepare kids for."
Arizona has the only TPM plan devoted solely to improving education. But other TPM programs focused on closing the so-called skills gap — the deficit of workers trained for increasingly technical positions created by recent advances — typically reach back to high school.
In Kentucky, whose economy trails the rest of the country but which has enjoyed manufacturing growth, a TPM analysis found that worker shortages resulted in part from underdeveloped relationships between employers and school systems, said Beth Davisson, executive director of the workforce center at the Kentucky Chamber of Commerce.
Working with manufacturers in the rural southwestern part of the state, where "engineering turnover was crazy high," Davisson found that young workers left because there was no place nearby to get further training and employers weren't engaging with local schools to build what she called "a culture of engineering in the community."
"There's been a huge problem between what employers recognize and what education pushes out," she said. She believes new education and early exposure-based initiatives hold promise.
"We're working with employers across the state to plug them into schools," she said. "They need not only to provide training and equipment, they have to build the pipeline."
Traditionalists might balk at education reform guided by the business-based Chamber of Commerce — an effort based on management principles — but ACF Chief Executive Lisa Keegan, formerly the state's top education official, thinks that's backwards.
"When I started at the chamber with A for Arizona, I said, 'Let's flip this. Let's quit looking at failure. Let's look at who gets it done and do more of that,'" she said. "The reason this has been so successful is that it's a reflexive business principle to look at what's successful and do more of it."
Disclosure: The 74's coverage of the skills gap, the challenges and opportunities of better educating our future workforce, and efforts underway to improve local employment pipelines is underwritten in part by the U.S. Chamber of Commerce Foundation.
Get stories like these delivered straight to your inbox. Sign up for The 74 Newsletter