As Hewlett-Packard Can't Deliver Computers on Time, Cleveland School District Sent Scrambling to Find 9,000 New Laptops in Two Weeks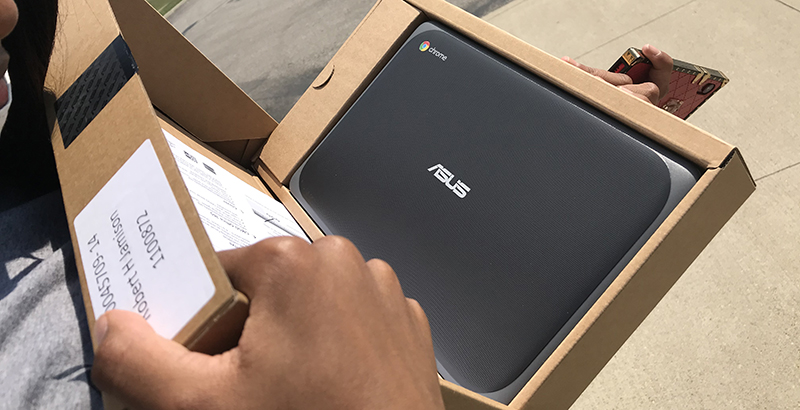 The Cleveland school district begins the fall semester — entirely online — in two weeks, and in the 11th hour, it heard from a major supplier that it would not be able to give every student their own laptop by then.
The Hewlett-Packard Company reneged on a commitment to provide 9,000 laptops by Sept. 8, the first day of the new academic year, and now the infuriated school district is rushing to find computers for students before then.
"Based on our conversation with your team, we made a commitment to our community," district administrator Diana Ehlert wrote to Hewlett-Packard Thursday. "Your team absolutely assured us that we would have the devices. Now we are in a position of starting fully remote on September 8th and scrambling to find other options."
The district canceled the $4.7 million order last week after Hewlett-Packard warned that it could not provide laptops until October, which would have left thousands of the district's students challenged to access their classes for at least a month. The exact number of students who could be left without any computers and how many will have to use old ones or share devices with family members are still unclear.
Similar delays are happening across the country, with schools increasingly moving classes online as COVID-19 continues to roil states. Manufacturers can't keep pace with increased demand for internet devices that Hewlett-Packard estimates is 10 times as high as usual.
Just last week, the Denver school district reported delays receiving Chromebooks. School districts in North Carolina and several in California are facing similar holdups, some of which are connected to the sanctioning of Chinese companies, who manufacture parts for those devices, for alleged human rights violations.
The need for devices is high in Cleveland, where 44 percent of homes have no broadband access beyond cell phone data. Cleveland is the fourth-worst-connected city in the nation, according to U.S. Census data and a 2018 study.
The district said a sales representative told them an order for 50,000 devices in Texas and 30,000 in Mississippi delayed Cleveland's order. The company denies that any other orders that came in after Cleveland's were moved ahead in the line.
Todd Gustafson, who heads Hewlett-Packard's sales to the public sector, blamed the delay on a deluge of orders.
"Our manufacturing facilities, our suppliers and our logistic partners do not have the capability or materials on-hand to flex to meet this huge spike in near-term demand," he told the district in an email Thursday. "The situation on supply is rapidly shifting as almost every school district across the country is facing a situation that is evolving — almost daily."
Asked by The 74 why his staff would quote a delivery date it knew was "rapidly shifting," Gustafson did not answer.
"We always do our best to provide accurate delivery estimates, recognizing that timing is always subject to change based on the current supply chain dynamics," company spokesperson Rekha Parthasarathy said in an email reply. "Our teams have been in daily contact with our supply chain partners to expedite delivery and we will continue doing everything we can to help the district get computers in the hands of all students as quickly as possible."
Cleveland Municipal School District CEO Eric Gordon wanted to give every student their own device to start the year — iPads for younger students and Chromebooks or laptops for older ones. The district estimates that it needs about 36,000 devices for all students and that it had about 14,000 in hand or already with students this summer.
It placed orders for about 27,000 more, so that it would have extras for backup and to replace older devices students were given in the spring. The district says more than 15,000 of those have already arrived to be handed out.
That leaves it still needing more than 11,000 to meet its goal, some of which are already on order and some for which the district is now placing orders to cover for Hewlett-Packard.
The district started giving devices to students last week at schools that meet year-round and start classes online this week. Distribution for those schools and all other district schools continues this week.
The district is also working to give students internet access, either with hotspots or through Digital C, a local nonprofit partnering with the district to make Wi-Fi a form of public utility.
Support The 74's year-end campaign. Make a tax-exempt donation now.