Technology Shortage Hits Schools: As Remote Learning Jolts Demand for Chromebooks and iPads, Districts Warn Communities' Needed Supplies Could Take Months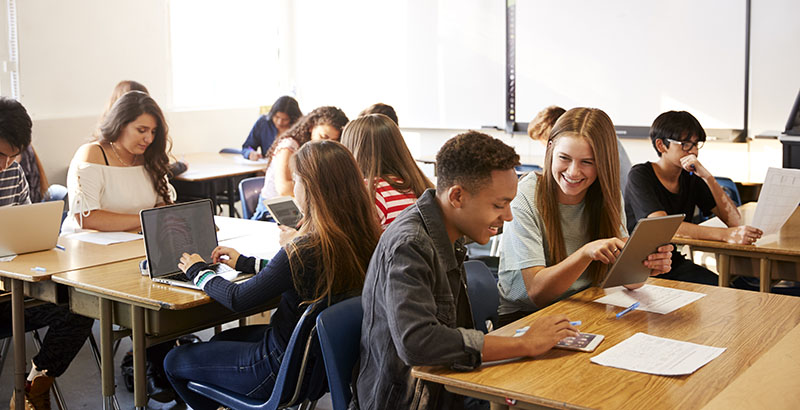 School districts in need of a sudden rush of technology will likely have to wait.
During a virtual meeting of the Ossining Union Free School District in New York, Superintendent Raymond Sanchez told the school board he is aware of the potential for a five-month gap between placing an order for new technology and receiving it.
"We are going to need to start the timeline about getting computers in hand so when school does open, we have them," he told the board at the April 14 meeting.
A report from EdWeek, meanwhile, said smaller districts in Massachusetts have requested to purchase technology from Boston Public Schools, unable to source it on their own.
A serious shortage of Chromebooks and iPads has reached its peak, says Lauren Guenveur, senior research analyst for International Data Corp., a provider of market intelligence, who studies devices and displays, tracking and forecasting national and global trends. She sees the sector correcting itself by the end of June, hopefully enabling school districts to get the technology they clamor for in time for fall.
"The demand in March and April has been tremendous," she says. "Obviously, the shift to at-home learning created demand in the U.S. for Chromebooks and iPads, and to a lesser extent Windows laptops." The demand really picked up by mid-March, after California and Washington state, followed by New York, went into lockdown. She says, though, that a healthier-than-normal inventory from 2019 stockpiles from companies concerned about increased tariffs helped to ease some of the crush. Still, "that inventory was quickly bought up," she says. Guenveur expects to see high demand, especially for Chromebooks, which represent 65 percent of the educational mobile device market, to last into July.
Consumers suddenly forced to work from home stripped supplies of readily available technology from store shelves. That, combined with the massive surge in demand from schools, has added up to a delay in finding Chromebooks or iPads for districts.
"Most of this is coming down to the supply chain in China," Guenveur says. "That is where most notebooks and tablets are sourced and shipped." The coronavirus hit China early in 2020, shuttering a large portion of factories and, according to Bloomberg, reducing industrial output from the country by as much as 20 percent. The supply chain is now recovering, with many Chinese provinces nearing 100 percent manufacturing capability, prompting Guenveur to say she expects supplies to start becoming available again in May.
Microsoft declined to comment on its educational technology supply, and a request sent to Dell, makers of one of the most popular Chromebook models, went unanswered.
One important factor in a district's ability to stock up is its size. "I think it is advantageous to be a larger district because you have the buying power," Guenveur says. "As with things in high demand, there is a bidding war. If you have money to throw around, you are going to have an easier time." At the same time, Guenveur expects consumer demand to dramatically decrease, so smaller districts may be able to consider sourcing technology through more traditional consumer channels, whether that be Best Buy or Costco.
Some of the largest districts in the country were already ahead of the demand curve. Los Angeles Unified, the country's second-largest district, tells The 74 that it has already spent $100 million sourcing Chromebooks and iPads.
"Our goal is to connect every student," Superintendent Austin Beutner wrote to parents. "We started in high school, where students will be most able to learn independently, and should reach all elementary schools by May as devices arrive from supply lines around the world."
Other large districts, from New York to Chicago, have also recently purchased new devices.
Miami-Dade County Public Schools, the country's fourth-largest district, had been preparing for the possible closure of schools since early 2020 and had an excess of 200,000 devices readily available for students, thanks to a $1.2 billion bond issue in 2012.
"More than 100,000 mobile devices, including phones with Wi-Fi that serve as hotspots for connectivity, are in the hands of students and being used for distance learning," Jackie Calzadilla, Miami-Dade County Public Schools spokesperson, tells The 74. "Our principals continue to contact parents to ensure that every child has the needed digital tools to facilitate online learning, including students who are homeless or live in migrant camps."
Having already moved forward on technology, Calzadilla says, the district has no plans to acquire new products.
With the normal peak of school district buys happening in the second and third quarters, anyone needing a device right now — or into this summer, for that matter — may be stuck waiting.
Get stories like these delivered straight to your inbox. Sign up for The 74 Newsletter