Great Hearts Hopes In-Person Pods + Online Teaching = New Type of Hybrid School
Experiment with parent-driven microschools could make learning pods sustainable while providing enrichment for kids who attend class entirely online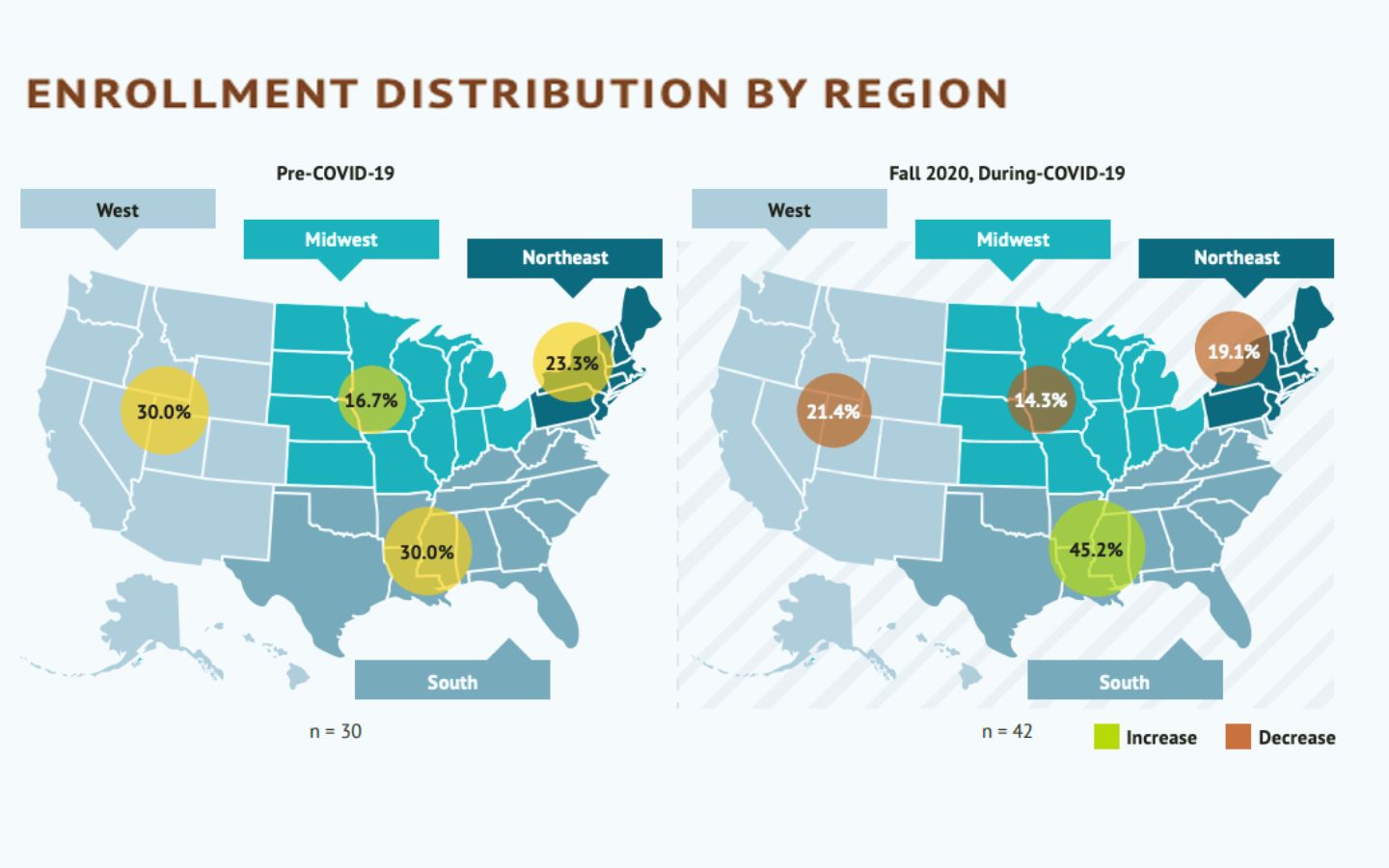 No paywall. No pop-up ads.
In the weeks after COVID first shut down schools, the headlines were replete with stories about pandemic pods, small groups that came together to share the responsibility of caring for kids, overseeing distance learning — or replacing traditional school altogether. They were as endlessly varied as they were fascinating.
There were affluent neighbors who pooled their money to hire experienced teachers, homeschool collectives that doubled down on racially or ethnically affirming instruction, civic organizations offering supervised remote instruction in parks — and so on. If they were going to set up a school in a living room or backyard, the people creating the pods reasoned, their microschools should reflect participants' individual needs far better than the classrooms they had left behind.
Education policy wonks were as captivated by the possibilities as the general public. And yet, as the experiments went forth, the downsides loomed large. Pods were expensive, labor-intensive and hard to organize. Ensuring high-quality academics is difficult.
Among those watching the pod experiments was Kurtis Indorf, in charge of developing new programs for the Great Hearts network of nearly three dozen successful charter schools in Texas and Arizona. Great Hearts uses an academic model known as classical education; its graduates score well above national averages on college entrance tests and outperform students in traditional district schools on math and reading tests. Its nine Texas schools earned a collective B on state accountability ratings in 2019, the last time reading and math proficiency data was collected.
Indorf had been thinking about an online-only school, so when the pandemic forced classes to operate remotely, he began collecting information about what was and wasn't working for families. Talking to parents about their experiences with distance learning in spring 2020, Indorf realized that not only was there demand for a high-quality, permanent virtual school, there were lots of parents who would also be interested in sending their children to an in-person microschool at the same time.
In February, the Phoenix Classical Microschool opened in Arizona, serving students enrolled in Great Hearts Online, a K-8 school operating in Arizona and Texas. Kids who opt for the microschool can attend either two or four days a week. In addition to providing a place for the students to take their classes remotely, the microschool offers outdoor activities, outings, drama and improv.
Next fall, two more microschools will open, one in metropolitan Dallas and another outside Phoenix, hopefully with at least 10 pupils each. If the new programs succeed, they could represent not just a leap forward in making learning pods sustainable, but in providing enrichment for students who attend school entirely online.
Another Great Hearts microschool serving students in two Phoenix suburbs, Victory Garden, offers a variety of enrollment options ranging from $29 a day for tutoring help to $5,400 a year for four full days of academic support and extracurricular clubs including horseback riding, foreign language and 4H. Great Hearts Microschools — DFW, near Dallas, costs $6,000 a year.
That tuition is comparable to private before- and after-school child care, says Andrew Shahan, director of Great Hearts Microschools, and is hopefully within reach for community organizations that want to use grants to operate a tuition-free pod or award scholarships to low-income families.
The new programs are not the first microschools, but past efforts have been funded privately or philanthropically, or have involved for-profit companies that take a portion of each pupil's funding. Great Hearts Microschools may be the first in which tax dollars cover the public education component, while parents are able to decide what other services they will pay for themselves.
Students will enroll simultaneously in the virtual public school and a private microschool. As a public charter school, Great Hearts Online will get per-pupil funding from Arizona and Texas, where pupils live, and be accountable to officials in those states for the quality of instruction.
Indorf's aha moment came as Great Hearts collected feedback about the first pandemic school year. While families at many schools around the country — especially those where all instruction was remote — were dissatisfied, 90% of Great Hearts parents reported being happy with their children's online lessons. Stuck at home together, more than two-thirds were thrilled to be more involved with their kids' schooling.
Students elsewhere were losing ground academically, but at Great Hearts, the shift to distance learning was not accompanied by a drop in achievement. From January to May 2021, in every grade tested, the network's students outperformed averages nationwide on the popular NWEA MAP assessment, for example.
At the same time, Indorf knew there were plenty of families who wanted a classical education for their children but lived in communities too small to support an in-person school.
In fall 2020, following some initial bureaucratic hurdles, Great Hearts Online launched in Texas with 500 students in grades K-6. Last fall, the digital academy welcomed 600 students in Arizona. Out of the gate, academic performance at the online school slightly edged out that of Great Hearts's traditional schools, with 79% of remote-learning students scoring above the 50th percentile in reading and 72% in math.
Staffing a classical model school can be tricky, as teachers must have specific training. But Great Hearts received 1,400 applications to fill 40 online teaching positions. Staff now log on from two dozen states.
But as the network prepared to open the virtual school, Indorf heard that while parents liked being involved with their children's at-home classes, they still wanted their kids to spend time out of the house. Almost a third of parents told school leaders they needed child care so they could work, opportunities for kids to socialize and before- or after-school enrichment activities.
This feedback mirrors research into pandemic-era pods. A poll of 3,000 families in December 2020 and January 2021 found 12% of parents began using some sort of supplemental learning pod — defined as a small group that augments, but does not replace, their core school-based experience — during the 2020-21 school year, accounting for some 7 million students. The survey was conducted by Tyton Partners and paid for by the Walton Family Foundation.
Families who participated in a pod or microschool, as an additional or primary form of schooling, were more satisfied with their children's education during the pandemic than those that didn't, the Tyton survey found, with twice as many affluent parents as low-income ones saying their experiences were positive. Nearly 60 percent of families making $35,000 or less were unaware of pods as an alternative to their children's school.
Across income levels, however, parents reported making sacrifices to participate in pandemic microschools. Almost 30% had to work different hours, and more than 20% had to reduce spending, work additional jobs or use savings to pay for their pod. Some 89% reported problems finding a qualified educator and other families to join up.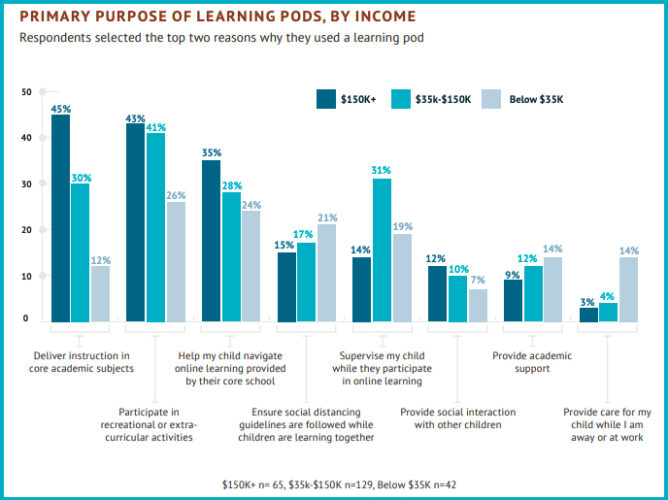 Even so, as traditional schools reopened for in-person instruction, participation in microschools continued to climb. With schools set to resume in person most places in fall 2021, some 80% of parents who had used a pod told Tyton in July 2021 they wanted more flexible, hybrid options going forward. Half said they felt more informed about their children's progress in a pod than at a traditional school — something 30% feared would not be the case post-pandemic.
The Center on Reinventing Public Education also found numerous satisfied parents in its research on pods and microschools, citing the close relationships between children and adults, personalized instruction and responsiveness to family needs. Three of five families in the center's sample said their pod was an improvement over pre-COVID schooling. The more dependent students in a pod were on their home school's remote instruction, the lower parental satisfaction was.
Cost was among the barriers preventing families from continuing with pod arrangements, according to the center, with the average participant paying $306 per week — the equivalent of private school tuition in many places.
Indorf and Shahan took all this into account as they designed Great Hearts Microschools. Using a grant from VELA Education Fund and the charter network's own resources, last fall they accepted three would-be microschool founders into a fellowship program that helped them test the appeal of their pods' offerings, create the nonprofit that will own the program, find a building or other space to house the microschool and think through their financial model. Because Great Hearts is accountable for students' performance, someone from the charter organization will serve on each microschool's board of directors.
Great Hearts would like to find organizations that will sponsor microschools to make them affordable for families who can't manage the $500 or so a month the current programs charge. So far, no community group has stepped forward.
Shahan has ideas for growing the microschool network. Three new potential fellows are exploring partnerships with Great Hearts Online. And as more people become aware of the model, he says, he hopes businesses in small cities and towns without many educational options will realize that sponsoring a high-quality microschool and inviting future employees to enroll their children could be a recruiting tool.
But he is most excited about his goal of identifying six places where interest in Great Hearts Online is high and working on opening community centers where students can go to participate in clubs and other activities — "Almost like a WeWork," he says. Microschools could use the facilities full time, and others could drop in, for free, as they wish.
There's a tremendous middle, hybrid ground between full-time traditional brick-and-mortar schools and fully online instruction, says Indorf: "Parents want the best of both, with the downsides of neither."
Disclosure: The Walton Family Foundation, Carnegie Corporation of New York, the Bill & Melinda Gates Foundation, Chan Zuckerberg Initiative and the Joyce Foundation provide financial support to the Center on Reinventing Public Education and The 74. The Walton Family Foundation provides funding to the VELA Education Fund and The 74. The Walton Family Foundation and The Bill & Melinda Gates Foundation provide financial support to Great Hearts and The 74.
Get stories like these delivered straight to your inbox. Sign up for The 74 Newsletter