Following Close Vote, Two Finalists Seem Set for a Pivotal Education Runoff in Los Angeles That Will Reshape the Majority of the School Board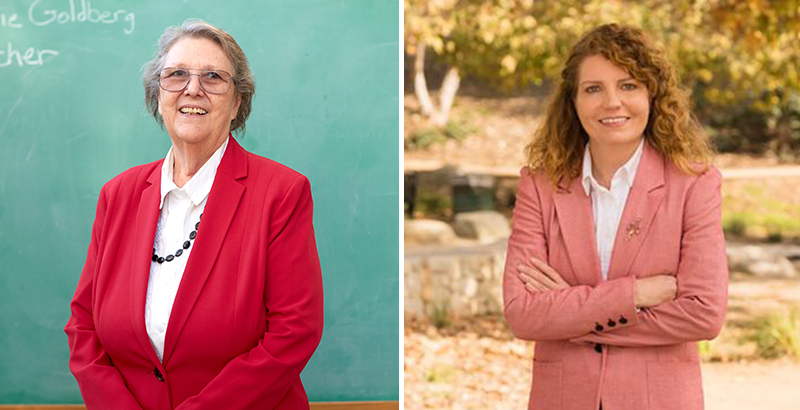 Former L.A. city official Heather Repenning announced Friday that she is headed to a runoff with union pick Jackie Goldberg for L.A. Unified's Board District 5 school board seat.
In a county update Friday that added a few dozen ballots to the total tally, Repenning, a district parent and former aide to Mayor Eric Garcetti, was 31 votes ahead of Huntington Park councilwoman Graciela Ortíz.
The results won't be official until this Friday, when the county certifies the election. As of a March 15 news release, the county said there are "no remaining ballots left to be counted" in its office. There is still a possibility that a few straggler cured ballots — ballots that initially had no signatures or non-matching signatures — will be corrected and returned this week. But "historically speaking, there's a low return rate on those," a county spokesman said late Friday. There will be follow-up news releases this week if any do come in, he added.
Repenning's team is confident regardless. "With nearly all the votes counted, after today's update we can safely say that Heather has advanced to the runoff," campaign manager Derek Mazzeo said in a written statement to LA School Report Friday afternoon.
This seat on the seven-member school board has been vacant since last July, when former board member and education reformer Ref Rodríguez resigned after pleading guilty to money laundering charges. Whoever takes the seat will help oversee a district that's facing impending fiscal uncertainty and grappling with the coexistence of charters in an underfunded public school system. The next board member would also influence whether the board has a more union-friendly majority.
Repenning has 13.13 percent of the 33,068 primary ballots counted. Goldberg, the teachers union-backed front runner, has more than triple that — 48.17 percent. A Repenning-Goldberg pairing would mean none of the seven Latino hopefuls in the 10-candidate race will contend for the seat in a board district where Latinos make up about 90 percent of enrollment.
"Thank you to all the voters who participated in our democracy and brought their ideas and concerns for our schools, and their hopes and dreams for our students, to this race," Repenning's campaign said in a statement Friday declaring she had made the runoff. "I look forward to a spirited campaign in the coming weeks that centers on how we can best bring a new chapter of change to LAUSD."
Goldberg established an insurmountable lead in the first vote count on March 5's election night. As a former board member and a vocal charter critic who became a prominent face of the January teacher strike, Goldberg had considerable name recognition over the race's nine other candidates. But she was unable to secure the more than 50 percent vote majority required to avoid a runoff election.
In the battle for the second runoff slot, Repenning trailed Ortíz by 53 votes after election night tallies but leapfrogged Ortíz on March 8 to take the lead by 133 votes. As of March 12, Repenning's margin had shrunk to only 35 votes.
In last Friday's update, Repenning captured seven of the 51 newly counted ballots; Ortiz took 11. The other votes were scattered among the other primary candidates. These ballots included the remaining vote-by-mail ballots and those that voters had returned in incorrect envelopes.
Ortíz's camp hadn't committed to calling for a recount as of Friday afternoon. "We have to pay, and it can be expensive," her campaign manager, Sergio Carrillo, told LA School Report just before the county's update. "Depending on the results, we may think about that."
If Ortíz were to request a full recount of the ballots cast, it could likely cost in the ballpark of $27,500 to $30,000. Ortíz's campaign has already spent about $43,000 more than it's taken in, according to city ethics commission data.
A recount can be requested as soon as March 23 — a day after the county certifies the election. The county would then have up to seven calendar days to start the recount. Under "optimal" conditions, it could count about 5,000 ballots a day, a spokesman wrote in an email.
Goldberg and Repenning received the most outside donor funding in the primary. While United Teachers Los Angeles has poured about $670,000 into supporting Goldberg, SEIU Local 99, a union representing education workers such as teachers aides and cafeteria staff, doled out even more — all said, close to $1 million — to get Repenning elected. Charter backers have been largely silent during the primary, though charter advocate Eli Broad gave $100,000 to Repenning's supporter, SEIU Local 99, on Election Day, the Los Angeles Times reported.
Repenning said early in the campaign that she wasn't interested in charter money. She positions herself as "the middle-ground candidate between the charters and teachers union," according to the LA Times. The candidate with the strongest pro-charter position, Allison Bajracharya, finished fifth in the primary.
Voter turnout for the primary came to about 10.6 percent of the more than 310,000 eligible voters in the board district, known as BD5. This is on par for voter turnout in school board elections — normally 10 percent or less. The number of votes surpassed the last BD5 primary in 2015, when 26,811 votes were cast.
Whoever wins on May 14 would assume office as soon as the county certifies the election, the district's board secretariat confirmed last week. The next board member for BD5 will represent more than 80,000 students enrolled in 177 district schools located in parts of the southeast of Los Angeles.
Here is some background on Goldberg and Repenning:
Goldberg
Backed by UTLA, Goldberg was dubbed "the candidate to beat" during the campaign season, touting decades of experiences from her previous positions as a 16-year teacher in Compton, an L.A. Unified school board member for two terms through 1991, a city councilwoman, and a state assemblywoman. The Silver Lake resident told LA School Report her top priorities as a board member would include taxing the state's "150 billionaires" and multimillionaires and pushing for more accountability and transparency for charter schools. Firmly backed by teacher union support, Goldberg would swing the school board to a more union-friendly majority.
On student performance, she's said that lowering class sizes — and pooling more resources toward special education services and teaching children to read — are keys to success. She does not speak Spanish. Read our profile of Goldberg here.
Repenning
Repenning, who was endorsed by L.A. Mayor Eric Garcetti, is a former L.A. public works commissioner and Garcetti's former director of external affairs, with more than 18 years of experience working in local government. She has also been a teacher. The Silver Lake resident told Speak UP in a January interview that she's focused on boosting wraparound services for impoverished communities, getting more state funding for early education, and adding a "parent perspective" to the school board. Her daughter attends a district elementary school.
Repenning believes charter schools should be studied but opposes an immediate cap, telling Speak UP that "there are some charter schools that are showing very successful best practices and models. How do we learn from those so that we can do those in LAUSD?" She also considers herself a "problem solver" who, like Goldberg, would prioritize finding new funding sources for L.A. Unified. She speaks Spanish — something that many BD5 parents expressed as a priority for their next school board member in a recent survey.
• For more on the election:
Pro-Union Candidate Dominates in First Los Angeles School Board Election Since Teacher Strike — but Will Likely Face a Runoff
A Special School Board Election in L.A. Raises Questions of Fair Representation and Improving Schools for Low-Income Latinos
The Swing Issues in the Pivotal L.A. School Board Race: Parents Use Candidate Forums to Talk Safety & Quality Teaching as Students Emphasize College Preparedness
On the Heels of the L.A. Teacher Strike, a Firebrand and Charter Critic Looks to Return to the School Board After Nearly 30 Years
Survey in L.A. Special Election District Shows Sharp Schism Between English- and Spanish-Speaking Parents
Get stories like these delivered straight to your inbox. Sign up for The 74 Newsletter