Fate of Nevada's Landmark Ed Reforms Could Hinge on Outcome of Four State Senate Races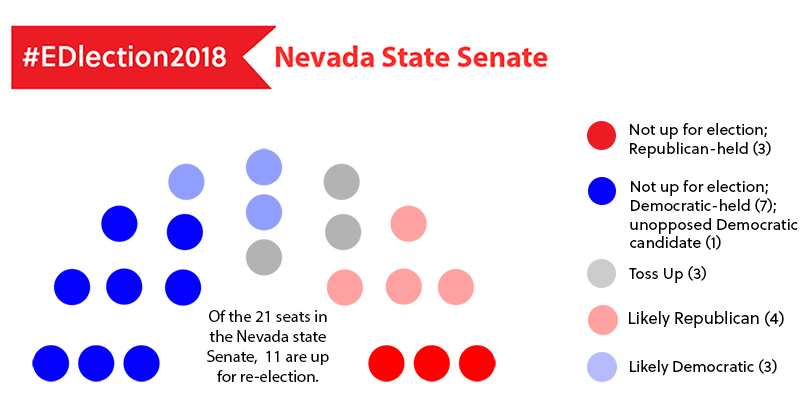 Correction appended October 29
EDlection 2018: From coast to coast, The 74 is profiling a new education-oriented campaign each week. See all our recent profiles, previews, and reactions at The74Million.org/Election (and watch for our Election Night live blog Nov. 6)
After years of bottom-of-the-barrel education rankings, Nevada lawmakers adopted a number of reforms in 2015, including increased funding for low-income students and English language learners, universal education savings accounts, and the creation of a statewide district to take over failing schools.
Those reforms were undertaken at a time when Republicans controlled the state Assembly, Senate, and governor's mansion. Now, ahead of elections that could see Democrats take universal control, several of those changes could be on the chopping block.
"[In] 2019, with the opportunity for the Democrats to take control of the Assembly, the Senate, and potentially gain control of the governor's office, we could start to see repeals of some of those large Republican programs introduced in 2015," Brad Marianno, an assistant education professor at the University of Nevada, Las Vegas, told The 74.
After two years of a polarizing Trump presidency, the political winds across the country, and in Nevada especially, are blowing left.
In 2016, Democrats won elections for president and the U.S. Senate in Nevada and re-took control of both chambers of the legislature. They're expected to easily maintain their majority in the Assembly, which they currently hold 27-14, with one vacancy.
This year, after two decades with Republicans in the governor's mansion, the gubernatorial contest is essentially a dead heat.
That leaves the state Senate, currently 11-8 Democratic with two vacancies, as perhaps Republicans' best hope — albeit a distant one — of blocking a Democratic trifecta.
"It's pretty unlikely that the Republicans will get majority control of either chamber, but if they do, it will be in the Senate," said David Damore, chair of the political science department at the University of Nevada, Las Vegas.
The marquee races in the state, for U.S. Senate and governor, have attracted high-profile visits from President Donald Trump and former president Barack Obama. Those contests will have a big impact on the smaller races down-ballot, Damore added.
Meanwhile, the legacy of the 2015 reforms continues to play a large role in this year's governor's race.
Democrat Steve Sisolak ran an ad saying incumbent Republican governor Brian Sandoval "did the right thing" by raising taxes in 2015 to aid education and criticizing his GOP opponent's support of education savings accounts.
That opponent, Attorney General Adam Laxalt, wants to repeal one of the 2015 tax increases, but he pledged not to cut school funding. He also backs school choice, including education savings accounts, which he defended in court, and Sandoval's other reforms. Sandoval hasn't endorsed anyone in the contest.
"If it's all Democrats, there's no way that stuff's going anywhere," Damore said of the education savings accounts and other choice programs.
As the parties battle for control of the legislature, three state Senate seats are in play, based on thin margins in party registrations, according to nonprofit news site The Nevada Independent. Republicans, who held all three of the seats, on the outskirts of Las Vegas, as of the 2016 elections, must win all three, plus pick off another seat from the Democrats, to regain control of the chamber. In all races, Democratic registration edges out Republicans, in some cases very narrowly, with a relatively high percentage of independent voters.
● District 8: Patricia Farley switched her registration from Republican to independent and began caucusing with Democrats just after the November 2016 elections. After being targeted in a failed recall effort, Farley announced she isn't running for re-election, citing the need to care for nieces and nephews in foster care.
The race to fill her seat is between Republican Valerie Weber and Democrat Marilyn Dondero Loop. Both previously served in the state Assembly; Weber is currently a professor of business, and Dondero Loop previously worked as an elementary school teacher and is now an education consultant.
● District 9: Republican Becky Harris resigned in January to chair the state's gaming board. In the race to replace her, Republican Tiffany Jones, a bakery owner, faces Democrat Melanie Scheible, an assistant district attorney.
● District 20: Republican Michael Roberson, who served as majority leader when the GOP controlled the chamber, is running for lieutenant governor. The race to replace him is between Democrat Julie Pazina, sales director for a utility contractor, and Republican Keith Pickard, a member of the state assembly, attorney, and former teacher. Libertarian Rick Bronstein is also on the ballot.
'That idea will just continue to sit there'
One of the state's most notable school reforms was the creation of universal education savings accounts. The mechanism, which allows parents to use public funds for private school tuition, tutoring, and other educational services, was first offered to specific groups of students in Arizona in 2011. Nevada was the first state to consider offering it to all children.
Advocates sued to stop the program as soon as it was approved, and the state's high court ruled that although it was permitted under the state constitution, lawmakers couldn't use the general K-12 funding account to pay for it. Thousands of students applied, but none ever received funding.
When the legislature reconvened in 2017, newly-in-control Democratic lawmakers refused to approve another funding source, choosing instead to increase the cap on the state's choice scholarship program. That program is funded through tax credits, only funds private school tuition, and has caps on family income.
Democrats are unlikely to push for a new funding mechanism for the education savings accounts if they continue in the majority, experts said.
"I think they will continue to hold firm" on not funding education savings accounts, Marianno said. "That idea just will continue to sit there."
Also limited in scope was the state's achievement school district program, under which state-selected charter operators may take over underperforming schools or set up shop next to them, up to six a year.
The state's original chosen operator, Celerity, was scuttled after federal agents raided its Los Angeles office amid allegations of fraud and misuse of public funds. So instead of a charter takeover of underperforming schools, the achievement school district opened in fall 2017 with one existing charter school run by a new operator, and one new charter located next to an underperforming elementary school.
New charter operators were selected, one for each grade span, and each opted to open near an underperforming school rather than take it over. The elementary and middle schools opened this school year, and the high school will open in fall 2019.
"The law's still on the books, but I don't know what it is actually accomplishing at the moment," said Brent Husson, president of Nevada Succeeds, an education reform group.
Democrats introduced measures to repeal the achievement school district in the 2017 session — legislation that went nowhere under Sandoval, the Republican governor. But such a proposal to repeal the achievement district could have more legs under universal Democratic control, Marianno said.
Regardless of which party takes control of the legislature, one likely item on lawmakers' agenda is an update to the school funding formula, which is 50 years old. Changes made in the last session only affect funding until 2019, Marianno said.
"You've seen both gubernatorial candidates and some lawmakers articulate the need to update that plan. Now that will look differently, depending on who gains control of the governor's office and the Senate," he added.
Correction: In Nevada's District 9 state senate race, Republican Tiffany Jones is facing Democrat Melanie Scheible. Information was corrected from an earlier version of the story.
Get stories like these delivered straight to your inbox. Sign up for The 74 Newsletter