Laxalt & Sisolak Win Nevada Primary for Governor, Setting Up Race That Will Focus on Dismal Education Rankings, Funding of Education Savings Accounts & Teacher Salaries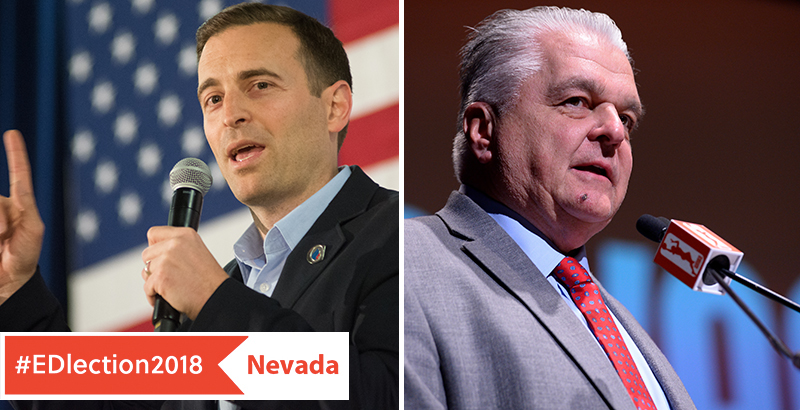 If there's a governor who can turn around one of the lowest-ranking states in education, it will have to be either Nevada Attorney General Adam Laxalt or Clark County Commission Chairman Steve Sisolak.
Laxalt, 39, easily won the Republican primary Tuesday night with 71 percent of the vote, beating out state Treasurer Dan Schwartz.
On the Democratic side, Sisolak, 64, earned 50 percent of the vote, beating Clark County commissioner and former special education teacher Chris Giunchigliani, who had 39 percent of the vote. This win delivered a notable defeat to the national movement to elect more teachers to office this fall and brought an end to what the Reno Gazette Journal called one of the most "bitter, expensive state primary races in recent memory."
Nevada has had a Republican governor for the past two decades, but Democrats are hopeful they can elect one of their own after Hillary Clinton won the state vote in the 2016 election. However, polls show that Nevadans view their current Republican governor, Brian Sandoval, favorably, which could boost Laxalt's chances at the polls.
A poll was conducted in April that paired Laxalt and Sisolak as potential gubernatorial contenders; respondents selected Sisolak as the favorite to win by six points, according to The Nevada Independent.
Education has remained a critical issue for both candidates in this election, especially regarding the state's funding formula, which hasn't been updated for 50 years, giving the state its 44th-place ranking in per-pupil spending. Nevada has ranked at the bottom of Education Week's performance index for four of the past five years. While the state's charter law remains strong, education savings accounts have failed to receive funding from the state legislature following a victory at the state's supreme court.
Laxalt has far less experience in education than Sisolak, who has overseen higher education from his seat on the state's Board of Regents and has the endorsement of the local union.
Although Laxalt won't commit to keeping taxes that fund all of Gov. Sandoval's programs in place, Laxalt's spokesperson told The 74 that he won't reduce current levels of education spending. Laxalt has said teachers should be able to be reimbursed for more of their classroom expenses and has voiced support for funding the state's contentious education savings accounts.
Sisolak supports boosting funding for education through additional taxes as well as increasing teacher salaries.
In Sisolak's victory speech Tuesday night, education topped his list of challenges facing Nevada. "Our schools are overcrowded and underfunded. For too long, too many teachers have been paid too little," he said, according to Fox5/AP. He also took the opportunity to appeal to anti-Trump voters: "I believe our next governor needs to be bold … and will stand up to anyone who tries to hurt Nevada — including President Trump!"
Laxalt, on the other hand, received Trump's support in a tweet on election day. Laxalt supported Trump in the 2016 election.
In his victory statement, Laxalt also said he would prioritize education. "Our work is only just beginning," he said. "Together we can build on the foundations of the Nevadans who came before us and choose the path of prosperity and unlimited possibilities. Not just for a few, but for every Nevadan."
Get stories like these delivered straight to your inbox. Sign up for The 74 Newsletter