Exclusive: New Documents Show the Trump Administration Has Confronted Dozens of School Districts Across the Country for Mishandling Sexual Assault Cases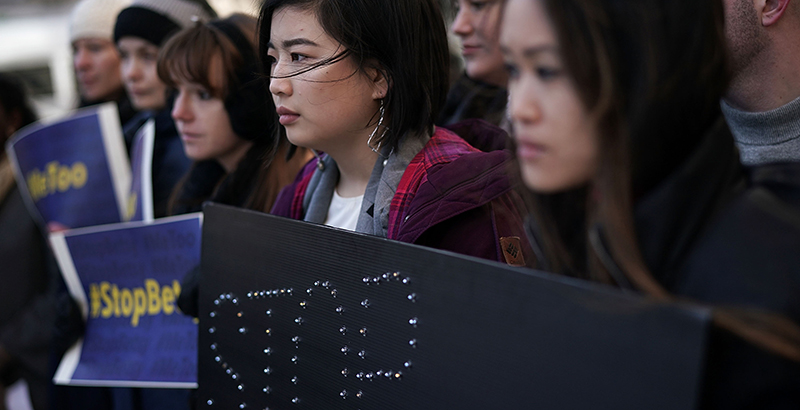 Editor's Note — A warning to readers: This article contains graphic descriptions of sexual assault involving children.
On Sept. 23, 2015, a 5-year-old boy with disabilities in Detroit arrived home with bruises on his face and covered in what his mother believed was semen. The bus driver told the mom that some elementary school students on the bus were "sucking wee-wees," but the driver didn't report it to the school district.
The child's mother told school officials about the event the next day. Administrators, however, didn't investigate the apparent sexual assault, nor did they speak with the child's family about the incident for several months.
A federal probe that concluded last year determined that this case may be just one sign of larger problems with how Detroit Public Schools deal with sexual misconduct.
The U.S. Department of Education found that between 2013 and 2016, Detroit Public Schools documented 45 "student involvements" in "criminal sexual conduct" and 233 incidents of sexual harassment involving students. But the district had no Title IX investigation procedure, and the only training the Title IX coordinator received was in the form of an online video module.
The district signed an agreement last year detailing changes it would make to comply with Title IX, the gender equity law that courts have said mandates schools to address sexual violence cases.
The district opened a new civil rights office in light of the federal investigation, and it held a Title IX training session for all its principals just last month.
"The status of the Title IX program at the time this incident occurred was unfortunate," said Nikolai Vitti, who became the Detroit Public Schools superintendent in 2017.
Meanwhile, the 5-year-old boy, who had a speech impediment and cognitive delay, switched schools twice, suffered from nightmares, "continued to be timid around large groups of children, [and] did not want to be around boys," according to the federal investigation report.
Public scrutiny over the Trump administration's new regulations for how schools handle sexual misconduct cases has focused on how university hearings will change, as Secretary of Education Betsy DeVos follows through on her promise to ramp up due process for accused college students. The Senate's education committee held a hearing this month dedicated to rules for addressing college sexual assault, but entirely absent from the discussion was how K-12 schools deal with it.
Yet during this same period of heightened public focus on campus assault in higher education, the Trump administration has also quietly found that many K-12 school districts — both large and small — like Detroit hadn't even picked an employee to investigate these cases. In the department's own backyard, a federal investigation found that D.C. Public Schools had a policy to not investigate allegations of sexual assault, even though they're required to do so under Title IX.


"I'm not surprised at all," said Karen Truszkowski, a Michigan-based attorney who has taken on more than two dozen school districts over student sexual misconduct cases. "I've had superintendents of major school districts look at me and say, 'I had no idea we had to comply with Title IX.'"
Between 2017 and 2018, at least 70 schools, districts and colleges signed agreements with the Education Department to overhaul their Title IX policies, documents obtained through a series of Freedom of Information Act requests reveal. This came after federal investigators found problems with how administrators dealt with sexual misconduct on their campuses.
"Title IX is not on their list until somebody calls them out on it," Truszkowski said.
Most of these cases were kept hidden from the public. The Obama administration had publicized when these multi-year Title IX investigations closed — and what problems the government uncovered — but that practice came to a grinding halt two years ago when President Donald Trump entered office. The collection of documents published here are the first look at how the department under DeVos has enforced Title IX.
In higher education, the department's Office for Civil Rights discovered that students at Indiana University and Butte-Glenn Community College had their sexual history dragged into cases, and the University of California, Santa Cruz, couldn't explain why it took several months to investigate sexual misconduct complaints. It cleared Colorado State University, Temple University and SUNY-Buffalo of allegations that they treated accused students unfairly in Title IX investigations.
But among K-12 schools, OCR discovered half a dozen that weren't conducting Title IX investigations at all. Administrators interviewed by federal investigators appeared totally oblivious that the Supreme Court ruled in the 1990s that sexual harassment and assault are forms of gender discrimination covered by Title IX.
The Title IX coordinator at the school district in Strafford, Missouri, told federal officials he had not investigated a single sexual harassment complaint in the 11 years he'd served in the position. One assistant principal in Strafford said he would call the Title IX coordinator if someone complained about "unfairness in sports" but would not involve them if there were rumors "about sexual contact between students" or "if they received notice of sexually harassing conduct through a disciplinary referral."
The school district in Hammond, Indiana, had no record of providing any counseling or help to students who were allegedly abused by teachers, sexually assaulted in classrooms by other students or sodomized as part of a hazing ritual. It was "undisputed" that officials at North Olmsted City Schools in Ohio took no action after being told a student was sexually assaulted, according to a letter detailing the conclusion of that district's federal investigation. Saint Paul Conservatory for Performing Artists, a high school in Minnesota, failed to investigate allegations of sexual harassment from at least eight female students, who had all lodged accusations against the same male student, according to federal findings. At Michigan City Area Schools, a district in Indiana, a student filed a harassment complaint against a peer, and the school's principal suggested that the students' parents work it out among themselves.

"The department is still documenting very serious sexual violence and unbelievable harm to students today in school, [but] its policy arm is telling schools to stop looking for that," noted Catherine Lhamon, who ran OCR from 2013 to 2017 and is now chair of the U.S. Commission on Civil Rights. "The need is exponentially higher, and OCR is turning in the other direction."
In November, the department proposed new regulations for how schools deal with sexual misconduct, in an effort to allow schools to investigate fewer Title IX cases. This is due to new requirements that schools wouldn't need to investigate unless a formal complaint is submitted to the proper administrator — in K-12, a teacher or the Title IX coordinator — and a limit on the types of allegations subject to Title IX regulations, even though the department has found that many districts don't have these proper administrators in the first place.
The Education Department has nearly completed processing the 111,562 comments submitted about its proposed regulations, though it's unclear when the rules will be finalized. The department did not respond to a request for comment.
When DeVos took office in 2017, she inherited a huge backlog of Title IX investigations into schools' handling of sexual violence. Her department reduced that pool over the past two years from an all-time high of 480 open investigations across K-12 and higher ed to 377 currently pending nationwide at colleges and K-12 districts.
According to additional documents obtained by The 74 through records requests, four cases were closed discreetly in 2017 and 2018 because the schools reached settlement agreements with the students who filed complaints with the Education Department. Twenty-three federal probes were closed administratively, most commonly because the student had also sued the school over the same issues. Another 55 were closed because the department said it didn't find any Title IX violations.
John Shields, a California-based consultant for school districts, believes that a major reason many K-12 administrators haven't focused on beefing up their responses to sexual misconduct is that they aren't required to disclose how many reports they receive.
"When one of my clients recently went to their school board and did a presentation that revealed they had 650 [sexual misconduct] cases over four years, the board members were really very shocked and had no idea about the volume of cases," Shields said. "As long as we don't require districts to divulge the information, it's really swept under the rug as something that's not happening."
When one middle schooler in Washington, D.C., reported that she'd been sexually assaulted at school, DCPS "failed to take any action to respond to the report." For sexual harassment cases that DCPS did handle, the Education Department found "multiple Title IX violations," including unfair hearings and "an inadequate definition of sexual harassment."
DCPS said in a statement that it's made a lot of progress working to comply with Title IX. It hired a Title IX coordinator and two deputy coordinators to "conduct investigations, notify both parties of the outcome, and ensure both parties have the right to appeal in a timely manner," the district stated.
In Michigan, the Education Department found Kalamazoo Public Schools in violation of Title IX by failing to address and prevent a female student from sexual battery.
The Kalamazoo report is heavily redacted, but it makes clear that the student with a disability, referred to as "Student A," complained to administrators that she was sexually assaulted twice at school and then was taunted about it. Federal investigators wrote that "by the time the District offered to take more substantial measures to prevent ongoing sexual harassment of Student A and address the impact it was having on her, such as an escort and a change of schedule, Student A had already been assaulted a second time. The evidence supports that this incident was a result of the District's failure to promptly and effectively address the first incident."
After the second assault, according to the victim's family, administrators told her that she should should "sit down with" the two assailants to "talk about it."
The district did nothing to stop the "teasing, threats, and humiliation by additional students at school, related to the two incidents" that the victim received, the report concludes. Ultimately, Student A left the Kalamazoo district. The district did not provide anyone for comment for this story.
Budget constraints are a compounding challenge to districts' ability to respond effectively to complaints, as many are already stretched financially, and there's no local, state or national funding provided to comply with Title IX regulations.
Detroit's schools were in severe fiscal strain at the time of the bus incident with the 5-year-old boy; that same school year, teachers staged protests over conditions in their buildings, which included everything from lack of textbooks to rats and roaches in the classrooms. The district was being run by a state-appointed emergency manager charged by the Michigan governor to help steer the city out of bankruptcy. Vitti suggested that it contributed to their Title IX violations.
"Accountability and educational expertise was at an all-time low, and critical concerns such as this complaint were allowed to slip through the cracks," Vitti told The 74.
That means Title IX and other civil rights take a back seat in those situations. Shields said a superintendent is likely to think: "There are just so many competing priorities that in the absence of pressure from press, parents and attorneys, why would I put that fire out when I have all these other bonfires I need to deal with?"
Support The 74's year-end campaign. Make a tax-exempt donation now.