DeVos Visits Washington State, Where the Charter School Sector Has Expanded Even as Lawsuit Threatens to Shut It Down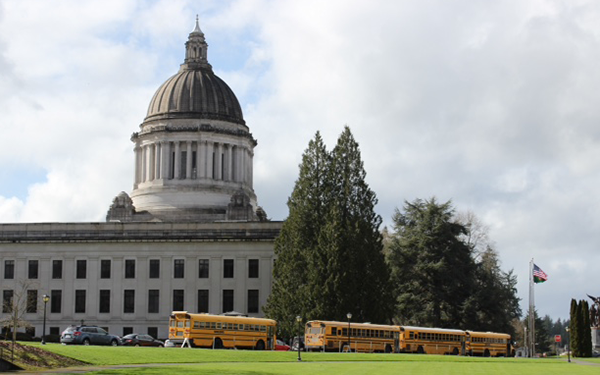 One of the biggest proponents of school choice, U.S. Secretary of Education Betsy DeVos, will be visiting Washington state Friday, walking into a landscape where charter schools remain at the center of a contentious lawsuit. Although DeVos's presence certainly isn't welcome by opponents of the state's charter schools, her appearance has caused consternation even among the state's school choice advocates.
The state's charter schools have been growing over the past year, despite the 2016 lawsuit challenging their constitutionality. With new schools and expanded grades in Seattle, Tacoma, and Spokane, the sector now enrolls more than 2,500 students in 10 schools, and hundreds more are on waiting lists. Students in these schools have seen significant growth on state exams, with some outperforming their district and state peers. This spring, the state's charter law was ranked fourth in the country for flexibility, accountability, and equity by the National Alliance for Public Charter Schools.
DeVos will be speaking at an annual dinner hosted by the Washington Policy Center, a free-market think tank, at a hotel in Bellevue. Expected attendance for the event is 1,500, with a minimum ticket price of $350, The Seattle Times reported.
Among protesters expected outside the event — nearly 1,000 have said on Facebook that they will attend — are several labor groups that are plaintiffs in the lawsuit.
"We oppose the DeVos-Trump campaign to divert public funding to unaccountable, privately run charter and voucher schools," Rich Wood, spokesperson for the Washington Education Association, wrote in an email to The 74.
The Washington Policy Center's president told The Seattle Times that DeVos's role as a cabinet member was reason enough to invite her. But while DeVos supports charter schools, she's also part of an administration that threatens many communities that charter schools serve. Shirline Wilson, a charter school parent, intervenor in the lawsuit against charters, and the state's director of Democrats for Education Reform, said that conversations with her progressive friends around DeVos and charters reveal sharp political divides.
"I'm 100 percent opposed to the negative things coming out of the administration, particularly under the leadership of the secretary: The problems with DACA and dealing with immigrant students. The problems with not really understanding and advocating for civil rights protections for students," Wilson said. "Because of the administration's pro-charter-for-charter's-sake agenda, that I think makes it harder for those of us who say, 'Yes, we believe in high-quality nonprofit charters, and we also believe not all charters are the same.' So let's really unpack that and make sure that we are doing the right things for students."
Amid the controversy surrounding DeVos's visit, Patrick D'Amelio, CEO of the Washington State Charter Schools Association, reiterated that the organization does not support school vouchers, which DeVos has advocated for throughout her career.
"We want support for charters from anybody and any sector that will support charters, but frankly not at the expense or cost of one student's civil rights. Not at the expense of full funding for the full public education system," D'Amelio said.
In its first budget, the Trump administration proposed eliminating $9 billion from the Department of Education while setting aside $1 billion for school choice programs, a controversial call that even some advocates for choice did not support.
The state charter lawsuit, El Centro v. Washington, was filed after the legislature passed a new charter law in 2016 to address funding concerns brought up in 2015 by the state Supreme Court. Plaintiffs including unions and civil rights organizations argued that the law took funds away from traditional public schools, and that charters don't fit the state's definition of a common school because they are run by nonprofit boards rather than locally elected ones.
A county Superior Court judge ruled in favor of the charters in February, but the plaintiffs appealed in July, requesting that the state Supreme Court hear the case directly. Now, both sides are waiting for a response from the justices.
"We agree with the Superior Court that this law is constitutional in all respects," said Rob McKenna, an attorney for the defendants. "The one defect identified in the last case was the funding mechanism, and that's been changed."
The plaintiffs' lawyers could not be reached for comment, but part of their argument also hinges on the definition of a common school, which they say charter schools do not fit. Defendants have said this argument threatens the constitutionality of alternative schools like tribal compact schools or programs that let high school students take college classes. But in their brief, the plaintiffs argued that because these other alternative schools are specialized, they are different from charters and shouldn't be threatened.
Wilson said the lawsuit is a concern for her and her seventh-grade son, Miles, but the growth she's seen in him at Rainier Prep charter school in Seattle has been worth the fight.
"I walk into that school every day and my son is in there every day and he's learning and growing and achieving and he's confident and he talks about going to college. I just look to the positive," she said.
Get stories like these delivered straight to your inbox. Sign up for The 74 Newsletter