'A Huge Win': Washington State Charter School Supporters Celebrate Major Courtroom Victory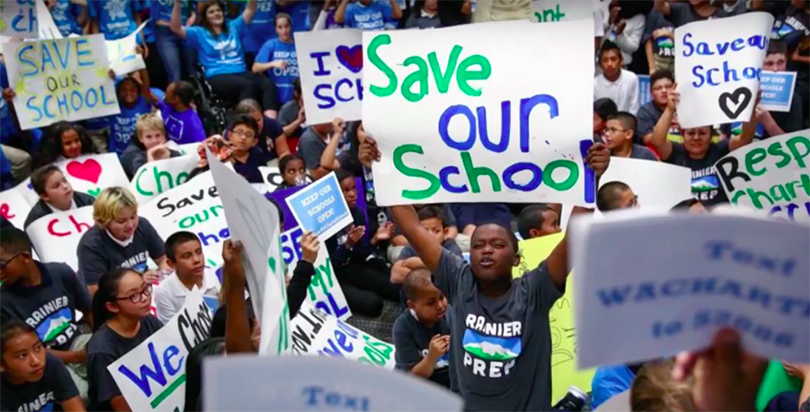 Washington state charter school supporters were ecstatic Friday afternoon after a county Superior Court judge ruled in their favor in the most recent challenge to the schools' constitutionality.
"This is a huge win for Washington kids and families, and also the voters of Washington," said Maggie Meyers, spokeswoman for the Washington Charter Schools Association. "We've already communicated with all the school leaders and intervenors' families. They've been in tears on the phone; they've put so much heart into this fight."
Defendants pointed to three of the main arguments in Superior Court Judge John Chun's
ruling
— issues that advocates and opponents have repeatedly battled over:
First, the ruling made clear that the case did not decide the "merits or demerits" of charter schools (to be fair, the plaintiffs did not raise this point), but rather their constitutionality. The judge also said the case is not related to Washington state's ongoing battle to fully fund public schools through a separate lawsuit known as McCleary, which caused the the state Supreme Court to start fining the legislature $100,000 a day until it came up with a fix.
Second, Chun ruled that just because charter schools don't fit the state constitution's definition of a common school, that does not make them unconstitutional. Instead, the ruling pointed out other schooling systems in Washington — like Running Start, tribal compact schools, and Youth Offender Programs — that follow different educational models but are considered constitutional.
Third, Chun wrote that the Charter School Act does not divert funds meant for traditional public schools. Charter schools were initially ruled unconstitutional by the state Supreme Court in 2015 on the grounds that they shifted funds from district schools. To fix this, the state legislature passed a law in 2016 that funded charters through the state's Opportunity Pathways Account, which receives money from state lottery revenue.
However, in a phone call after the ruling, plaintiff's attorney Paul Lawrence said there are still "significant questions on how funding will occur as the charter school program grows." Currently, Washington has eight charter schools, educating 1,600 students, but state law allows up to 40. A combination of expanding charter schools and less-than-robust lottery income could force the state to scramble to support its charters — something it doesn't have a plan for, Lawrence said.
Chun's ruling agreed that this point could be raised again if the funding mechanism has to change: "If, in the future, the state attempts to use funds allocated for common schools in violation of article IX, section 2, then the issue will be ripe for consideration," the decision said. "On the face of the [Charter School Act], however, such use is not inevitable."
"I'm certainly disappointed in the results," Lawrence said, adding that the plaintiffs have not yet decided whether to appeal. However, both sides
have told The 74 in prior interviews
that there would probably be an appeal whichever way the judge ruled. The state Supreme Court could get the case anytime between spring and autumn.
Many of the plaintiffs who took the charter school case before the state Supreme Court in 2015 — El Centro de la Raza, the League of Women Voters, and the Washington Education Association, the state's biggest union — are behind the latest lawsuit. They argue that because charter schools are not accountable to locally elected school boards, they should not receive public funds.
Washington state didn't adopt charter schools until 2012, when voters narrowly passed a ballot initiative to allow them after several failed attempts. Repeated legal challenges and legislative fixes have followed, spurred on by advocacy from both sides.
A dozen charter school parents and students served as intervenors for the defense in the case decided Friday, including Shirline Wilson. She's been fighting for her son Miles, who is now in sixth grade, to stay in his Seattle charter school, which she says better serves his needs than the local district school.
Charter school parents have been shielding their children from the lawsuit this year in hopes they can focus on their academics, Wilson said. Last year, her son was often worried about whether his school would survive the judicial and legislative challenges.
"We feel strongly about what potential our schools could be if given the chance," Wilson said.
---
---
Get stories like these delivered straight to your inbox. Sign up for The 74 Newsletter