Don't Believe the Hype: Local Education Advocates Say They See Little Change in DeVos's Views on Federal School Choice Program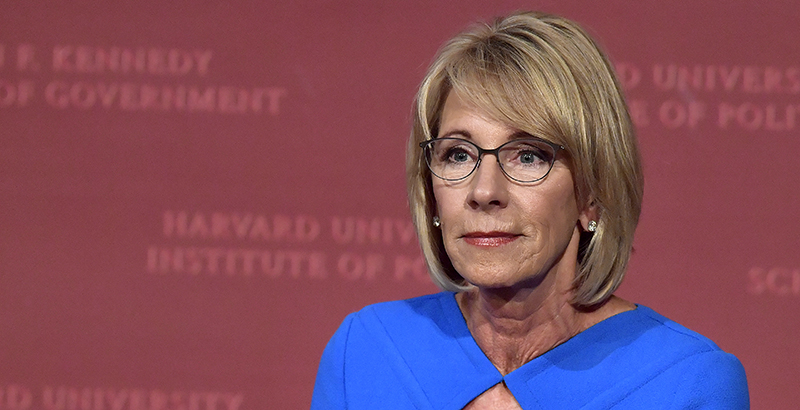 School choice advocates say they don't see a change in Education Secretary Betsy DeVos's public posture on school choice, despite a recent speech that others read as a backing away from her calls for a federal school choice program.
"I wholeheartedly believe the future of choice does not begin with a new federal mandate from Washington," DeVos said during a Sept. 28 speech at Harvard University's John F. Kennedy School of Government. "That might sound counterintuitive to some, coming from the U.S. secretary of education, but after eight months in Washington — and three decades working in states — I know if Washington tries to mandate choice, all we'll end up with is a mountain of mediocrity, a surge of spending, and a bloat of bureaucracy to go along with it."
Since the beginning, DeVos has always held the position that states should be out front on this issue, said John Schilling, chief operating officer at the American Federation for Children, the school choice advocacy group DeVos founded in 1998 and chaired until her appointment as secretary last year.
"She's always believed that the states are the leaders in this," Schilling said.
Conservative think tank leaders, many of whom have opposed a federal program on the grounds that education is a state issue and federal dictates would inappropriately regulate private schools, told U.S. News & World Report that they took DeVos's Harvard speech as a sign she was retreating from a big federal push.
"There's just so little appetite for this on Capitol Hill and even within the White House," Michael Petrilli, president of the Thomas B. Fordham Institute, said to U.S. News. "This shift is a sign that DeVos is acknowledging that it's not going to happen."
But three private school choice advocates contacted by The 74 said they don't see a change in DeVos's posture, and think her use of the bully pulpit will continue to boost the cause at the state level, where it matters most.
DeVos has been publicly consistent since May in saying any federal school choice program would be optional for states, Schilling said.
Addressing the AFC's annual convention that month, she was emphatic that states not be required to participate in any hypothetical program, but at the same time excoriated legislators who don't offer new programs.
(The 74: DeVos Emphasizes States' Prerogative on School Choice, Gives No Details on Federal Expansion)
President Donald Trump has long promised a $20 billion private school choice program, most of which observers believe would come from a federal tax credit scholarship. The administration hasn't released any details on it, and it so far hasn't been included in Republican tax reform proposals. DeVos also proposed a $250 million voucher pilot program in this year's budget, with the funding going to organizations that provide scholarships; neither the House nor the Senate included it in pending spending bills.
It's consistent to advocate for a federal tax credit program but argue against a federal mandate or new federal program, as a federal tax credit would theoretically allow states to opt in, and specific regulations would be left up to states, said Darla Romfo, president of the New York City–based Children's Scholarship Fund, a nonprofit that provides private school scholarships across the country.
"I think she's been pretty consistent that she doesn't want a new mandate or a new federal program," Romfo said, later adding, "I don't see any inconsistency in what she's saying."
Patricia Levesque, CEO of the Foundation for Excellence in Education, based in Florida, said the issue could be one of timing.
"It doesn't mean you give up on it, it just means you have to wait for the appropriate time to continue to advance the issue. I would say that's what Secretary DeVos is doing, is waiting for the appropriate time," she said. (DeVos previously served on the foundation's board of directors, and has donated to the organization.)
The best way for DeVos to help grow the private choice movement at the state level is to continue to use her national stage, the advocates said.
"I think just as a figure who has had a lot of experience and background in this work, and the more that she keeps talking about it, that's very empowering to people," Romfo said.
It's important for DeVos to both give speeches at prestigious institutions, like Harvard, and "get out of the Washington bubble" to highlight innovative schools, like she did with her back-to-school tour last month, Schilling said.
Beyond the bully pulpit, DeVos can help states expand their efforts by rolling back federal rules that could inhibit innovation and approving states' ESSA plans, some of which authorize state takeovers or charter conversions for failing schools, Levesque said.
In a widely unpopular administration, however, DeVos is, by at least one poll, the least popular member. That doesn't worry the advocates.
"School choice has had its detractors before Betsy became secretary of education, and it will always have its detractors," Romfo said. "I think the much more powerful thing is … there are a lot more parents who are becoming aware that they really benefit from choice."
Schilling tied her low poll numbers to months of criticism from teachers' unions.
"I know that there are some people who kind of live and die by polls, but I think the more she gets out there and the more she articulates her vision for improving educational outcomes for all kids, you will see her numbers go up. It's a good message," he said.
States are continuing to pursue new school choice initiatives in spite of the lack of enthusiasm in Washington, advocates said.
"In the big picture, educational opportunity and educational choice is not on the defensive," Levesque said.
There has been plenty of movement at the state level in 2017, she said, citing the expansion of education savings accounts in Arizona, the creation of a tax credit scholarship program in Illinois, more equitable funding for charter schools in Colorado, a new charter law in Kentucky, and first-time state funding for charter school facilities in Texas, among others.
"There were several advances on giving parents more opportunities to find the educational system or building or program or service that fits their child's need.… Based on conversations that we're having with states about next session, it looks like it's only going to grow," she said.
The Dick & Betsy DeVos Family Foundation previously supported The 74. Campbell Brown, co-founder of The 74, sits on the board of directors of both the American Federation for Children and The 74.
The Walton Family Foundation, Bill & Melinda Gates Foundation, Bloomberg Philanthropies, The Eli and Edythe Broad Foundation, Triad Foundation and the Donald & Doris Fisher Fund have contributed to both the Foundation for Excellence in Education and The 74.
Get stories like these delivered straight to your inbox. Sign up for The 74 Newsletter