After Heated Partisan Battle, Kentucky Is 44th State to Pass Charter Law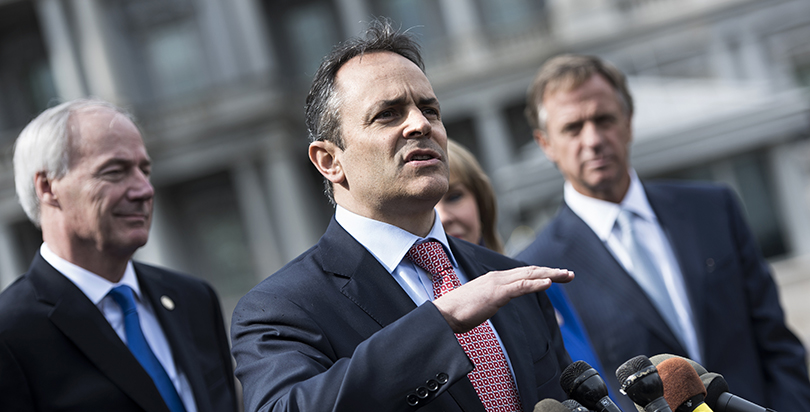 This story was updated March 22.
Kentucky Gov. Matt Bevin signed a charter school bill into law Wednesday after years of disagreement, following Democrats' protests during a heated debate at the state Capitol last week that the measure lacked clarity, particularly about how public funding of the schools will work.
Kentucky becomes the 44th state to permit charter schools.
State Republicans, who won supermajorities in both houses in the November 2016 elections, delivered the bill to Bevin's desk just one month after House Education Committee Chairman John Carney introduced it. The measure passed the House and Senate last week.
Bevin appeared at a rally with school choice advocates in January and has publicly
urged lawmakers
to pass a charter law. Wednesday he praised the bill's passage, calling it a "momentous step forward in providing quality choices for Kentucky's most vulnerable students" in a
statement
posted to Twitter.
During testimony before the Senate Education Committee
, Bevin said that although charter schools aren't "a silver bullet," Kentucky should borrow the best ideas from what has worked in other communities, and noted the nearly 7,000 charters operating in 43 states and the District of Columbia.
While the measure allows charters to open as soon as this fall, Republican Rep. Phil Moffett of Louisville said he expects the authorizing process to be "a slow slog" because many local districts are opposed to charters.
Moffett, a longtime school choice supporter, inserted a provision into the bill that allows the mayors of Kentucky's two biggest cities, Louisville and Lexington, to act as charter authorizers. Louisville Mayor Greg Fischer
has been criticized
by local school board leaders for supporting charters and
expressing willingness to authorize
them.
"There will be some political pressure on them," Moffett told The 74. "They now have a political toe in the water as far as school performance, and I think that's a positive thing."
Some Democrats and union leaders tried unsuccessfully to slow the process during a whirlwind day at the Capitol last week that culminated in votes by the Senate (23–15) and House (53–43), as well as a last-minute funding appropriation attached to a separate budget bill.
That bill would allocate federal and per-pupil state funding to charter schools, as is the case with other public schools, but not local property tax revenue, the
Lexington Herald-Leader
reported
. Authorizing school districts or mayors could keep 3 percent of a charter school's state funding as an "authorizer fee," according to the paper.
Brad Hughes, a spokesman for the Kentucky School Boards Association, said the organization is reviewing the funding bill and remains opposed to any local tax dollars going to support charter schools.
Hughes said he doesn't foresee charters opening until at least 2018 because the Department of Education's process of drafting regulations to implement the law will take months.
The move to create alternatives to traditional public schools has played out across the nation since the November elections. Newly empowered Republican legislatures have introduced bills to allow charters in Nebraska and expand voucher programs in New Hampshire and Texas. In Virginia, Democratic Gov. Terry McAuliffe must decide whether to sign a bill expanding charter schools in areas of the state with low-performing schools.
The last state to enact a charter law was Alabama, almost two years ago. States that still do not have charter schools include North Dakota, South Dakota, Montana, Vermont, West Virginia, and Nebraska.
Kentucky Democratic caucus chair Sen. Gerald Neal proposed amendments to the bill that were not included in its final version, prompting a heated debate. Neal wanted the legislation to explicitly exclude for-profit groups and provide for research into the impact of charters on nearby public school populations.
"If you're not asking critical questions about this bill, then you're doing our students across the state of Kentucky a disservice," said Rep. Attica Scott, a Democrat from Frankfort.
Lawmakers have at least one more major education decision ahead of session's end March 30. An omnibus education reform measure, Senate Bill 1,
passed the House Wednesday
and is under final consideration by the Senate before heading to the governor. It would give more authority to districts on evaluating teachers and intervening in failing schools.
The bill would also initiate a review and revision of the Common Core standards.
---
---
Support The 74's year-end campaign. Make a tax-exempt donation now.