Illinois Passes Landmark Funding Bill Creating Tax Credit Scholarship, Sending More Money to Poor Schools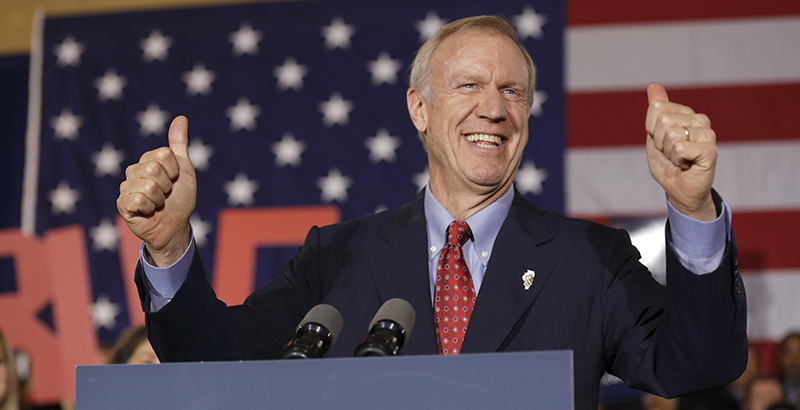 Illinois lawmakers passed a landmark compromise that would revamp the way schools are funded and create the state's first private school choice program.
The Senate on Tuesday afternoon voted 38-13 to approve the plan, a day after it made it through the House.
"There will not be another generation of students subject to inequity, the worst in the country, after this bill becomes law," Democratic Sen. Andy Manar, who sponsored it, said, according to the Chicago Tribune.
Republican Gov. Bruce Rauner is expected to sign the measure, although not right away and not until he can gather all the parties for a signing ceremony, the paper reported. The funding deal is a dramatic departure for Rauner and Democratic state lawmakers whose antipathy had already produced the longest state budget stalemate in modern times.
"Even where we don't fully agree, we're willing to work together in good faith and meet each other halfway … Every district in Illinois wins under this plan," Democratic House Speaker Michael J. Madigan said in a statement after his chamber narrowly passed the compromise Monday, the Chicago Sun-Times reported.
House Republican Leader Jim Durkin called the agreement "probably the most significant legislation to pass out of this chamber in decades," according to the Chicago Tribune.
In addition to creating the tax-credit scholarships, a priority for Rauner and members of his party, it changes the funding formula, a must-have for Democrats, by funneling more money to high-poverty schools and moving away from property taxes. It also provides relief for long-struggling Chicago Public Schools.
Rauner vetoed parts of another bill earlier this month that would have made the funding changes, citing his opposition to money set aside for Chicago's massive teacher pension debt and a block grant that he said doesn't take into account the city's falling student population.
(The 74: Why is Illinois's Governor Now Opposing His Own Commission's Findings on School Spending? One Word: Pensions)
That prevented school money from going out as scheduled Aug. 10, and no money could go to schools without a funding formula in place. The state Senate overrode Rauner's veto, but the state House, which is more evenly split between the two parties, couldn't muster enough votes, setting the stage for compromise.
(The 74: Veto Override Uncertain as Fight Over Funding Illinois Schools Moves to the House)
In addition to the funding formula changes, the new bill would provide up to $100 million in tax credit scholarships beginning in the 2018-19 school year, with individuals and businesses who donate receiving a tax refund of 75 cents on the dollars.
Individual awards will be the lesser of a private school's tuition and fees, or the statewide average of per-pupil spending at public schools. Gifted students and those with special needs would get higher amounts, the Chicago Tribune reported.
Scholarships will be available for children from families of four making up to $72,900, a number that will rise to $97,200 the second year for those already in the program. Supporters say the scholarships will still give priority to low-income students and those in failing schools. Participating private schools will have to assess performance of students receiving the scholarships. The program will sunset in five years.
"This new program is an outstanding example of what happens when elected officials, advocates, state partners and community leaders work together on behalf of families …," EdChoice President and CEO Robert Enlow said in a statement Tuesday afternoon. "We couldn't be more excited to welcome Illinois to the school choice family, and we look forward to thousands of families having access to educational equity and options that previously were out of reach."
House Democrats voted down the bill on its first consideration to signal their opposition to the tax credit scholarship. The bill ultimately passed 73-41, with two more votes than the 71 it needed, the Tribune reported.
The Chicago Teachers Union in a statement called the "voucher scheme" a "disappointing" development even as they praised the "substantial achievements" of a new funding formula and additional funds for Chicago schools. The union also tied the tax credit to President Donald Trump and Education Secretary Betsy DeVos, who have called for new private school choice programs.
Chicago schools could see as much as $450 million from the bill, officials said. The bill would also allow city officials to raise property taxes another $120 billion to help the long-underfunded pension system.
(The 74: The Financial Crisis Looming Over Chicago Public Schools, in 6 Numbers)
The bill also would let districts that have surplus education funds cut property taxes, and roll back requirements the state doesn't fund, like decreasing the number of days of required physical education and allowing outside contractors to run driver's ed, the Tribune reported.
Get stories like these delivered straight to your inbox. Sign up for The 74 Newsletter