Congress Returns to a Lengthy Education To-Do List, From Implementing ESSA to Rewriting the Higher Education Act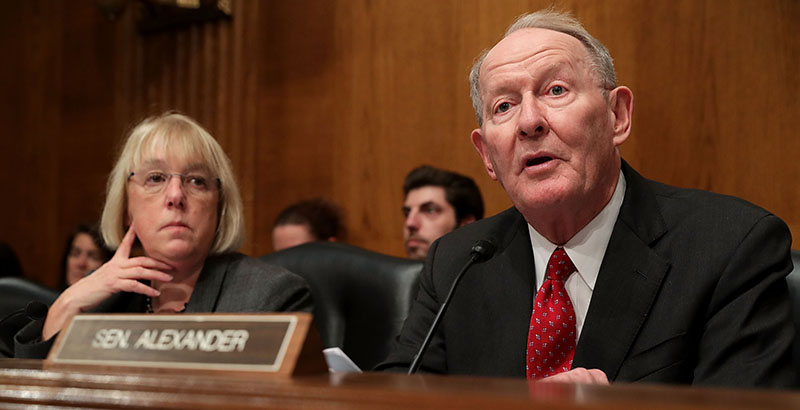 After a summer in which tempers flared over education issues like budgets and school choice, the House and Senate returned to Washington Tuesday with a lengthy to-do list, nearly all of which touches on education.
Members must fund the government, including the Education Department; raise the debt ceiling by the end of the month; provide aid to areas devastated by Hurricane Harvey, including scores of schools; and, possibly, find a solution for undocumented "Dreamers," who President Donald Trump announced Tuesday will lose protections in six months unless Congress acts.
There's also a push for tax reform, long raised as a possible vehicle for a federal tax-credit scholarship program, a priority for Trump and Education Secretary Betsy DeVos.
(The 74: 'Erasing Their Lives': Education Advocates Slam Trump's Decision to End DACA)
Given all that must happen in the next few weeks — and Senate education committee leaders' pledge to focus on stabilizing the health care markets — it's unlikely much focus will land on K-12-specific issues, but education committee leaders still have plans to bring the focus back to schools.
(The 74: Alexander & Murray to the Rescue: Will Obama's Bipartisan Dream Team on Education Save Health Care for Trump?)
The first of those must-do showdowns heats up this week, as the full House, for the first time in eight years years, is scheduled to take up and amend a bill to fund the Education Department.
The Senate Appropriations Committee, too, will consider an education funding bill. Both Senate Health, Education, Labor and Pensions Committee Chairman Lamar Alexander and ranking Democrat Patty Murray sit on the appropriations panel. Murray is the ranking Democrat on the subcommittee that covers education; her staff said she'll focus on blocking any private school choice programs, like the voucher pilot program the Trump administration proposed in their education budget.  
Ongoing implementation of the Every Student Succeeds Act will continue to be a hot topic. Except for the 17 that made the first deadline in April, every state (save Texas, which was granted a delay) will have to submit their state plan by mid-September.
Republicans and Democrats have consistently expressed wildly different concerns for how the law should take effect, particularly after Congress blocked Obama-era school accountability rules, sparking liberals' concerns. The Education Department pledged a hands-off approach, though raised GOP eyebrows with some of their initial feedback that was seen as stepping on states' toes.
(The 74: House Republicans Warn Education Dept. on ESSA Overreach as Democrats Lament Lack of Accountability Rules)  
"I want to make sure the U.S. Department of Education allows the freedom and flexibility that Congress intended, and I am eager to see what innovations in student achievement states have adopted," Alexander told The 74.
Murray will also focus on ESSA implementation, staff said, though she's more concerned about the Education Department rubber-stamping plans that don't comply with the law or that leave large gaps between what's required under the law and what's in their plans.
Both Murray and Rep. Bobby Scott, the ranking Democrat on the House Education and the Workforce Committee, have expressed concerns about the department's decision to communicate issues with states via phone call rather than public letter.
Education and the Workforce Committee Chairwoman Virginia Foxx told The 74 earlier this year that she doesn't see much of a role for the federal government in K-12 education, and plans to focus on oversight of ESSA implementation.
There's also plenty of reauthorizations and bills in the pipeline for lawmakers to consider.
Expiring Sept. 30 are authorizations for both the Children's Health Insurance Program, which provides low-cost insurance to children whose families make too much to qualify for Medicaid, and the Maternal-Infant Home Visiting Program, which sends nurses and other medical personnel to the homes of pregnant women and families to assist with parenting, health issues and education. The House passed a reauthorization of the Perkins career and tech ed bill, currently pending before Senate lawmakers. And the House Education Committee and Senate Judiciary Committee will have to reconcile their different versions of the Juvenile Justice Act.
An overdue rewrite of the Higher Education Act is also on the table.
Alexander said the HELP committee will begin work on it, particularly simplifying the Free Application for Federal Student Aid, or FAFSA,  application. The larger bill also touches on student loans, campus safety and teacher training, all hot topics of late.
(The 74: The Student Financial Aid Maze: Navigating the FAFSA This Year Ahead of Big Changes in 2017-18)  
Politico reported Tuesday that Foxx will unveil her higher ed rewrite at some point this fall.
And, of course, broader national events and conversations are playing a hand: Scott, his staff said, is interested in how the federal government can promote school integration. The Virginia Democrat would like a hearing on the intersection of free speech and racial climate on college campuses, particularly in light of the deadly protests in Charlottesville last month.
Get stories like these delivered straight to your inbox. Sign up for The 74 Newsletter