The Student Financial Aid Maze: Navigating the FAFSA This Year Ahead of Big Changes in 2017-18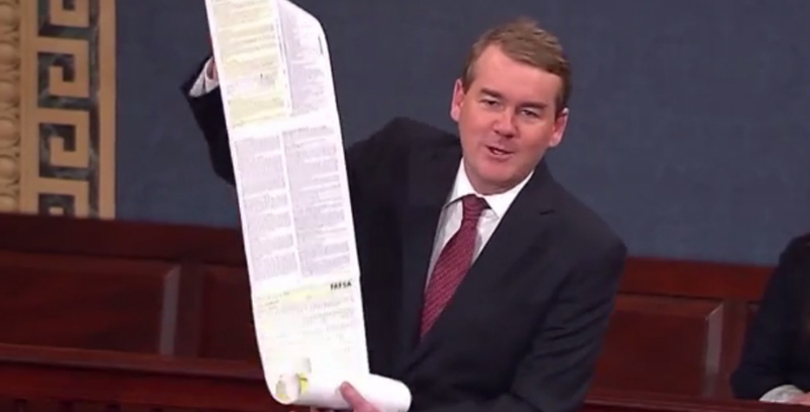 Jon Babcock and his 17-year-old son, Mark, spent about 10 hours online on a recent weekend navigating the tricky terrain that is the Free Application for Federal Student Aid, a.k.a. FAFSA, along with college admissions applications.
Ten hours is likely just the first leg of the Babcocks' months-long financial aid odyssey, as Mark prepares to graduate from North Rockland High School, located just north of New York City, and head to college to study mechanical engineering.
The middle-class suburban family knows it can only afford to partially fund their eldest child's college tuition and which school he attends will depend largely on the amount of state and federal aid he is offered.
The dilemma? The Babcocks may not know exactly how much aid that is until late in the game — after Mark has already applied and been accepted at some schools, and when financial aid deadlines are looming between January and March.
Like millions of other FAFSA applicants this year, Mark's aid award will be largely determined based on his parents' best estimate of their 2015 income — but they won't have their actual 2015 tax return in hand when the application is due around January. So they may have to go back and edit the form.
"It's almost like you have to fill it out twice. Once to guess and once to actually find out" how much you'll get, Babcock said.
It's a frustrating process for everyone involved — parents, students and the aid administrators at colleges. Yet the pain of filling it out is a mere pinprick compared to the agony of families who struggle to scrape together college tuition for one or more students.
Changes announced this fall by the Obama administration should smooth out a longstanding wrinkle in the federal education department's FAFSA process, even if they do nothing to relieve the actual burden of college costs.
Starting in the 2017-18 school year, the FAFSA will be available to fill out October 1 rather than in January, shifting the whole federal aid application cycle more into line with the rest of the college application process.
Most significantly,
starting in 2017-18
, FAFSA applicants will apply using income information from two years prior, rather than one year.
That makes Mark among the last American students who will go through what's known as the current "prior year" process. On the other hand, his 12-year-old sister, Grace, can expect to use "prior prior year" — if she's applying for college in 2021, she'll use income information from 2019.
"It opens up that window a lot with the goal of helping people to make better-informed financial decisions about where they're going to enroll," said Karen McCarthy, a senior policy analyst at the
National Association of School Financial Aid Administrators
.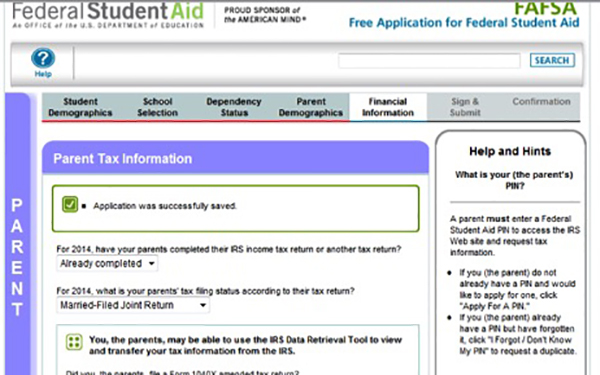 McCarthy said the idea to change the income year has been around for years, decades even. But only recently, as public outcry about student loan debt has grown and with presidential candidates on both sides of the aisle highlighting the need to improve college access and affordability, has the political environment ripened to allow the FAFSA changes to happen, she said. For a while, McCarthy said, some Republican leaders resisted, citing concerns that making the form easier to complete and basing aid awards on two-year-old income data would lead to a hike in federal spending on higher education.
How the changes will play out in that regard are a bit unknown, she said.
One result that financial aid experts are confident about: Fraud and human error will decrease as a result of the changes, McCarthy said, because applicants will be able to pull in IRS-verified data from tax returns that have already been filed and approved, and use it to autocomplete sections of the FAFSA.
"It does alleviate a lot of that verification burden that we have right now," she said.
The office of Federal Student Aid, through the U.S. Department of Education, provides $150 billion in federal grants, loans, and work-study funds each year to more than 13 million students, according to its website.
Questions? The federal student aid office hosts a monthly FAFSA chat for students and parents. The next one is Wednesday, Nov. 18 at 5 p.m. ET. For more information, find FAFSA on
Facebook
and
Twitter
.
Photo: U.S. Sen. Michael Bennet (D-Colo.), introduced a bill in January 2015 to simplify the federal student aid application process. Before he was elected, Bennet served as superintendent of Denver Public Schools.
Get stories like these delivered straight to your inbox. Sign up for The 74 Newsletter