Chicago Heads Toward First Teacher Strike in History of Charter Schools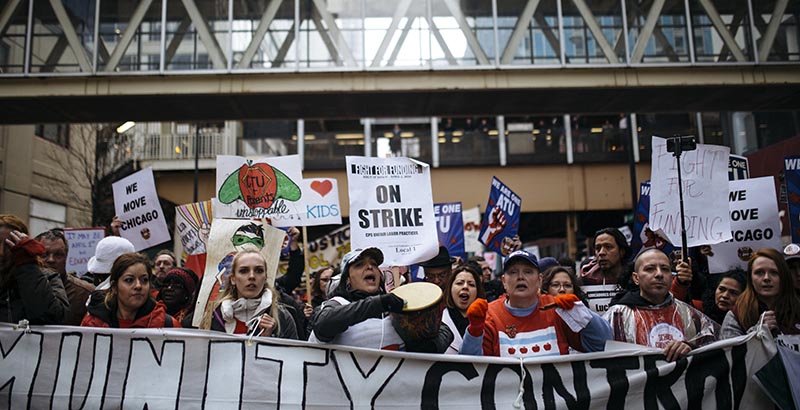 The first teacher strike in the 27-year history of American charter schools was overwhelmingly endorsed by staff at Chicago's largest unionized network in response to what labor leaders characterized as stalled contract negotiations.
Whether more than 500 teachers who work at one of the 15 Acero schools will actually walk out remains uncertain. A strike date has not been set.
But the vote reflects the emerging influence in the charter sector of the Chicago Teachers Union, the powerful labor body that merged earlier this year with a smaller local representing charter employees. As contracts expire for teachers in charters represented by CTU, supporters of school choice warn that CTU hopes to bargain for changes that undercut the viability of the charter model.
"If you're a real cynic, you say the teachers union went off on charter schools to kill them," said a person with knowledge of the negotiations who wasn't authorized to discuss them. "And when they couldn't kill them, they tried to represent them. Now, they're negotiating in a way that charters can't pay the bill."
Chicago has the second-highest percentage of unionized charter schools in the country, trailing only Los Angeles, with unionized staff in about one-quarter of the city's 128 charters. Acero educates roughly 7,500 students, more than any other charter operator in the city after the Noble Network, which has fought organizing attempts, and Chicago International, four of whose campuses will hold a strike vote on Friday amid unfruitful negotiations.
Acero teachers unionized in 2013, when the network was known as UNO, and nearly struck over pensions two years ago. Teachers are seeking pay raises and improved benefits, along with smaller class sizes and better support for students with disabilities.
"Acero in many respects is typical of the charter industry across the city and, frankly, across the country," said CTU spokeswoman Christine Geovanis. "They seek to lowball what they invest in their students and lowball what they invest in classrooms and lowball what they invest in educators."
Charter supporters believe the union is disingenuous about the reasons it organized the potential job actions.
Andrew Broy, president of the Illinois Network of Charter Schools, says the union's aim is to "stop charter growth entirely" by forcing charters to accede to pay increases he says they can't afford or to force a financially ruinous strike.
"The remedy is not strikes," Broy said, "the remedy is to fix the [state] charter funding formula. But when that comes up in the state legislature, the union fights it."
Broy believes CTU has "slow-walked the negotiation, which suggests to me that it's political, attracting lots of media attention and probably tying it with the mayor's race," which will be held next February.
The CTU struck in 2012 in an epic showdown with Mayor Rahm Emanuel, who is not running for re-election. The union came close to walking out again in 2016 when it reached an agreement with Chicago Public Schools that included, among the usual pay increases and pension contributions, a cap on charter schools and the number of students who could enroll in them.
In a statement after the vote, Acero said that "it is unfair to parents and students to threaten to disrupt classes when Acero Schools is more than willing to continue negotiations and work with the federal mediator brought in this weekend."
Acero spokeswoman Noelle Gaffney added in a statement to The 74, "The parties are still meeting and have several more bargaining sessions scheduled over the next couple of weeks."
"We are continuing to negotiate in good faith," she said, "but given the strike vote, we are also taking steps to prepare for a strike."
Support The 74's year-end campaign. Make a tax-exempt donation now.