New Report Shows Chicago's Charter Schools Yield Higher Test Scores — and College Enrollment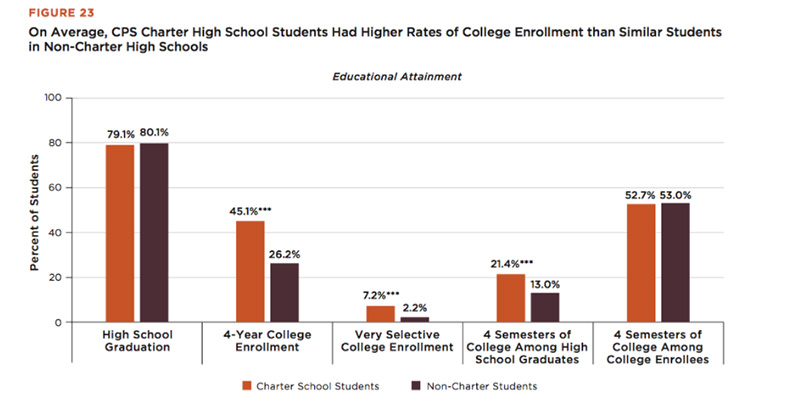 New research on Chicago's public high schools shows that charter school students not only score higher on standardized tests than their counterparts in traditional district schools, but also do markedly better on a range of post-secondary results like college enrollment and persistence.
Even while providing new evidence of Chicago charters' superior performance on many measures of school quality, however, the data also bring happy tidings for the city's public schools as a whole: The gap between school sectors in indicators like school environment and teacher collaboration is closing, due mostly to recent improvement from district schools.
The study, authored by Julia Gwynne and Paul Moore of the University of Chicago Consortium on School Research, examined the instructional practices, enrollment and transfer data, and academic outcomes of Chicago's 34 charter high schools (and 13 combination elementary/high schools) and comparable district schools.
About 22 percent of the city's 109,000 high schoolers attend charters. Of those high schools, about half belong to the high-performing Noble Network, which has already produced over 10,000 alumni.
The district/charter comparison is in some ways quite flattering to charters. Affirming earlier research conducted by Stanford's Center for Research on Education Outcomes, the authors find that charter students score substantially higher than their district school counterparts on both the ACT and the ACT-aligned PLAN exam, given in 10th grade.
Charter freshmen demonstrate a 93 percent attendance rate — five points higher than district students, or equivalent to about eight days of school. That's a critical difference in a city where the rate of chronic truancy is nearly 35 percent. School attendance has become such a driving concern that Illinois officially listed chronic absenteeism on its ESSA plan as its nonacademic school quality indicator.
But the charter sector's most impressive accomplishment of all is its comparative success in ushering students to and through college. While charter and district students graduate with roughly the same frequency, charter students enroll in four-year colleges nearly twice as often. They are much more likely to matriculate to very selective schools, and although college persistence is low in both instances (as it is for many urban students around the country), former charter students complete at least four semesters of higher education more than 50 percent more often than their district counterparts.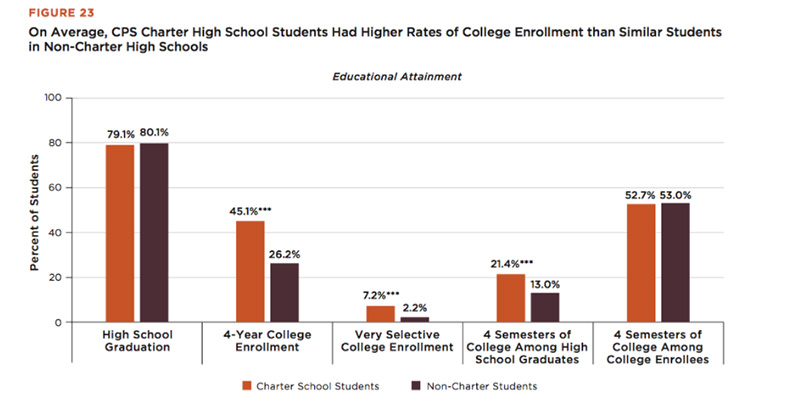 To explain these disparities, Gwynne and Moore examined instructional practices and school environment data in both charter and district schools, finding noteworthy differences.
Overall, both students and teachers at charter schools provided more positive accounts of their schools. Students were more likely to say that they trusted teachers and felt safe. Teachers, in turn, placed more trust in their colleagues and felt a greater sense of collective responsibility for student development and school improvement. They were also much more likely to expect their students to continue their education after graduation and take affirmative steps to promote college readiness.
Happily, the gulf between charters and district schools seemed to narrow over the four years the study was conducted. The charter sector's advantages in teacher trust and collaboration, parent trust and involvement, student safety, future orientation, student-teacher trust, and expectations for post-secondary education all faded as district schools improved.
"Were charter schools' scores on these measures going down in 2013 and 2014 or were scores for non-charter, non-selective schools going up?" the authors ask. "In general, smaller differences in 2013 and 2014 were due to increases in scores for non-charter, non-selective schools rather than decreases in scores for charter schools."
Coupled with new research — also released this month — showing rising test scores for the city's elementary and middle schoolers, the study suggests meaningful progress for Chicago schools as a whole, even as charters lead the way for now.
Get stories like these delivered straight to your inbox. Sign up for The 74 Newsletter