As Tennessee Voters Prepare to Elect New Governor, a 'Pivotal Moment' for State's Bipartisan Reforms on School Standards, Teacher Quality, Turnarounds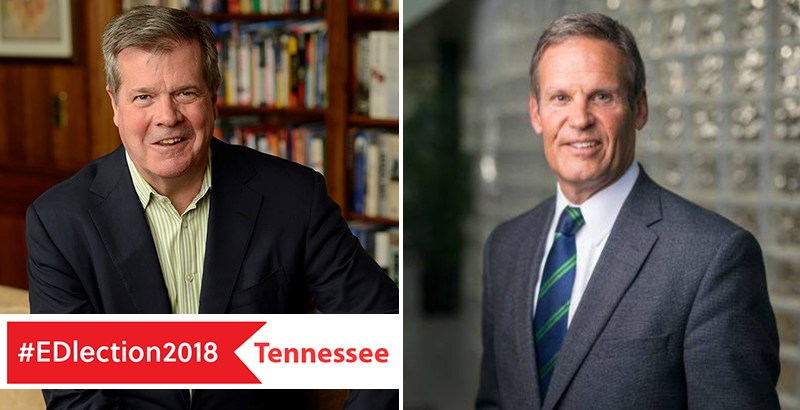 EDlection 2018: From coast to coast, The 74 is profiling a new education-oriented campaign each week. See all our recent profiles, previews, and reactions at The74Million.org/Election (and watch for our Election Night live blog Nov. 6)
Few states have embraced education reform with the vigor of Tennessee, where leaders have instituted tough standards, rigorous tests tied to teacher evaluations, and state takeover of failing schools.
Those efforts — conducted under both Republican and Democratic governors for the past 16 years — have made Tennessee schools among the fastest-growing, as judged by scores on national benchmark exams. Now, a new leader will be in charge of that reform effort as it enters its second decade, facing problems with testing and turnaround of low-performing schools.
"We see the moment we're in right now as pivotal to determining whether the progress that the state has made is not only going to continue but accelerate. Anytime you have transitions like this, it's easy to go in a totally different direction or focus on other priorities," David Mansouri, president of Tennessee SCORE, an education reform advocacy group, told The 74.
The men vying to take over stewardship of that progress are Bill Lee, a first-time candidate and the wealthy owner of a family heating and plumbing business who unexpectedly beat better-known candidates to win the Republican primary, and former Nashville mayor Karl Dean, the Democratic nominee. Current governor Bill Haslam, a Republican, is term-limited.
Most polls have Lee up by double digits over Dean, and independent election handicappers generally rate the race a "likely" Republican win.
Education has been one of the major issues in the campaign, experts said, and a poll by SCORE found it was top of mind for one-third of voters. Similar numbers of those polled cited the economy, jobs, and health care as their most pressing concerns.
The gubernatorial race so far has been polite, particularly as compared to a U.S. Senate campaign in the state, and education reform, with its bipartisan backing, hasn't been the flashpoint issue in Tennessee that it has been in other places, experts said.
"Education and jobs have really been probably the top issues, and [both candidates] sound a lot alike, really, on that issue," Kent Syler, a political science professor at Middle Tennessee State University, told The 74.
Both support charter schools, for instance, though Dean's website is clear that he supports only nonprofit charters (for-profit charters are banned in the state) and is skeptical that they work in rural areas.
They both think Tennessee teachers should be paid more, and they've called for improved career and technical education in campaign ads.
Lee's, for instance, shows him welding and touting his company's history of training workers.
"I don't just talk about vocational training, we've actually done it … We're going to do that all over Tennessee," he says in the ad.
Dean, for his part, in his own ad lists "skills training for every student" as among several big ideas he'd bring to the governor's mansion.
The candidates' sharpest differences on education so far have come over private school choice and school funding, currently tied up in a court case brought by three of the state's largest school districts.
On funding, Dean says there should be increases, while Lee has called for an inspector general to weed out waste and abuse. On private school choice (which the Republican-majority Tennessee legislature has rejected several times in recent years), Dean is a firm no, while Lee backs education savings accounts, according to a candidate survey by Chalkbeat Tennessee.
"Certainly there are places where each of them wants to move and put their own perspective and stamp on the work, but I think we feel like there's been a pretty thoughtful conversation about where we go next in education in the governor's race and feel good about the tenor of the conversation on those issues," Mansouri said.
Strong history of ed reform
Outgoing governor Haslam is well known in the education world, notably for his moves to create the Tennessee Promise free community college tuition program and his "Drive to 55" campaign to get 55 percent of Tennesseans to have a postsecondary credential by 2025. But Tennessee's K-12 education reform began in earnest under former Democratic governor Phil Bredesen.
Bredesen himself is on the ballot again this year, in the toss-up Senate race against Republican Rep. Marsha Blackburn to fill a seat currently held by retiring Republican Sen. Bob Corker. It's one of a handful of seats that could determine which party controls the Senate.
Tennessee had "a little bit of a head start" in implementing some reforms when it was a first-round winner of a $500 million Race to the Top grant in 2009, Jason Grissom, associate professor of public policy and education at Vanderbilt University, told The 74.
Some of those efforts have worked better than others.
The teacher evaluation system, which awards 35 percent of a teacher's score based on the value they add to students' learning, as judged by test scores, is becoming more popular with educators as the years pass, said Grissom, who is also faculty director of the Tennessee Education Research Alliance, a partnership between Vanderbilt and the state education department.
Efforts to improve low-performing schools in Memphis, by giving them greater autonomy in what's called an innovation zone, have had impressive results.
Even those successes raise additional problems for the next governor.
Despite the gains made by the innovation zone schools in Memphis, a separate state-takeover achievement school district hasn't shown any positive results for the schools it served as compared with other low-performing schools.
And in 2016, the state had to suspend testing following failures with one vendor. Earlier this year, a host of technical troubles with another vendor, including a cyber attack, hampered exams, and the results won't count for school ratings or teacher evaluations.
Both candidates have said they're in favor of test-based accountability (though Lee has said he'd like to reduce the testing burden), but the specifics of how to give those exams will probably be an issue for the next governor, Grissom said.
Either Lee or Dean should also look into postsecondary completion, now that access has been expanded through the Tennessee Promise program, and how to better align the K-12 education system with higher ed and the workforce, Mansouri said.
Neither campaign returned requests for comment.
Disclosure: The Walton Family Foundation and Bill & Melinda Gates Foundation provide financial support to Tennessee SCORE and The 74.
Support The 74's year-end campaign. Make a tax-exempt donation now.