A Cyberattack, a Cut Cable & a Software Glitch: Why Tennessee Is Discounting Student Test Scores — and Wants the Feds to Do the Same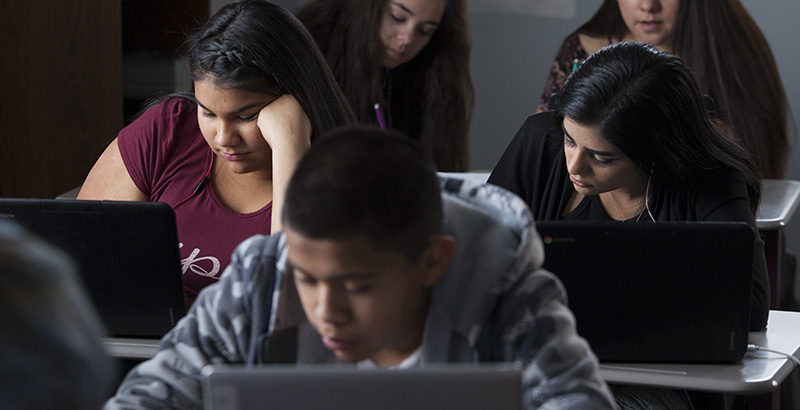 Schools in Tennessee won't face state repercussions from standardized test results this year, after cyberattacks and technical glitches over the past two weeks prevented some students from taking state tests and caused chaos for teachers and state leaders alike.
Tennessee, along with Mississippi, Missouri, New York, and South Dakota, were among the states whose testing services were disrupted after their vendor, Questar, experienced a denial-of-service cyberattack that shut down the system by overwhelming it with requests. Questar said student data was not stolen, EdScoop reported.
But that was just one of several testing problems that led Tennessee state legislators to pass a law last month preventing this year's test results from negatively impacting students' grades, teacher compensation, or employment status for educators.
"I think what happened was the House felt like we needed to do something to protect teachers and our students and our institutions from further erosion of the trust as it relates to these tests. I think what you saw today is an effort to do that," said House Republican Caucus Chair Ryan Williams, the Tennessean reported.
The state might have to submit a federal waiver under the Every Student Succeeds Act to be excused from testing, according to Education Week, but state Education Department officials are still reviewing the law. It is unclear whether Tennessee would be granted a waiver, as the federal government has shown flexibility in the past but is trying to shift away from waivers.
State Republican lawmakers called for a review of the testing platform, which has experienced a number of issues since exams began April 16. On the first day, students couldn't log in. The next day, the cyberattack overwhelmed the system. Then, the testing vendor updated its software, resetting school rosters. Finally, on Thursday, a fiber-optic cable running between Tennessee and Georgia was severed, shutting down internet access for schools statewide.
The Tennessee Bureau of Investigation and state Office of Homeland Security are investigating the cyberattack.
Some legislators called for state Education Commissioner Candice McQueen to step down. Others called for a return to pencil-and-paper tests, Chalkbeat Tennessee reported.
"We always want a throat to choke and hold one person accountable, but at the end of the day, there are a lot of pieces to this," McQueen told state lawmakers. "At the end of the day, this is about a mass transition onto an online environment."
Others, like state Rep. Mark White, pointed out that the legislature is partly to blame for the testing crisis. In 2014, Tennessee quickly pulled out of the PARCC test in response to backlash against the Common Core State Standards. As a result, new standardized tests were implemented without much time to vet them, Chalkbeat Tennessee reported. A new testing vendor, Measurement Inc., was hired in 2014, and with little time to develop the test, the online platform crashed in 2016. Questar, the current vendor, was hired the same year.
Switching back to paper tests is impractical, said Eric Brown, assistant director of cybersecurity education, research, and outreach center at Tennessee Tech University. He called the cybersecurity and technological glitches part of the growing process for schools as they transition not just to online testing but to an online world.
"Centralized testing is not an easy task," Brown said. "There's always doomsday people saying the world's going to end. … You've got to put it into perspective. Every time a major innovation in society was introduced, there were growing pains that went with it. That's what we're experiencing now."
Still, he said, more attention should be paid to cybersecurity in schools, both from a personnel side and from a practical side. Brown recommended "commonsense" adjustments for schools: maintaining infrastructure, keeping operating systems up to date, making sure systems are not allowed to degrade, and controlling who is allowed access to certain systems.
"It's a process that is growing like every other part of our lives, and we need to own the process, fix the process, and not abandon it because it had early problems," Brown said.
Despite the technology struggles, the state Department of Education announced that students had completed 250,000 successful testing sessions last week.
Get stories like these delivered straight to your inbox. Sign up for The 74 Newsletter