Memphis, Tennessee NAACP Chapters Back Charter Schools, Distance Themselves From Call for Moratorium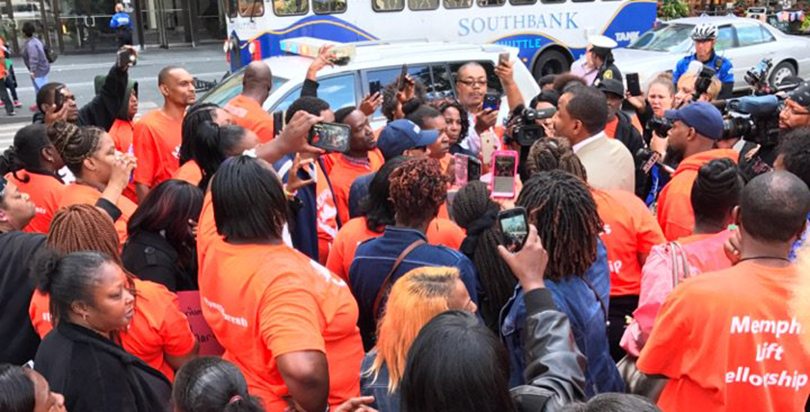 A week after the NAACP released a report and model legislation reiterating its call for a moratorium on new charter schools, among other sweeping changes, fault lines have appeared at the organization's grassroots level. Leaders of the group's 100-year-old Memphis chapter, one of the nation's largest, this week said their position is "more nuanced."
The NAACP of Tennessee has also demurred, with leaders insisting that the state already has in place the legal checks and balances that address many of the concerns raised at the national convention, held last week in Baltimore.
Some news reports following the convention framed the release of a report by a task force that conducted a national "listening tour" on charter school issues as a step back from a resolution last fall calling for a moratorium on new charter schools. Memphis chapter president Deidre Malone told the Memphis Commercial Appeal this week that she credits the two chapters' testimony about Tennessee charter schools for shifting task force members' stances.
"I think Memphis was heard loud and clear," Malone told the paper.
The NAACP's national board first called for a moratorium at a Cincinnati meeting in October. Within weeks, the Tennessee chapter held a press conference calling the state a "sweet spot" in the charter school landscape and distancing the local chapters from the resolution.
Many of the 70 charter schools operating in Shelby County, where Memphis is located, are good options for low-income children of color, Malone and other chapter leaders have said.
Seven of the schools made the most recent list of the state's top performers, according to Mendell Grinter, founder and executive director of the Campaign for School Equity, a Memphis nonprofit advocating for school quality.
"The thing I think about the Tennessee and Memphis charter landscape is, they've been around a long time," said Grinter. "We've seen good results from schools that are homegrown, started either by folks in the community or who came back."
Local leaders also included testimony about successful charter schools at the national task force's subsequent January "listening tour" stop in Memphis. Leaders of the parent advocacy group Memphis Lift protested the board meeting in Ohio as well as that visit.
Among the things many read as a softening in the national group's stance was the fact that the model legislation given to delegates at the Baltimore convention called for a narrower moratorium on charters run by networks and for-profit companies. But a sample bill that delegates were asked to present to lawmakers in different states still included other provisions that would effectively curtail charter schools.
Malone is a partner in a Memphis firm that provides public relations services and media training to a lengthy roster of clients, including the NAACP, charter school networks, and Tennessee's Achievement School District.
Support The 74's year-end campaign. Make a tax-exempt donation now.