As School Board Members Across the Country Share Racist Social Media Posts, Current Students and Recent Grads Push Back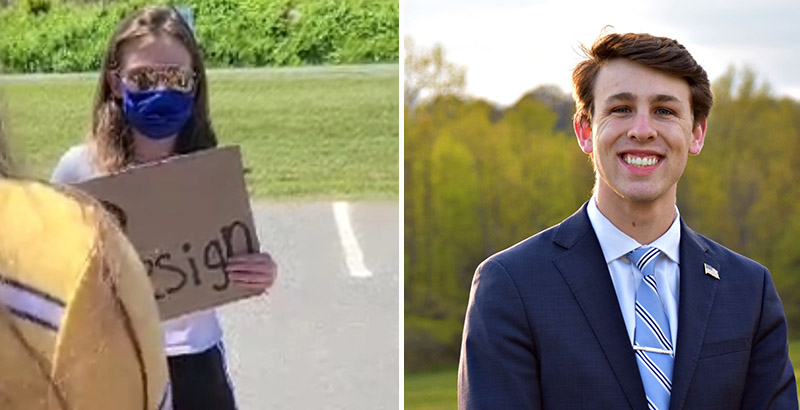 When Emily Sullivan saw that a school board member from her district had posted conspiracy theories about George Floyd's death on Facebook and suggested protesters should be "hosed," her first thought was, "This is unacceptable," she said.
The rising high school junior in Brewster Central School District in Putnam County, New York, started an online petition June 11 calling on the board member, Krista Berardi, to resign, not expecting many people to pay attention.
Sullivan, 16, shared the link with her friends and her mom, who posted it to their social media accounts, and within a few hours it "exploded," picking up 200 signatures in the first half hour, she said. More than 4,000 people eventually signed, and Berardi, who did not disavow the posts and initially appeared unwilling to step down, resigned from the board the following night.
Berardi did not respond to requests for comment. She is an elementary school art teacher in neighboring Carmel Central School District, and a petition calling for her resignation there has 142 signatures. A Carmel spokesperson told The 74 in an email that the district does not comment on personnel matters and that the school system has an equity team that will "provide equity training that includes racial sensitivity and bias training for all staff members as the 2020-2021 school year unfolds."
As the protests over George Floyd's death and renewed attention to the Black Lives Matter movement have taken hold, Americans have been calling out racism in many of their institutions, from law enforcement to media to government. Where the conduct being scrutinized involves elected school board members, whom research has shown tend to be older, whiter and more likely to be Republican than their communities as a whole, it's often either students, like Sullivan, or former students who are pushing to hold them accountable.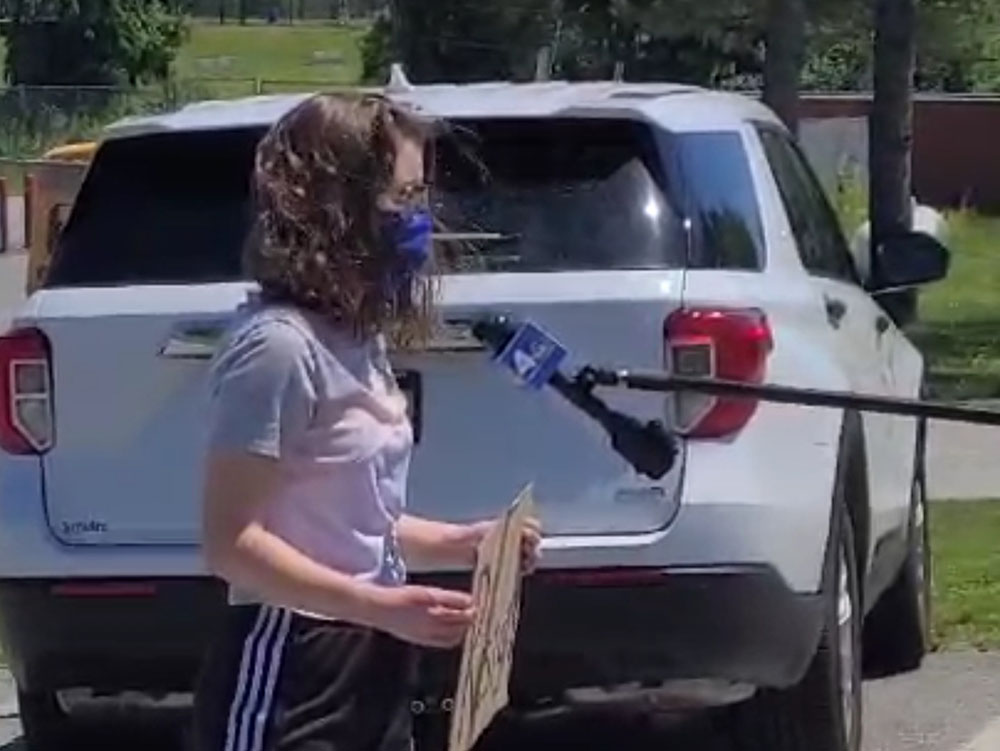 School boards across the country are facing a racial reckoning. In just the past month:
Tami Tobey has apologized but not resigned from a school board in Midlothian, Texas, after photos of her in blackface at a Halloween party surfaced and a petition calling for her resignation circulated.
Peter Tufano, a board member in Monroe Township in Middlesex County, New Jersey, has not stepped down despite a petition started by a 2017 graduate in his district calling for his resignation over a number of alleged sexist and racist posts and comments. NJ Advance Media reported that the posts included "vowing to call Attorney General Grubir Grewal 'turban man,' calling women derogatory slurs, and saying protesters were 'dressed like bums, not groomed and all have zero class.'"
Todd Bruning, a school board member in Bedford, Michigan, has not resigned but is under fire for his history of racist and sexist social media posts and for displaying the Confederate flag at his gun store, according to a petition started by local voter Stephanie McLain, 26, that now has more than 6,000 signatures.
Boyd Sartin resigned from the school board in Maud, Texas, after a 2009 graduate of the district and others in the community raised concerns about his social media activity. The Texarkana Gazette reported that Sartin commented, "You must be a thug that has committed a crime," on a post that said "I can't breathe" in reference to the Black Lives Matter movement.
William Carl Jr. has been urged to resign from the Conrad Weiser School Board in Robesonia, Pennsylvania, over comments he posted on Facebook, including one calling protesters "urban scum." A 2004 graduate of the district created a petition calling for Carl's resignation.
Bob Mangold resigned from the Albert Gallatin Area School District board in Uniontown, Pennsylvania, because of racist social media posts. He said his Facebook account was hacked and he did not post the images — which included a meme "depicting a Black child with a speech bubble saying 'Are you my dad?' and a group of black men running away" with a caption not written by Mangold that said, "Police deploy special tactics to disperse protesters," The Herald Standard reported.
Jeff Simpler, former vice president of the Monroe Township school board in Gloucester County, New Jersey, resigned after sharing a news article about gun violence with a comment suggesting that letting Black people "kill each other" would reduce violence. A 2011 graduate from the district brought attention to his posts by sharing screenshots in a regional Black Lives Matter Facebook group.
Doyle Woodall resigned from the board in Ector County, Texas, following a petition and protest over multiple Facebook posts, including one with a noose and another with an image of Muslims praying where Woodall added the comment "Spill a few gallons of bacon grease on that street and it would clear out fast," according to the Odessa American.
 
When local media reported that Woodall, who sat on the Ector County Independent School District's board in Odessa, Texas, had shared a racist image on his Facebook page, Esteban Hernandez, who graduated from the district in 2013, wondered if there were even more concerning posts on his timeline.
"I was horrified by it, just like anybody else should [be]," said Hernandez, who is Mexican-American. "I went to go take a look … and there was more and more — the most ignorant internet-troll type posts where you would have — just racist and anti-Muslim, transphobic [posts] — just a bunch of very ignorant views he was sharing consistently, over and over again."
Hernandez, 24, shared screenshots of the posts on his own social media pages and saw that many of his friends were as outraged as he was, so he started a petition calling for Woodall, 65, to resign or be removed.
Woodall, who resigned a few days after the posts surfaced, said he stepped down because of a family situation that requires all of his attention, but he maintains that the posts were not problematic. Some people might find them offensive because of the "filters" they have in their minds, he told The 74 in a phone interview.
"Everybody's just too emotional, everybody needs to get a little thicker skin," he said. "When you look at a post that I put down, by the time it goes through all your filters, it may mean something completely different, and all I know is my Black and brown and Anglo friends weren't offended by anything I put down."
Woodall said he received dozens of death threats. Hernandez said he didn't know anything about them and did not encourage anyone to threaten Woodall. Hernandez, now a student at Texas Tech University in Lubbock, Texas, himself was in hot water online last week after using a fake account to troll Trump supporters on Facebook.
One of Woodall's posts showed a noose — a symbol of violence against African Americans — with the words "If we want to make America great again, we will have to make evil people fear punishment again," according to the Odessa American.
Woodall said the image reminded him of seeing John Wayne movies as a child with his dad.
"I don't even remember looking at the noose and paying any attention to that. I would have sent that post if it'd had a gas chamber or a firing squad or an electric chair, there," he said. "I would have sent that post because I truly believe that evil people need to be punished and they need to fear punishment, and the fact that there was a noose on there, was irrelevant, I didn't even notice it."
Youth activism is having a moment that could be "as big as 1968," said Peter Levine, a professor of citizenship and public affairs at Tufts University, referring to the year students and young people around the world protested for racial justice and against the Vietnam War. The moment is the result of years of intentional organizing, he added.
Still, it's unclear whether the current upheaval will change young people's voting habits, particularly in contests as low-profile as school board elections.
"If you ask me if young people will vote in the November 2020 election, I would say yes. If nothing else I think there they have a target who's Donald Trump," whom many don't like and want to vote against, he said. But for school board seats, which usually are not up for election in November, "it's a different question whether young people will be turning out on some random day next summer."
Sullivan, who is white, attended a Black Lives Matter protest for the first time a few days before creating the petition and pointed to the internet as one reason young people like her are speaking out against what they say are indicators of racism and other discrimination.
"It's a lot easier to be educated, and I think you just learn more the more you're on the internet, and people my age definitely are [online more]. We have a much larger social media presence, so I think we know more," she said. "I think we're more educated on issues like this sometimes, so generally we're a lot more open-minded and less conservative about this" than some older people.
People who run for school board seats are likely to be older, whiter and wealthier than their communities at large, according to research by Jason Grissom and others. A professor of public policy and education at Vanderbilt University, Grissom and his colleagues looked at Ohio school board candidates' home addresses and used census data to approximate their wealth and guess their race and political leanings.
Additionally, voters often don't have much information about school board candidates and the elections tend to have low turnout, Grissom told The 74.
"The people who turn out to vote are often people who have been mobilized for one reason or another," he said. "What that means is if I am [running in] a low-salience election, I could have some very extreme views, but if I can do a good enough job of sort of mobilizing other people with relatively extreme views, that might be enough to get me over the finish line in a school board race because generally the public is not paying attention or doesn't care enough or has to work on the second Tuesday in April and so doesn't prioritize going to vote."
'It's a different world'
Tanner McCracken is an exception to those trends. The 20-year-old college student in June was elected to the Board of Education for the Mahopac Central School District, also in Putnam County, about 56 miles north of New York City.
McCracken, who studies political science at State University of New York Albany and works for a New York state senator, said he ran for the seat because he thinks the board needs the perspective of someone who recently experienced the Mahopac school system as a student.
"They didn't go through the 21st century school system that students these days are," he said of the eight older board members. "It's a different environment. It's a different world."
McCracken and his campaign used social media to attract young voters, posting videos about his platform and how to vote by mail, which was the only option this year because of the pandemic. No one on the campaign communications team was older than 21, McCracken said.
McCracken also wants to make the board more transparent and communicative, in part so the public can better understand what it does.
While campaigning, McCracken said, many residents asked him about the district's mascot — an Indian — which the board decided in 2019 to keep despite concerns from the public that it was offensive to Native Americans. McCracken hasn't taken a stance on the mascot but said he plans to urge the board to have a town hall to hear what people have to say about it and possibly hold a referendum on the mascot.
McCracken said he senses the board sometimes feels a "distaste" for the community — something he wants to change.
"There's kind of this, 'You don't know what a school board is' kind of vibe towards the town, because it is true — a lot of people don't actually understand what a school board does," he said.
'If no one else is going to do anything'
The National School Board Association, a federation of state school board associations, which advocates for public education and the nation's roughly 90,000 school board members, did not respond to requests for comment about the numerous incidents of racist commentary by school board members. The New York State School Board Association did, and deputy executive director and general counsel Jay Worona said it's working on a policy on "inclusivity and diversity and equity" and planning training opportunities in response to protests and activism stemming from Floyd's death in May.
Worona did not offer specifics and said board members sharing racist posts online had never come to his attention until this spring. In 2016, Carl Paladino, a school board member in Buffalo, New York, and surrogate for then-candidate Donald Trump, came under fire for racist comments about Barack and Michelle Obama that were published in a magazine. Fellow board members called for Paladino's resignation and asked the state education commissioner to remove him. He ultimately was, but for divulging confidential information about teacher contract negotiations, not for his racist remarks about the president and first lady.
"Now that I see that that is coming to our attention, we certainly want to educate our board members about what might be appropriate for them to post or not post in terms of its impact on distracting communities away from the board's work, but … board members have a First Amendment right … to express their viewpoints" on social media, he said. "And if that has a negative impact on the school board, we can remind them of what they might want to consider doing in the alternative, but at the end of the day, they have certainly the authority to express themselves in that way."
Worona added that he would "strongly suggest" that board members not say or post anything "divisive" that would make it harder for themselves or their board as a whole to focus on improving outcomes for students. In New York, board members must vacate their seats if they commit a felony or a misdemeanor that violates their oath of office.
Sullivan, the student who created the petition in Brewster, said she decided to speak out because she had been following the nationwide movement for social justice and saw a problem in her community that she could directly influence. This wasn't the first time she had noticed racism in her town, she said.
"There's a presence of that just being swept under the rug," she said. "So I was like, you know what, if no one else is going to do anything about it, then I kind of have to."
Get stories like these delivered straight to your inbox. Sign up for The 74 Newsletter