Adams: How Can NYC Halt an Exodus of Students Worried About Going Back to School in the Fall? Create a Remote Learning District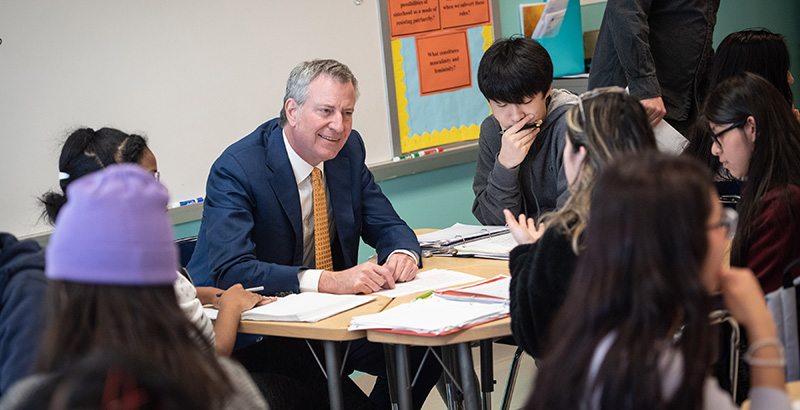 Last month, New York City Mayor Bill de Blasio called a certain group of parents "privileged."
Since "privileged" is pretty much the worst insult the mayor can think of, we can be sure that said parents committed a great crime, indeed.
Instead of buying the mayor's assurances that he would absolutely either have a workable plan for reopening schools in the fall or, at least, address parent and student concerns about how remote learning was handled in the spring, these Benedict Arnolds were making plans to leave the city. Or, even worse, staying in the city, but opting for charter or private schools instead of traditional public ones.
Why would they do that? Beyond being misguided, that is. What could the main difference in remote learning have been between public schools and charter and private ones?
It was that private and charter school teachers were told by their principals that they had to continue offering live instruction remotely, putting assignments up online and continuing to grade them, as well as communicating with and offering extra help to students. District school teachers were told they could do as much or as little as they wanted to.
Some public school teachers went above and beyond. Others left their students to flounder, as documented by this survey:
"The lack of communication is driving our grades down because if we have a question or problem, we message our teachers about the issue, and they never seem to reply." 
"Most of the work I've gotten was for review, and if we continue this next fall there will be nothing to review. They need to figure out how to actually teach us new information."
The lack of communication isn't limited to just teachers. The Department of Education has yet to release a comprehensive plan for reopening in the fall beyond a vague letter.
Faced with such a high level of uncertainty, of course some families are plotting a move to a charter or private school.
We suppose NYC could follow in the footsteps of Oregon and simply forbid public school students from transferring to a charter school. Or be like Pennsylvania and pen a bill insisting on the closure of all charter cyber schools so that students must return to brick-and-mortar district schools (which are currently closed, but why quibble?). NYC, though, will have a harder time legally keeping families from opting for private schools, which often have much smaller class sizes and overall school populations. This grants them a leg up on social distancing.
But even if parents can't switch to a charter or afford a private school, national polls have reported that up to 60 percent of families have said they'll consider homeschooling in the fall unless treatment or a vaccine for COVID-19 becomes available.
And if that doesn't work, then, yes, some NYC families will move upstate or to Long Island or to New Jersey. Anyplace with an actual school reopening and/or education plan.
With them will go the funding that comes from the state for each child enrolled in an NYC traditional public school.
Bill de Blasio cannot allow that to happen. It would hardly be a ringing endorsement of his mayoralty.
So how can he prevent this exodus (on the off chance that calling people worried about their children's health and education names doesn't get the job done)?
By beating charter, private and virtual learning companies to the punch and setting up a remote learning public school district.
On July 2, the DOE made some noises in that direction by indicating that "families will be able to keep their children home this fall and opt for a full remote school schedule regardless of medical need."
But Mark Cannizzaro, head of the union that represents principals and other school leaders, clarified that there had been "no discussion" of schools losing students from their rosters and, therefore, funding, if students opt for fully remote learning.
One of the biggest issues with public school remote learning as it stands now, however, is that it's completely dependent on what an individual teacher in an individual school feels like doing. It's not even consistent between classes in the same grade at the same school.
An independent remote learning school district, on the other hand, would not be tied to an individual school. It would have its own schedule, its own curriculum, its own teacher expectations.
Come September, parents could be given the choice of accepting the reopening plan set by their current public school or participating in the Remote Learning District.
Currently, NYC's District 75 consists of 57 schools specifically designed to serve children with severe disabilities. But it also includes home and hospital instruction for those who are unable to physically attend school.
The Remote Learning District could be an extension of that. Or it could be run similarly, in that instruction would not be tied to a particular school while still keeping kids officially enrolled in the system.
As Cannizzaro obliquely alluded to above, every student officially enrolled in an NYC public school is worth an average of $28,808 to that particular school. If too many kids leave, that is a lot of funding lost. But if the funding can be redirected to a virtual public school, the money stays in the system.
A Remote Learning District would mean hiring multiple remote learning teachers, a viable option for educators as reluctant to return to the classroom prior to the development of a COVID-19 vaccine as the parents who are considering other options. (That could well prove key to such a district being accepted by teachers unions, since they've made it clear that the primary purpose of any public school system is to keep teachers employed.)
How can the mayor — or the unions — say no to that?
Alina Adams is a New York Times best-selling romance and mystery writer, the author of Getting Into NYC Kindergarten and Getting Into NYC High School, a blogger at New York School Talk and mother of three. She believes you can't have true school choice until all parents know all their school choices — and how to get them. Visit her website, www.NYCSchoolSecrets.com.
Get stories like these delivered straight to your inbox. Sign up for The 74 Newsletter