'No One Is Above the Law': Divisive Trump Surrogate Carl Paladino Removed From Buffalo School Board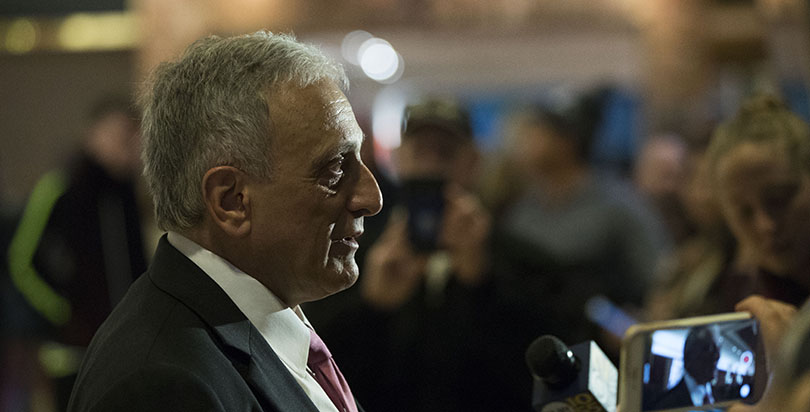 New York's education commissioner announced Thursday that Carl Paladino, a former gubernatorial candidate and surrogate for Donald Trump during the presidential campaign, has been removed from his post on the Buffalo school board.
Although calls for Paladino's ouster earlier this year focused on racist comments he had made about then-President Barack Obama, Education Commissioner MaryEllen Elia's ruling cited violations of New York's open meetings law. The announcement followed a months-long investigation, including a June hearing in Albany that spanned five days.
"Justice has been delivered," Frank Miller, an attorney representing members of the Buffalo board who had sought Paladino's removal, told The Buffalo News, noting that the ouster is effective immediately. "The message sent now is that regardless of station in life, no one is above the law."
Ending months of protests, Elia ruled Thursday that Paladino had disclosed confidential information about the Buffalo district's negotiations with the Buffalo Teachers Federation. The two sides reached a contract agreement in October after a 12-year stalemate.
In December, Paladino told the local magazine Artvoice his greatest wish for 2017 is that Obama dies after he "catches mad cow disease after being caught having relations with a Herford," and that then–First Lady Michelle Obama returns "to being a male and let loose in the outback of Zimbabwe where she lives comfortably in a cave with Maxie, the gorilla." Paladino, who didn't respond to a request for comment, had maintained the comments weren't meant for publication. A complaint filed with the state by other members of the Buffalo school board were retaliatory and chilled his free-speech rights, he maintained.
Paladino served as co-chair of Trump's New York presidential campaign. After the comments appeared in Artvoice, Trump's transition team called the remarks "absolutely reprehensible," and Paladino released a statement apologizing to "the minority community." In a January interview with The 74, he said that "it's none of your business" when asked whether he had a role on Trump's transition team, though he said he remained "highly supportive" of Trump's education reform agenda.
Paladino's Artvoice remarks were only the most recent in a history of inflammatory comments. Acting as a Trump surrogate, he drew boos from leaders of the nation's largest school districts during a Florida conference in October, when he said Trump would dismantle "corrupted, incompetent urban school systems" and that the Common Core state standards were created by college professors who used to be "pot-smoking hippies."
Trump himself is fending off accusations this week that he sympathizes with white nationalists after a rally in Charlottesville, Virginia, turned deadly.
Paladino's fight in Buffalo, however, may not be over just yet. As The Buffalo News notes, he previously filed a federal lawsuit against school board members who pushed for his removal, and he could appeal Elia's decision in court.
Get stories like these delivered straight to your inbox. Sign up for The 74 Newsletter