Analysis: Community Health, Vaccination Policies & Local Preference — How 100 Districts Are Reopening After COVID-19 Shutdowns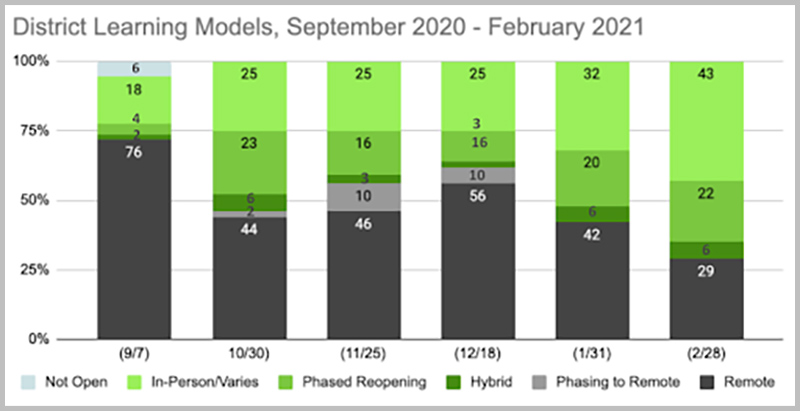 Urban districts across the country have taken a sharp turn toward in-person and hybrid learning in the start of 2021. More than two-thirds of the 100 districts we reviewed (71 percent) are offering instruction fully or partially in person in February — nearly double the rate from just two months earlier (44 percent).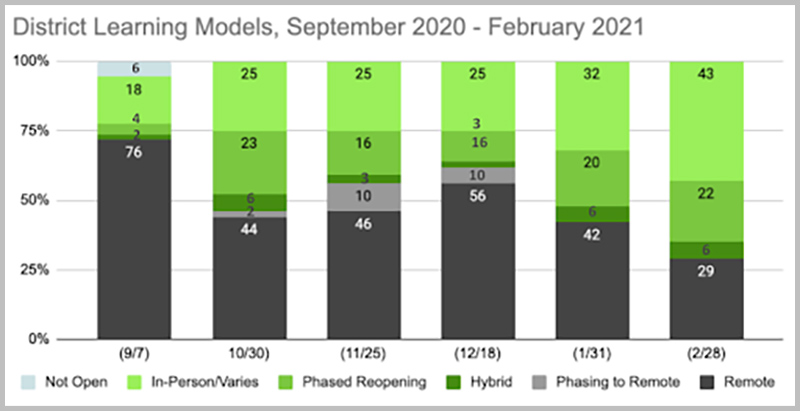 This about-face reflects a convergence of trends in the start of the new year. Fall learning and attendance data, especially for remote learners, was dismal. The country began to administer vaccines at the same time the holiday virus surge abated. The Biden administration also weighed in, using strong language of "a national emergency" to push for increased in-person schooling during its first 100 days in office.
Parents and educators have become more open to in-person schooling. Sixty-four percent of teachers surveyed by the American Federation of Teachers in February reported a preference for in-person or hybrid learning, and the share of parents surveyed by the National Parents Union who preferred in-person or hybrid learning increased from 47 percent in December to 58 percent in February.
Local preference and politics are as strong a factor for school learning model decisions as health conditions or vaccination policies
Districts' learning model choices do not correlate strongly with health conditions. Districts with fully remote learning were almost as likely to be in an area with "high" or "substantial" virus transmission, according to the Centers for Disease Control and Prevention, as districts in various forms of in-person learning.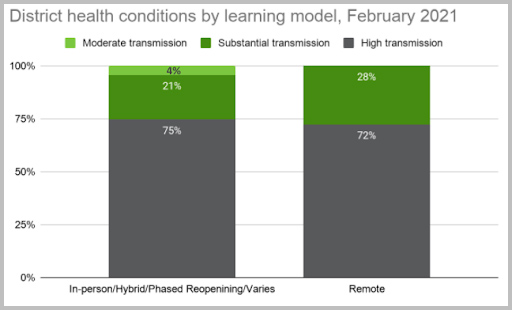 Similarly, districts located in states that prioritized teachers for early vaccinations were not significantly more likely to reopen schools. Just 59 percent of the districts in states that prioritize teachers to receive the vaccine early (36 of 61 districts) are learning in-person. By contrast the vast majority — 89 percent — of the districts in states not prioritizing teachers (32 of 36 districts) are operating in-person.
In these districts, reopening efforts must overcome local pressure and distrust — months-long union negotiations, threats of teacher strikes, hesitancy among parents of color to return to in-person schooling. Given this reality, it's unclear whether President Joe Biden's recent call to prioritize teachers for vaccines will make a difference in budging preferences in remote learning districts.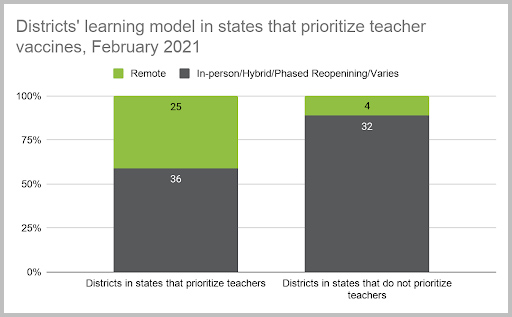 About a third (31 percent) of the 29 districts still operating remotely have committed to a reopening date for prioritized populations this spring. The other two-thirds have provided no information to indicate they will reopen this year.
All nine California districts in our sample continue to operate remotely and make up about a third of the districts still in remote learning. Strong union presence, flexible state guidance and recent virus upticks have been consistent across all nine. However, other districts with similar political and health conditions have found ways to reopen schools after months-long negotiations and strong leadership.
Outside California, the remaining districts choosing to stay in remote learning are relatively diverse. They are located across 15 states, with enrollment that ranges from 8,000 to over 600,000 students. More than a third (38 percent, or 11 of 29 districts) are in states with Republican governors, and more than a third (38 percent, or 11 districts) are in states considered to have average or weak union strength. Georgia's Dekalb County School District and Kansas City Public Schools, for example, relied on health metrics and parent and teacher feedback to delay reopening from January until March.
As the nation reaches the first anniversary of school closures this month, it is remarkable that about a third of urban school districts remain in remote learning a year later.
One lesson has carried through the earliest remote learning efforts last year to the reopening debates this spring: Decisive leadership matters. Chicago Superintendent Janice Jackson overcame the local union's objections and reopened schools, while many of her counterparts in the West Coast spun their wheels. The Biden administration's push to reopen schools and prioritize teachers for vaccinations can help ensure students return to buildings safely before new variants of the virus take hold. But strong school system leadership may be just as important as public health measures in determining students' access to in-person learning this spring.
Bree Dusseault is practitioner-in-residence at the Center on Reinventing Public Education, supporting its analysis of district and charter responses to COVID-19. She previously served as executive director of Green Dot Public Schools Washington, executive director of pK-12 schools for Seattle Public Schools, a researcher at CRPE, and as a principal and teacher. Roohi Sharma is a research analyst at the Center on Reinventing Public Education.
Support The 74's year-end campaign. Make a tax-exempt donation now.