After Closely Watched Campaigns, Teachers Notch Wins and Losses — but for Some, the Fight Isn't Over Yet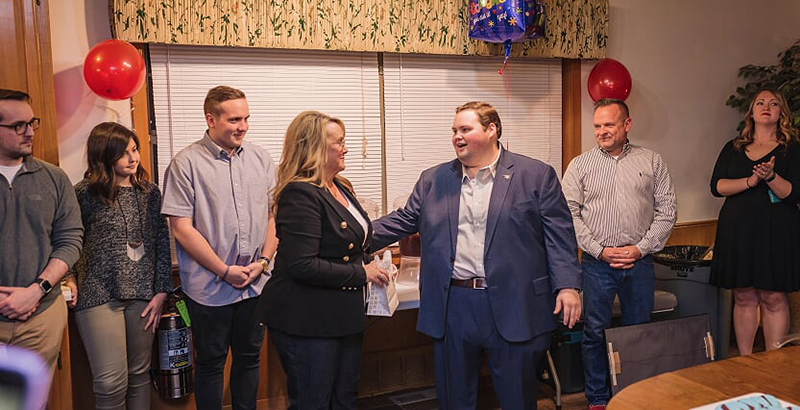 This article is part of our ongoing coverage of the 2018 midterms; see our complete coast-to-coast "EDlection Cheat Sheet" of the 70 races with the broadest impact for education policy.
Across the country, teachers ran for office this year, inspiring almost as many underdog campaign stories as Texas's Beto O'Rourke and drawing widespread attention to state legislative races that otherwise wouldn't break into national headlines.
When the votes were counted, educators scored some notable wins, but it was far from a sweep for teacher candidates. But even with mixed results, teachers are saying the fight isn't over.
In some of the highest-profile races of the night, educators came out on top. 2016 National Teacher of the Year Jahana Hayes was elected to the U.S. House of Representatives in Connecticut. Former teacher and state schools chief Tony Evers was elected governor of Wisconsin, defeating incumbent Scott Walker, who's known for stripping the state's teachers unions of collective bargaining rights.
At least 42 classroom teachers nationwide won state legislative seats this month, according to Education Week, which tallied 177 current classroom teachers who ran in primaries and general elections this year.
The National Education Association reported that 1,081 educator-candidates won state legislative races, out of nearly 1,800 who ran in November, according to the Huffington Post. Other watchers called those numbers exaggerated because they used a much broader definition of "educator" that included support staff, college professors, and those who taught years earlier.
NEA President Lily Eskelsen-García said at an Education Writers Association event last week that the #RedForEd movement, which emerged during the teacher walkouts, was about bringing attention to schools and raising teachers' voices, not just winning elections.
"The #redfored movement snowballed into this incredible effort we saw across the country. We had an unprecedented number (of teachers) who said 'Yes, I will be a candidate.'" – @Lily_NEA #ewaELECTION18

— Emily Richmond (@EWAEmily) November 9, 2018
NEA Prez @Lily_NEA. The #RedForEd movement wasn't about wins or loses. It's about shining a spotlight on the chronic neglect of our schools and deciding to do something about it. This is our movement. #EWAelection18

— NEA Public Relations (@NEAMedia) November 9, 2018
Much of the media attention ahead of Election Day focused on teachers who ran on education-heavy platforms for state legislative seats in Oklahoma, Kentucky, and Arizona, red states that saw widespread teacher walkouts in the spring.
In Oklahoma, 16 current or former educators were elected to the state House or Senate, out of 65 who ran, CNN reports. That number includes Republican Sherrie Conley, a school administrator who defeated retired teacher and former teachers union organizer Steve Jarman to represent Oklahoma House District 20. The Oklahoma Education Association tweeted support for Conley when she won but did not endorse or donate to either candidate during the general election campaign.
Congratulations Sherrie Conley! New representative for House District 20! #oklaed #TogetherWeAreStronger #RedForEd pic.twitter.com/sma8V1o7P3

— OK Education Assoc. (@okea) November 7, 2018
Conley said she has been "thrilled" by the increased political engagement she saw from parents in her community throughout the campaign. That would have been a step forward whether she won or lost, she said.
"Parents … have engaged their children in the process, and I'm hoping that it will raise up a stronger group of voters that will be more engaged and more educated in the process in the future," she told The 74 after her victory.
At least three other school administrators also won state legislative seats in Oklahoma.
In Kentucky, which also had statewide teacher walkouts, high school math teacher R. Travis Brenda won the Republican primary by opposing a controversial pension reform plan championed by the incumbent, House Republican leader Jonathan Shell. He easily won the general election against Democrat Mary Renfro, who also touted her support for teachers and opposition to the pension reform on her campaign website.
Brenda told The 74 before the election that he was running as "a conservative Republican in a Republican district." For Brenda, his upset primary victory was much tougher — he won by just 121 votes — than the general election.
The last several months have been an exciting journey. First and foremost, the glory goes to God for leading me through this process. Second, thank you to everyone that helped knock on doors, share Facebook posts, tell their friends and neighbors, etc. We did this together.

— R. Travis Brenda (@RTravisBrenda) November 7, 2018
After his victory, Brenda said he thinks his profile as a Republican who had backing from labor unions, educators, and a range of other groups helped him win.
One of the closest races was for superintendent of public instruction in Arizona, where teachers won a raise after a weeklong walkout this spring. School speech therapist and Democrat Kathy Hoffman ran against Republican Frank Riggs, formerly a congressman from California. During the campaign, Riggs criticized Hoffman for lacking the leadership experience to succeed in the job, while Hoffman stressed that an educator should oversee the school system.
Hoffman declared victory Sunday, and she was officially named the winner Monday evening. She will be the first Democratic superintendent since 1995. Meanwhile, Riggs declined to immediately concede, instead attacking journalists and political operatives in a Twitter meltdown Sunday night. He later deleted the tweets and temporarily deactivated his account; he also apologized in a statement sent to the Arizona Republic. He later conceded via Facebook.
BREAKING Democrat @kathyhoffman_az, political newcomer & speech pathologist w 5 years experience in schools, declares victory over Republican Frank Riggs in race for Arizona school superintendent. #12News pic.twitter.com/ocJ57JxV9Y

— BrahmResnik (@brahmresnik) November 12, 2018
I guess I can join the "blocked by Frank Riggs on Twitter" club? But saw I *~missed some tweets~* when I went to bed early last night? pic.twitter.com/TBOsDFZSbg

— Lily Altavena (@lilyalta) November 12, 2018
In California, one teacher who came in a distant second in the primary won even without the support of teachers unions.
Even though Susan Rubio was a public school teacher for 17 years, the California Federation of Teachers and United Teachers Los Angeles endorsed her opponent, Mike Eng, in the race for a state Senate seat in east Los Angeles County. She won by about 5 percentage points.
Rubio told The 74 in an email that it was "heartbreaking" that she didn't get those endorsements, but she believes voters elected her because she has more personal ties to the community, in part because of her teaching background.
"As a teacher and councilwoman, there wasn't a life story I hadn't heard or had personally experienced," she wrote.
While ballots are still being counted, I'm confident that the results will show that I will be the next Senator from the SGV. Without your support, encouragement and engagement, we would never have won this race. Thank you for giving me the opportunity to serve. pic.twitter.com/BF2lhqQNbW

— Susan Rubio (@HonSusanRubio) November 8, 2018
However, while many educators lost their bids for public office, some have already indicated they're not finished with politics just yet.
Aimy Steele, who lost a race for the North Carolina House of Representatives, also posted that she has her eyes set on 2020 "in some capacity."
Jarman, who lost his bid for the Oklahoma House race that Conley won, posted to Facebook that "this is no time to whine and whimper. If anything it is time to regroup. It's time to be smarter and plan ahead."
Jennifer Samuels, a Democrat and middle school teacher who lost her race for an Arizona House of Representatives seat, pointed to the number of winning teacher-candidates in Oklahoma as a bright spot for education on Election Day, as well as Hayes's victory in Connecticut. She also sees Arizona voters' rejection of Proposition 305, which would have vastly expanded education savings accounts in the state, as a win for public education.
Well Done @arizona_sos and Arizona voters! Thank you for protecting our public schools. https://t.co/AbvkPtL12m

— Jennifer Samuels, M.Ed (@SamuelsforAZ) November 8, 2018
Samuels told The 74 that she is considering running for the seat again in 2020 and will work to hold her elected officials accountable in the meantime.
"We'll be watching," she said on Twitter, telling Education Week, "It's about the long game for us."
We'll be watching @dougducey, @NancyBarto and John Allen. Our schools are still missing $700 million in funding from 2008 and need smaller class sizes and repaired infrastructure. Do the right thing. AZ supports public schools. @EdweekComm @JulieGunnigle

— Jennifer Samuels, M.Ed (@SamuelsforAZ) November 9, 2018
The 74 talked to a dozen teachers running for office across the nation before the midterms. See how they fared:
Teachers who won in the general election:
R. Travis Brenda is a high school math teacher and a Republican who successfully ran for state representative in Kentucky's 71st District. During the Republican primary, he defeated an incumbent lawmaker who was seen as a key proponent of the controversial change to state teachers' pensions earlier this year.
Susan Rubio, a Democrat who worked as a teacher and administrator for 17 years, successfully ran to represent California's District 22 in the state Senate. In addition to her work as an educator, Rubio is an advocate for women who have experienced domestic abuse.
Sherrie Conley is a Republican who successfully ran to represent Oklahoma's House District 20. She taught for 15 years and is currently in her second year as an administrator.
Kathy Hoffman, projected to be Arizona's next superintendent of public instruction, taught for two years and was a speech therapist in a school for five years.
Teachers who lost in the general election:
Lynne Walz, a Democrat, ran unsuccessfully for lieutenant governor in Nebraska with gubernatorial candidate Bob Krist. Walz was elected to the state legislature in 2016 and is currently a real estate agent as well, but she taught for six years in the 1990s and early 2000s.
Jennifer Samuels, a Democrat, lost her race for the Arizona state House of Representatives. Samuels is in her eighth year as a classroom teacher.
Steve Jarman, a Democrat, opposed Conley for the Oklahoma House District 20 seat. Jarman retired 10 years ago after 31 years of teaching.
Joe Bisaccia, a Democrat, lost his bid for a seat in the Arizona state House of Representatives. He is in his second year of teaching.
Donna Lawlor, a Republican, is a retired teacher who lost her bid for a seat in the Kentucky House of Representatives.
Aimy Steele, a Democrat, lost her bid for a seat in the North Carolina House of Representatives. Before resigning in the spring to focus on her campaign, she was a teacher for seven years and an administrator for six years. Steele lost in the general election.
Cyndi Ralston, a Democrat, lost her bid for a seat in the Oklahoma House of Representatives.
One teacher in Arizona is in a race that is too close to call:
Christine Porter Marsh was Arizona's 2016 Teacher of the Year and is a Democrat running for state Senate to represent Legislative District 28. She was trailing opponent Kate Brophy McGee by 549 votes as of the latest results released Monday evening.
This article is part of our ongoing coverage of the 2018 midterms; see our complete coast-to-coast "EDlection Cheat Sheet" of the 70 races with the broadest impact for education policy. Get the latest updates on races, candidates, and our new elected leaders delivered straight to your inbox — sign up for The 74 Newsletter.
Get stories like these delivered straight to your inbox. Sign up for The 74 Newsletter