Adams: How to Avoid Integrating Schools — While Ending Up With Segregated Classrooms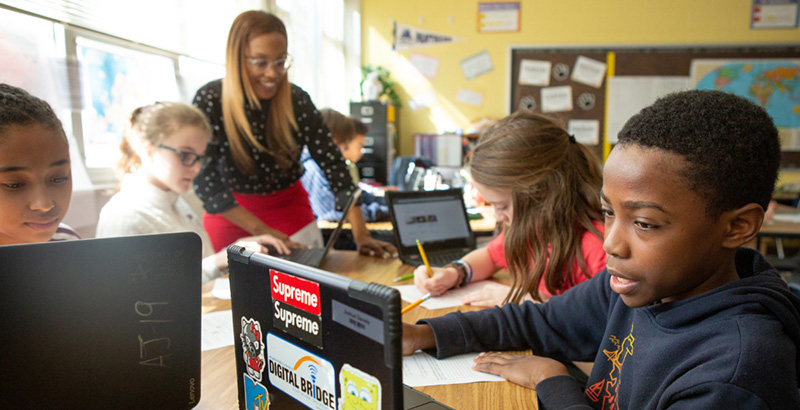 Updated Jan. 5
At our house, we call them "Dispatches From the Institute of Duh." Meaning studies so obvious and intuitive, it boggles the mind that someone actually received a grant to confirm and report their findings.
Last February, the National Center for Analysis of Longitudinal Data in Education Research reported:
Analyzed as separate administrative units, schools with large shares of black or Hispanic students tend to have more segregated class assignment patterns.
And:
We find that the within-school component accounted for as much as two-fifths of total segregation in high schools. Recognizing its importance will surely temper the praise for school assignment policies that reduce racial disparities between schools but allow large disparities within them.
This might have come as a surprise in North Carolina, where the study was conducted. But it was just another dispatch from the Institute of Duh in New York City, where my family and I live. (Though, to be fair, The New York Times is still surprised by that local reality every year.)
For the past nine months, the majority of NYC school talk has been focused on COVID-19, and whether school buildings should be open for live instruction.
But parents were also concerned about how, in the absence of grades and test scores from spring 2020, students would be able to apply for screened middle and high schools in 2021.
Opponents of screened school admissions seized on the COVID crisis as a way to get rid of screening for good. In the name of integration, of course. They argued that all schools could accommodate learners at all levels. And this would bring about the longed-for integration.
On Dec. 18, they got their way, when Mayor Bill De Blasio announced that all middle schools would now accept students without any screening process, whether academic or artistic. Where demand for seats exceeded supply, there would be a lottery.
But unlike the researchers in North Carolina, New York City families already know all about integrated school buildings … with segregated classrooms.
They know that even the principal who chastised parents for opposing a plan that would set aside 25 percent of seats in top-performing middle schools for low-performing students in District 3, on Manhattan's West Side, oversees a math program where kids are sorted by achievement.
And they've heard from a mother who, once the above plan went into effect, railed at an open meeting, "They don't have a plan (for integration). They don't know what to do with the low-scoring kids who got into these 'great' schools, and now they have no support. Do you know how they're supporting my daughter? They're not returning my calls. They have no plan!"
But it doesn't have to be this way.
A year ago, I wrote about how all 32 school districts in NYC were required to develop diversity plans.
Manhattan's District 2, which includes the East Side, part of the West Side and most of downtown, is taking a crack at it.
Even before the mayor announced, also on Dec. 18, that high schools could have more flexibility on how they screened students for admissions, District 2 was thinking about proposing a plan, to be voted on at some point, that, when screening students, would take into account whether applicants are homeless, qualify for free or reduced-price school lunch, have a disability or score low on state tests. Maybe all of the above. Maybe some of the above.
Before they do, though, perhaps District 2 should attempt two things:
Look at how that worked out in District 3 and tour some of the integrated buildings with their segregated classrooms (or just pop in to take a look on Zoom!).
Look within their own district, where, for the 2020 admissions season, Baruch College Campus High School and Lab High School for Collaborative Studies changed their admissions rubric, so all students who meet their specific cutoff — a minimum 85 average and state test scores above 3 on a scale of 1 to 4 — are entered into a lottery, with no advantage for the A-plus student over the B scorer.
What if all these integration efforts were combined?
What if, instead of an unbalanced student body of 75 percent A students and 25 percent D students — a combination that all but requires separate classrooms — some schools selected from among only the 90-plus crowd but gave all those who qualified for free or reduced-priced lunch priority for 75 percent of the seats? (Because if you want good teachers and non-decrepit buildings, you'd better have some rich students first.) You'd then have a school of high-level achievers … but with the racial and socioeconomic diversity the city's Department of Education is looking for.
Other schools could be geared toward the 80-plus GPA crowd, yet others, 70-plus.
In all cases, priority would go to low-income students, to avoid the District 2 scenario we have now, where, at the aforementioned Baruch, 43 percent of students are white and 39 percent low-income. Fifty blocks away, but still in the same district, Eleanor Roosevelt High School is 66 percent white and 19 percent low-income. Both are out of step with the city's student demographics as a whole.
No matter how vehemently the mayor and schools chancellor insist on framing the debate over school placement as a racial issue, the fact is that pushback is coming from those who worry about schools' academic standards being lowered via unscreened admissions, not about their racial makeup.
Nowhere was that clearer than when the students of East Harlem's Manhattan Center for Math and Science High School — 53 percent Hispanic, 20 percent Asian, 19 percent black and 80 percent low-income — held a rally to protest the rumor that their school had secretly ceased screening students.
New York City could have the integrated schools, not just buildings, it craves. But first, the city needs to listen to what the families it purports to serve are truly saying. And give it to them.
Alina Adams is a New York Times best-selling romance and mystery writer, the author of Getting Into NYC Kindergarten and Getting Into NYC High School, a blogger at New York School Talk and mother of three. She believes you can't have true school choice until all parents know all their school choices — and how to get them. Visit her website, www.NYCSchoolSecrets.com.
Get stories like these delivered straight to your inbox. Sign up for The 74 Newsletter