Adams: For Equity's Sake, Let Kids Who Like Remote Learning Keep Doing Class Online and Let Kids Who Need In-Person Teaching Have the Schools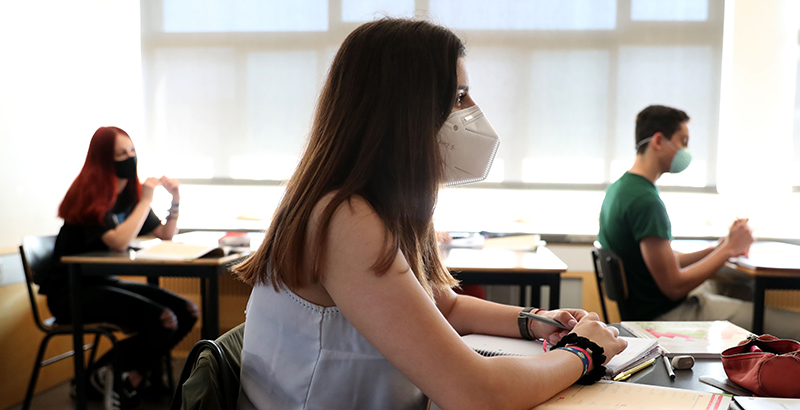 A version of this essay appeared on the New York School Talk blog.
In a recent column, I hammered home one of my favorite points: One educational size doesn't fit all. This applies to traditional versus progressive learning, ethnocentric classrooms, acceleration, dual language programs and more.
While engaging in my favorite activity of advocating for giving every family what they want and giving every student what they need, I asked the following question:
When schools reopen in September, why not let families decide whether they prefer face-to-face or remote learning?
The main criticism lobbed at parents and students who express a preference for remote learning is that it stinks of privilege. Parents who can stay home to supervise their child's academics, as well as students who have the bandwidth and the workspace for online learning, are certainly privileged. You'll get no argument from me on that one.
So why not take advantage of it on behalf of those who lack such privilege? Let the parents who have no choice about going out to work and the kids without personal devices with which to access their teachers, who desperately need face-to-face learning and the school social safety net, have priority for returning to school. And let the privileged stay home, whether because it makes their lives easier, or because that's how their children learn better, or because they're afraid of contagion.
No, this does not mean I am advocating sending poorer children into a school where they are more likely to catch coronavirus and die. All families will have to decide whether or not to return. But we're being told over and over again that some people don't have that choice. So they should be the first ones allowed back in, just as the children of essential workers were the first ones offered day care. With all necessary precautions taken.
Fewer students in the classroom would aid with social distancing and bring numbers closer to the small class sizes some advocates have been demanding for years. It would be less of a strain on the school budget, which is predicted to shrink dramatically next year, as kids who stay at home don't need to be fed, cleaned up after or provided with supplies like soap and paper towels.
It would also benefit teachers. Educators, especially older ones who are more at risk from coronavirus, could teach from home for those students who wish to keep learning from home.
And, finally, it could tell us much about achievement gaps.
To date, we have been told the reason there are (so-called) high-achieving and low-achieving schools is that black and Hispanic children have been deprived of the honor of sitting next to white ones. (Sure, multiple schools disprove that theory, but that's neither here nor there.) When the two populations are mixed, achievement will go up for everyone! Or so the theory goes.
If "privileged" students opt to stay home, there will be more room for the "underprivileged" in the "high-achieving" schools, right? So we can test out the above theory?
In fact, parents and students who can afford to stay home should choose to do so in the name of equity. Taking one for the team, as it were.
What better way for those teens from majority white/majority wealthy high schools who protested for months to demonstrate their commitment to letting the less-privileged have access to their top-of-the-line classrooms than by giving up their in-person slots to those who need them more?
Conversely, if we assume that the teachers who work inside those high-achieving schools are responsible for stellar test scores (and not at all the fact that the kids who populate those buildings are getting prepped outside of school or learning on their own), then won't it be wonderful when those miracle-worker teachers are giving instruction online? Especially if it's the oldest and most experienced teachers. They've got to be the best ones. They're paid the most!
Low-performing kids can be deliberately assigned to them. With 97 percent of NYC instructors rated either "effective" or "highly effective," there are so many to go around that every child who needs one could reap the benefits!
A combined in-person/remote learning approach would benefit public health, allow families to choose the educational option best suited for them, save the district money, integrate schools and bring struggling students into the virtual classrooms of exemplary teachers in order to shrink the achievement gap.
It could end up turning out to be one of the best things that ever happened to reimagining traditional education — as long as everyone who previously talked about making changes is willing to back up their high-minded words with on-the-ground actions.
Alina Adams is a New York Times best-selling romance and mystery writer, the author of Getting Into NYC Kindergarten and Getting Into NYC High School, a blogger at New York School Talk and mother of three. She believes you can't have true school choice until all parents know all their school choices — and how to get them. Visit her website, www.NYCSchoolSecrets.com.
Support The 74's year-end campaign. Make a tax-exempt donation now.