D.C. Schools Avoided the Draconian Budget Cuts Many U.S. Districts Are Facing: How the City Did It — and What Advocates Say Still Needs to Be Done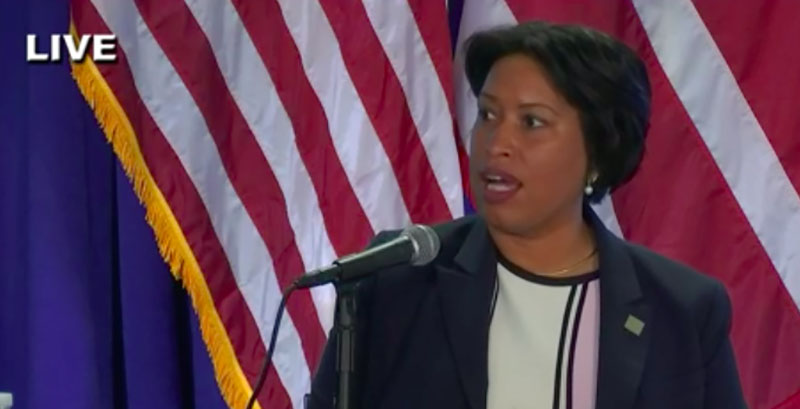 D.C. public schools will head into the new school year in far better shape than many other school districts around the country, equipped with a rare boost in funding as the city dips into fiscal reserves and freezes cost-of-living pay increases for all municipal employees.
D.C. Mayor Muriel Bowser's proposed city budget allocated $1.92 billion in public school funding for fiscal year 2021 and would include a 3 percent increase in per-pupil funding — just short of the 4 percent increase Bowser had promised in February before the coronavirus pandemic hit. That amounts to $330 more per student if current enrollment projections hold.
It's a considerably better picture than in cities like New York, where Mayor Bill de Blasio has proposed nearly $830 million in education department cuts through next fiscal year, and in states like Ohio, where Gov. Mike DeWine earlier this month proposed shedding $300 million in school spending through June 30 alone. Superintendents from 62 big urban districts penned a desperate letter in late April to the federal government demanding more funding, warning that "dark clouds are forming on the educational horizon that will spell disaster if Congress does not intervene."
In D.C., however, Bowser prioritized education funding over other services.
"There's so much uncertainty about what's going to happen [next school year] and what things are going to look like that we wanted to be sure that we were providing as much consistency as possible within our budget" to schools, Paul Kihn, D.C.'s deputy mayor for education, said.
"We made some tough, tough choices in this budget to ensure that students and families have what they need in their schools," he said.
Kihn noted that the budget invests, among other things, an additional $6 million that will help bolster D.C. Public Schools' initiative to get all students online and $1.5 million toward mental health services, which D.C. advocates and leaders consider a top priority as students traumatized by the pandemic return to school.
Local advocates and education policy experts said they're grateful that city schools have avoided these draconian cuts, but they were still critical that Bowser's budget doesn't fully address funding programs they consider particularly necessary now, including those for at-risk, low-income youth who stand to lose the most during the pandemic.
"The reality is that there's much more that's going to need to be done because of the moment that we're in," said Scott Goldstein, a former D.C. educator and founder of EmpowerEd, a teacher advocacy organization. "Keeping pace isn't going to be enough."
How the budget was possible
Like other cities across the country, D.C.'s fiscal situation has become grave since the pandemic exploded in March. The city is projecting $1.5 billion in revenue shortfalls through next fiscal year and lost out on $725 million in stimulus funding from the federal government that was reserved for states.
That D.C.'s education budget has nonetheless remained intact, and grown, is credited to a combination of factors, experts say. For one, D.C. had nearly a decade of budget surpluses — when revenues exceed expenditures — to fall back on, along with rainy day funds. The mayor enacted other "creative" solutions, too, like delaying bond payments, Tazra Mitchell, the D.C. Fiscal Policy Institute's policy director, wrote in an email Tuesday.
"What's impressive is that we were shortchanged on federal dollars and [were] still able to … stabilize spending overall and grow education funding," Mitchell said.
To make the school budget increases come together, however, there were also trade-offs: The budget calls for a four-year freeze on cost-of-living increases for city employees, including teachers. Teachers union spokesman Joe Weedon said educators are still "trying to get to a full understanding of what that means."
Kihn said the freeze "was an incredibly difficult decision to make."
Most, if not all, city agencies have seen cuts as well. Although Kihn said he wasn't aware of cuts to education agencies that threaten school programming, the D.C. Fiscal Policy Institute noted slashes outside of the education department that could hurt children. For example, funds have been cut for home-visiting programs created to reduce child abuse and neglect.
"It's a small amount of money — $310,000 — but I don't want that to be overlooked," said Alyssa Noth, an education policy analyst for the institute. "It's really important … especially when students don't have the support of being in their school building."
The work still ahead
Local experts like Noth, along with a few parent and teacher organizations, agree that D.C. schools' budget got a much better shake than many other districts considering the current fiscal turmoil nationwide. But even with a stronger budget outlook, they say it's still unclear just how equipped this budget is to handle whatever school reopening plans materialize in the weeks and months ahead.
If D.C. has entered Phase 2 of reopening by the time the academic year starts on Aug. 31, students will likely be attending school in person on some days and remotely on others to maintain social distancing. Recommendations published last week by Mayor Bowser's ReOpen D.C. task force include having only 10 people allowed in a classroom at a time.
Many advocates expressed concern that the budget keeps the proportion of additional funding that at-risk students receive stagnant next fiscal year. About half of the district's nearly 100,000 students are considered at-risk, a designation that includes foster and homeless youth and those whose families qualify for public assistance. Experts say these kids' mental health needs next school year will likely skyrocket after their living through a pandemic that has wreaked havoc on their families' finances and health.
These students' "lived experience are going to look quite different in the coming months, perhaps from income shock or doubling up on housing, stress in the household, and other ways," said Chelsea Coffin, director of the Education Policy Initiative at the D.C. Policy Center.
Deputy Mayor Kihn said the $1.5 million outlined in the proposed budget for school-based mental health supports is on top of an expanded investment Mayor Bowser made last fall. He added that his office is "working on a report that will be released sometime around the end of June and include two sections on at-risk funding."
Other groups, like Digital Equity in DC Education and EmpowerEd, are also seeking more clarity on how the budget will bridge continuing barriers to Wi-Fi access during remote learning. Fifty-seven percent of educators surveyed by the teachers union in April said fewer than half of their students were regularly logging on.
"What I've heard from teachers is there's still a really large gap" in Wi-Fi access "even though [the district has] done a lot of device distribution and hotspot distribution," EmpowerEd's Goldstein said.
Parents are worried as well about maintaining access to high-quality child care providers, especially as schools start to reopen and many adults return to work, added Maya Martin Cadogan, executive director of parent advocacy group DC PAVE. Cadogan said Bowser's proposed budget didn't inject any stabilization funding for child care providers who have lost money and who now need additional funds to both secure protective equipment and sustain lower staff-child ratios.
"Our parents are incredibly concerned, because when you have kids, you don't have kids at one age, you have kids at all ages," Cadogan said. "We have lots of parents who have little ones, and many of their child care centers are not able to last through this pandemic."
A solution to help assuage all these concerns, they say, is levying more taxes on the wealthy, such as a temporary tax increase on households making more than $350,000. Mayor Bowser has said she doesn't believe tax increases are necessary.
For now, these groups will continue to advocate — largely on social media, on Zoom meeting chats and in written reports. The D.C. Council will hold virtual budget hearings over the coming weeks and is expected to vote on the budget in July.
It would go into effect Oct. 1.
Get stories like these delivered straight to your inbox. Sign up for The 74 Newsletter