99 Days After Hurricane Ian, Hundreds of Florida Students Still Without Permanent Classrooms
Administrators hope early mitigation efforts — some started prior to the storm to address pandemic-related learning loss — curb disruption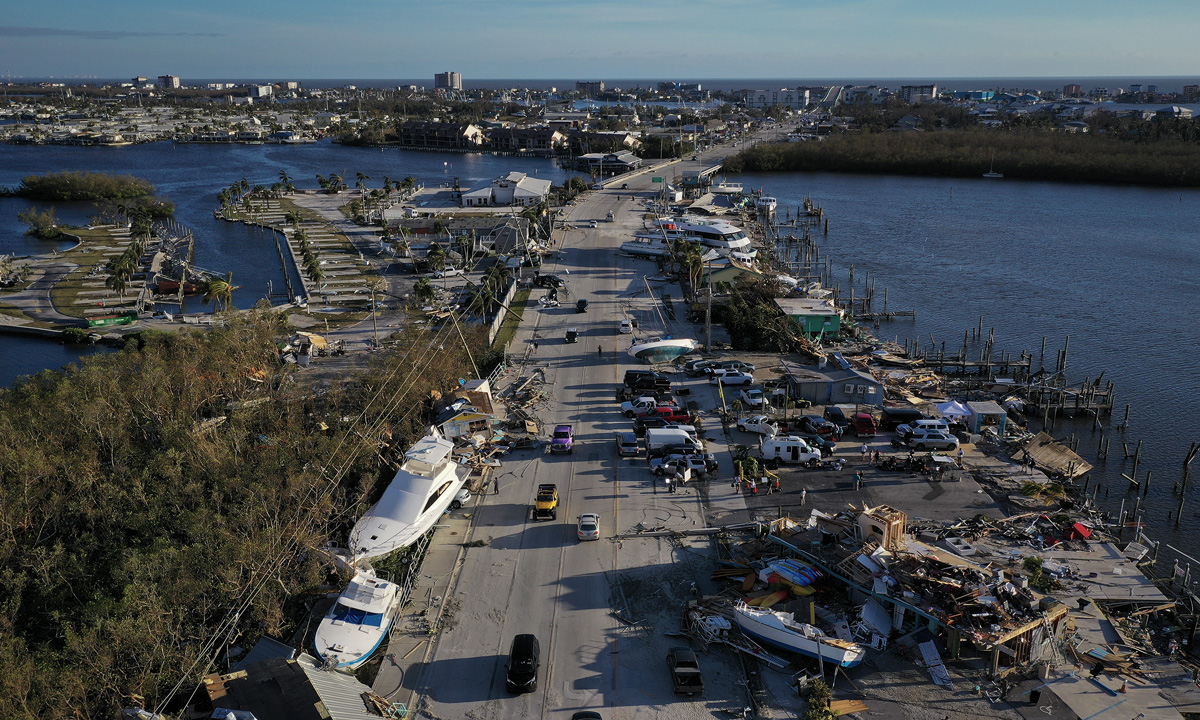 No paywall. No pop-up ads.
More than three months after a Category 4 hurricane destroyed their homes, devastated their shoreline and shuttered their schools for weeks, many students in Lee County, Florida are still not being educated in a permanent setting.
But while school officials are concerned about the disruption, which comes on the heels of months-long pandemic-related shutdowns and resulting learning loss, they're hopeful the mitigation efforts they put in place will minimize further academic setbacks.
The district, which serves some 90,000 children at more than 100 campuses, suffered tens of millions of dollars in damage from Hurricane Ian, which made landfall in Florida on Sept. 28 and went on to kill 144 people across the state.
While the rest of the nation has moved past crisis coverage, three schools within the district remain in turmoil after they were particularly hard hit by the 150 mile-per-hour storm. Hundreds of students were assigned to other campuses — but they didn't go alone.
"One thing we did that a lot of other districts in Florida did not do, was that we kept all of our kids with their teachers," rather than dividing them among several campuses, adding a few students per class, said Armor Persons, the district's newly elected school board chair. "We kept them all together with their teacher — and their principal — even though they were sharing a school with another school."
Administrators hoped this familiarity would help students manage their new environment, he said: Some children won't return to their original campus for several more months.
Ian severely damaged the roof of Hector A. Cafferata Jr. Elementary, causing rainwater to seep into the building. Students have gone back to the site, but not to their original schoolhouse: They're learning inside 36 portable classrooms with no plan yet for a lasting solution. Board members will consider options this month and decide on a path forward in February, district officials said.
The Sanibel School, located on a tourist-heavy and treasured barrier island, took on four feet of water amid a storm surge that swallowed shoreline houses whole. While the school required an extensive amount of work — in addition to mold remediation and electrical repairs, its drywall and flooring also required replacement — the building itself has been deemed structurally sound. Students are expected to return to the campus in the coming weeks.
But that won't be the case for 75-year-old Fort Myers Beach Elementary, which, according to Persons, took on 14 feet of water. It will likely be the last to recover, he said: He doesn't expect students back on site until the fall. Administrators have not yet determined the campus's fate. A portion of the site, which contains five buildings, is a historic landmark, complicating its restoration.
District officials will soon decide among several options, all of which call for it to stabilize or restore the historic portion of the campus. Beyond that, they can reopen using portable classrooms, build a mostly new campus, board up the school for the time being or fix the property and sell it with costs ranging up to nearly $20 million.
The beloved, high-performing K-5 school, which parents have fought to save, was among the district's smallest with just 77 students prior to the hurricane, down from roughly 200 two decades ago. The population shrunk by 30 in the weeks that followed the storm, with many students transferring to private schools or a homeschool setting. Projections released in 2021 showed it was expected to reach 81 students by 2031. But the school's future remains unclear.
District officials are factoring in its small size when considering their plans for the campus, which is expensive to run. Fort Myers Mayor Dan Allers told The 74 he strongly opposes closing the school, calling it one of the best in Lee County.
"The school has been a part of the Fort Myers Beach community for generations," Allers said. "Grandparents that went to that school are now taking their grandkids there. To take that heritage and quality of education from a community would be a complete disservice."
Greg Longenhagen, who lives with his family near Sanibel Island, where his wife grew up, said the hurricane's aftermath has been tough. Not only did his own home suffer some $100,000 in damage, most of which he expects to pay out-of-pocket, but his son has had to transition to a new school.
Still, he said, this most recent closure and relocation has been nowhere near as difficult as the pandemic-era shutdowns: Both of his children saw their grades tank when schools closed for months back in 2020 and 2021. Neither has suffered similarly this year, despite the upheavals.
And while his son's new campus, San Carlos Park Elementary School, is much further away than the one on Sanibel Island, at least he's still with his friends, Longenhagen said, adding he was pleased with the district's strategy.
"I really think they did a good job," said Longenhagen, director of the Florida Repertory Theater, which suffered millions in storm damage. "We had no idea what was going to happen. We had no bridge to Sanibel, no way to get in, no water, no electricity."
While Persons is concerned about additional learning loss, the district fared better than most in math and science, he said: And, even prior to Ian, it had already added additional staff to help struggling students improve.
But even this effort has proven problematic.
"Like other schools across the nation, we are facing a shortage of teachers," he said. "It's not a lot, but enough that it makes everything more difficult."
The cost of repairs is also a consideration, according to district spokesman Rob Spicker. The district is still fighting for additional coverage from damage sustained as a result of Hurricane Irma in 2017. It's recovered much of the payout — roughly $27 million of $31 million total — and hopes to claw back even more.
Administrators took a different approach this time around, Spicker said, starting the claims process a day before the storm began.
"We have worked closely with our insurance company and another company familiar with FEMA to maximize our reimbursement," he said. "That was a lesson learned from Irma."
Get stories like these delivered straight to your inbox. Sign up for The 74 Newsletter