Arne Duncan: 'I'm Not Convinced This President Wants to Have the Best-Educated Citizenry in the World'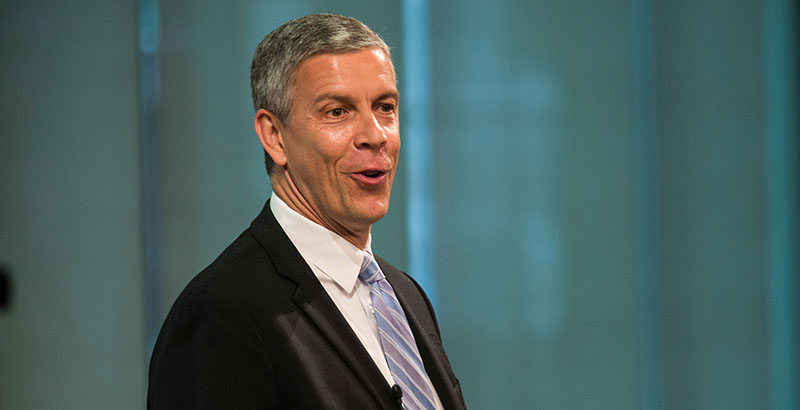 Arne Duncan, former education secretary for Barack Obama, again blasted President Trump on Monday for his "authoritarian tendencies" and suggested that developing "the best-educated citizenry in the world" might not be in the president's interest.
Duncan, a frequent critic of the president, spoke on C-SPAN's morning call-in program, where he appeared to promote his new memoir.
"I'm not convinced this president wants to have the best-educated citizenry in the world," said Duncan, who served under Obama from 2009 to 2015. "And when you have the kind of authoritarian tendencies that President Trump has — when you call the press the enemy of the people, when you want to become the source of truth and everything else is fake or not real … I'm not sure it's in this president's best interests to have citizens who are well educated, who can think critically."
In his first year alone, CNN tracked more than 400 times that Trump publicly discredited the media as "fake."
You can watch the full interview here:
Although an unusual broadside for a former cabinet secretary to lodge against a sitting president, the comments echo similar statements Duncan made during an Aug. 7 appearance on CNN.
"I'm not sure President Trump wants to have the best-educated workforce," The Washington Post quoted Duncan as saying last week.
Under Education Secretary Betsy DeVos's administration, the department has scaled back its ambitions and oversight but has taken ample aim at Obama administration policies, including reversing those on affirmative action and student loan borrower protections.
The education department did not return The 74's request for comment.
Duncan has been touring in support of his new memoir, How Schools Work: An Inside Account of Failure and Success from One of the Nation's Longest-Serving Secretaries of Education. Some of our prior coverage of the book at The 74:
● Review: In Arne Duncan's new memoir, reflections on putting kids first, the state of our union, and the lies we tell about our schools
● Highlights: 7 key takeaways from the memoir of President Obama's secretary of education
● Related: Exit Interview — Arne Duncan grades himself and sees failures on pre-K, safety, desegregation
Support The 74's year-end campaign. Make a tax-exempt donation now.