The 74 Interview: Arne Duncan Grades Himself — and Sees Failures on Pre-K, Safety, Desegregation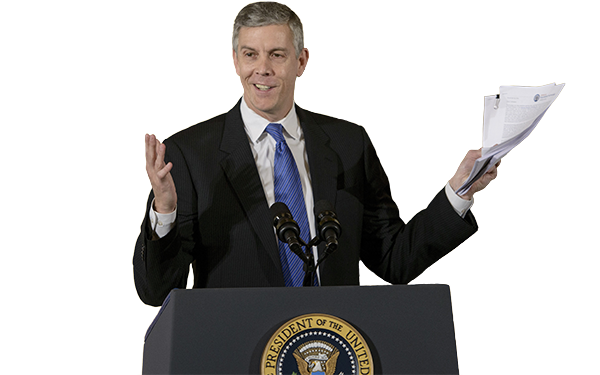 Arne Duncan's administration of the Education Department saw plenty of notable accomplishments: billions of new dollars for preschool, a rewrite of the country's primary K-12 education law, a record high school graduation rate.
Yet for all he achieved in his seven years, a reflective Duncan said he's disappointed to leave office without having made sufficient progress in several other areas, including school desegregation.
He sees a connection between his top three self-proclaimed disappointments — failure to further expand preschool, offer financial aid to undocumented students and clamp down on gun violence. They all reflect, he says, an unwillingness to protect and invest in children.
"It's just not seeing our children as the assets — as the extraordinary potential — that they truly are," he said in an exclusive interview with The 74.
"I would give myself a pretty low grade on that," he said.
Duncan said the department poured millions of dollars into magnet schools, public schools with a specialized focus or curriculum designed to draw a diverse group of students. Some, like those in Hartford, Connecticut, are making a big impact, but the program largely failed to make a noticeable difference integrating the country's schools.
"I don't so much blame those districts and schools," he said. He posited that perhaps his department didn't ask grant recipients the right kinds of questions, or didn't give the money to the right places.
The country "can and should do more" to integrate schools, both by race and income, he said. Duncan said he'll never advocate integration achieved by forced busing, but instead thinks schools should offer a wide variety of excellent choices to entice all types of families.
'Other nations just value their children, value lives, more than our nation does'
Duncan was one of President Obama's original Cabinet appointees in 2009. He
left office
at the end of the year and returned to Chicago, where his family had moved last fall. Duncan said he's been talking to people locally and nationally about what he'll do next but for now is enjoying time with his two kids, Ryan and Claire, helping with homework and making them breakfast.
Duncan's successor,
John King
, has a "huge interest and passion and expertise" in school desegregation, the former secretary said. He predicted King would make the issue a primary focus during his limited time in office. (King signaled during a Martin Luther King, Jr. Day
speech
that he intended to do just that.)
Although Duncan painted desegregation efforts as largely a flop, there were both successes and failures at all levels of education — preschool, K-12 and higher education, he said.
For the youngest children, Duncan was pleased at the federal investment during his tenure, which topped $1 billion, but was frustrated he couldn't persuade congressional Republicans to do more.
In K-12, he touted the country's record high school graduation rate. Although that rate, around 82 percent, has risen, and dropout rates have fallen for every racial subgroup, there are still around 750,000 students leaving school every year with "basically no chance of being successful," he said.
And in higher education, Duncan cited funding increases to the Pell Grant program, higher college attendance and graduation rates for students of color, and a new emphasis on campus safety and preventing sexual assaults. He's discouraged, though, that the United States no longer leads the world in college completion rates. The top spot is shared by Canada and Russia, where 53 percent of 25- to 64-year-olds have a "tertiary" degree,
according to the Organization for Economic Co-Operation and Development
. In the U.S., it's 41 percent.
"In every area, I am both proud of the progress and frustrated that as a nation we're not getting better, faster, and there's still tremendous unmet need at every level," he said.
Perhaps Duncan's biggest priority in recent years — expanding federal supports for preschool programs — is also one of his biggest letdowns.
"We're cutting off our nose to spite our face. It just makes no sense," he said. Duncan and other pre-K backers often point to research that investing in early learning programs saves money in the long run as children are kept out of costly special education programs and are less likely to be incarcerated or become teen parents.
He also cites two areas that were arguably not under his purview — the failure to pass a bill allowing federal financial aid eligibility for undocumented immigrant college students and any kind of substantive change to gun laws — as among the areas he would've liked to see a different outcome.
A 1982 U.S. Supreme Court ruling requires states to enroll students in public elementary and secondary schools no matter their immigration status. (The Education Department during Duncan's tenure released written guidelines reminding districts of that obligation, particularly after waves of unaccompanied children came to the country from Central America in recent years.)
If those students make it to college, though, they aren't eligible for federal student loans or Pell Grants.
Duncan said gun violence was the hardest issue he dealt with during his time as Chicago's school superintendent, and the problem has only gotten worse.
He compared the U.S. to Australia, where a conservative government changed gun laws in the wake of a mass shooting in 1996. A generation of children have grown up there not knowing what a mass shooting is, while in the U.S., such violent events seem to happen several times a week, he said.
"Other nations just value their children, value lives, more than our nation does. There's no other way to put it," he said.
Testing Backlash
Duncan also defended his administration's emphasis on tying teacher evaluations to student test scores in part through No Child Left Behind waivers and Race to the Top grants. Some have said those policies caused a proliferation of tests,
a factor in the national backlash to testing
and the opt-out movement.
It's important, Duncan said, to compare a new policy to what was in place before it. In this case, some states had laws totally barring tying test scores and evaluations.
"It was unbelievable to me," Duncan said. "It was basically saying that great teaching doesn't matter."
A total ban on linking test scores and evaluations doesn't strengthen teaching as a profession, nor does it help kids, he said.
"My hope is that five years from now, [states and districts will] be much smarter" in how they implement testing and teacher evaluations, he said. "The way to get better [at it] is not to put your head in the sand."
#EDlection2016
Duncan said he's been frustrated that education issues haven't been more prevalent — or oftentimes mentioned at all — in the presidential campaign. In particular, he thinks all candidates should have to answer how they'll increase access to early childhood education (and if they won't, why not), what their goals are for high school graduation and dropout rates, and how they'll get the U.S. to once again be the global leader in percent of college graduates.
"This is in our nation's interest. A good strong military is our best defense, but a good education system is our best offense," he said.
No one person or party has a monopoly on good ideas on how to tackle those issues, he said, it's just essential to have the conversation at all: "We're fighting for kids here and we're fighting for our country."
---
Exclusive Video: Marco Rubio Talks Education Policy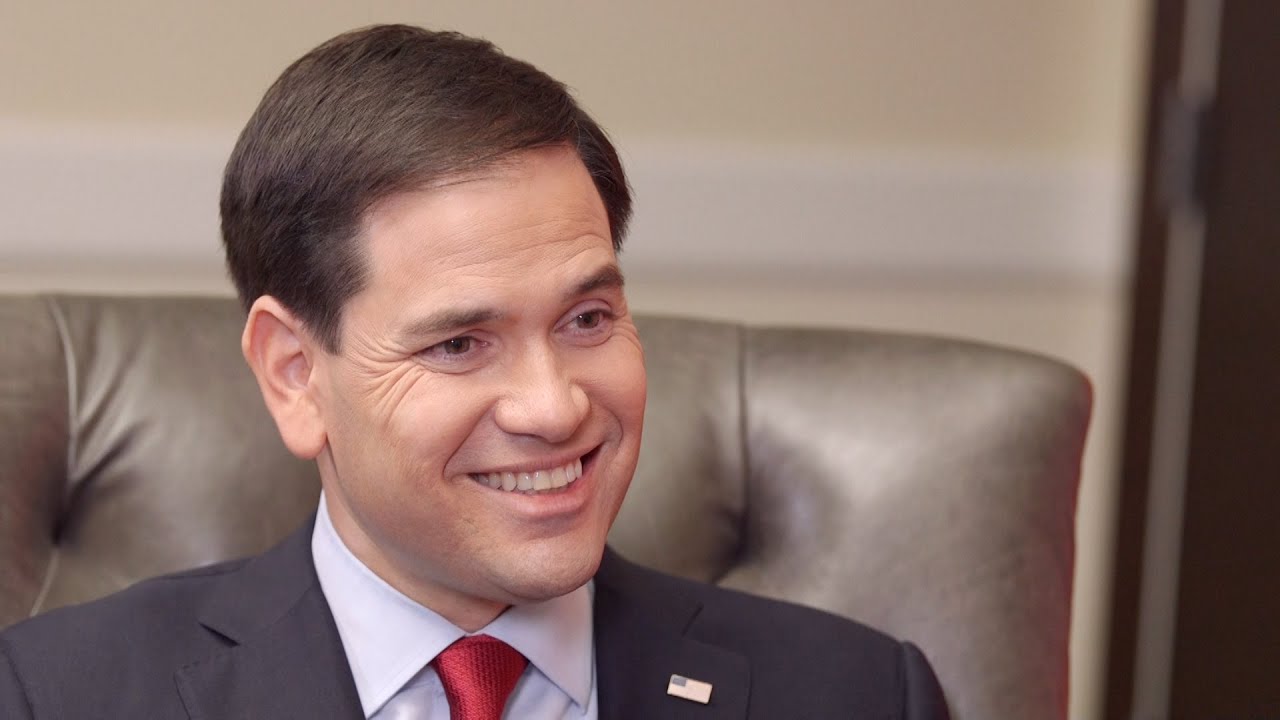 Support The 74's year-end campaign. Make a tax-exempt donation now.