Arkansas Governor, Common Sense Founder and Coursera CEO Discuss Digital Divide, School Reopening With Axios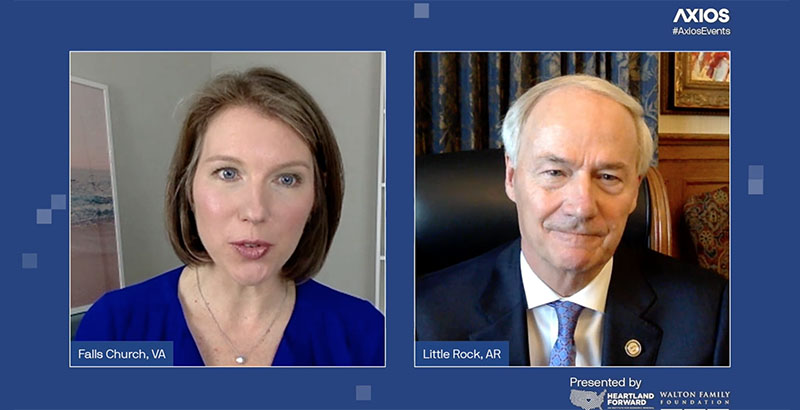 As the coronavirus spread across the United States in February and March, many states and districts abruptly shut down schools and scrambled to assemble plans for online learning. The sudden transition exposed existing inequities in the school system, including uneven access to the internet and to high-quality learning materials.
Three education leaders discussed the unfolding crisis and how it is changing education Tuesday during short virtual interviews hosted by the news site Axios.
Arkansas Gov. Asa Hutchinson, Common Sense Media founder and CEO Jim Steyer and Coursera CEO Jeff Maggioncalda each talked with Axios cities correspondent Kim Hart during the 30-minute webinar about topics ranging from how to close the digital divide to what the crisis means for the future of online learning and when schools might reopen.
"This happened so quickly — the switch to virtual learning — that teachers had to really quickly figure out a plan and kind of duct-tape things together," Hart said after the conversations. "Now is the time to kind of take a step back, figure out how do we prepare for the fall, and I think a lot of states are grappling with the fact that they won't be going back as they were hoping in the fall" while simultaneously trying to combat summer slide.
See the full conversation:
Here are some highlights from the event, which was sponsored by the Walton Family Foundation.
Arkansas Gov. Asa Hutchinson
Hutchinson, a Republican, said he and his wife have been helping a grandchild learn from home during the crisis and so they understand how time-intensive it is for parents and guardians. He has ordered schools to remain closed through the end of the academic year.
"We had to participate in that online instruction, and let me tell you, it's not something you just leave the child there alone to work on," he said. "You've got to be there as a parent or a grandparent helping them through that," especially for younger children who aren't used to online learning.
Hutchinson, who has been pushing for coding lessons and better computer education in his state's schools, is also worried about the digital divide, as many Arkansas families still don't have broadband at home. One solution so far has been to deliver instruction through public television, which reaches families in remote areas, he said. Meanwhile, Hutchinson said his state is working on expanding internet access quickly.
"We're investing in and accelerating our development of broadband throughout Arkansas so that it will not be that digital divide. It takes some time, but we're putting state resources into it as well as accessing the federal resources to accelerate that," he said. Arkansas also plans to use state and federal dollars to create summer learning programs, though it's unclear whether they will be in-person or online, he said.
The governor said he is "counting on" having schools open in the fall but added that this might change as the situation develops. If the virus resurfaces, he said, he expects that improved testing and contact tracing will allow for a less dramatic shutdown than was needed this spring.
"I think in terms of our schools, we're going to start, we're going to have full-blown activities, and then if we have some uprising or resurfacing of the virus, I hope we're able to deal with that like we do the flu season, where we can close if necessary for a few days [and then] reopen," he said. "We can deal with the students that might be positive, or [cases] in the community, but we want to be able to continue our education programs in the fall even if we have some resurgence of the virus."
Common Sense Media CEO Jim Steyer
Steyer, who founded Common Sense Media, a nonprofit known for rating education and entertainment content based on its suitability for kids, said the current crisis could be a catalyst for finally closing the digital divide — also known as the homework gap — whereby 12 million students don't have an internet connection at home. More than half of teens are worried about falling behind academically, according to a poll conducted by Common Sense and Survey Monkey in early April.
Common Sense has partnered with dozens of technology and education companies to create WideOpenSchool.org, a website that brings together educational content and activities to help students, teachers and families find free, reliable resources during the school shutdown. Steyer's next concern is making sure all students can access that content.
While philanthropy can help fund high-quality educational content and advocacy at the state and federal levels for closing the gap, corporations have a role to play as well, he said. Companies that provide internet access and cell service — Verizon, AT&T, Comcast and others — have a chance to not only sign up new customers but make a meaningful difference for kids.
"They have a huge opportunity to step forward with corporate philanthropy in helping out during this epidemic, and in the long run, they're going to get new customers," he said. "This is a huge opportunity for philanthropy. It's also an opportunity for corporations to do their part, step forward, and once and for all help us close the digital divide."
Coursera CEO Jeff Maggioncalda
The sudden transition to online learning that occurred for many students and teachers this year was "a tale that was probably a decade in the making," and online learning was growing increasingly popular "long before COVID," Maggioncalda said.
Maggioncalda leads Coursera, an education platform founded in 2012 that offers nearly 4,000 online courses that can be used to earn low-cost degrees or taken for free without credit. Because of the coronavirus, Coursera in March announced that it would partner with colleges, universities and high schools to allow their students to take classes for free online while campuses are shuttered. Within five weeks, 400,000 students had enrolled in more than 1.4 million courses, he said.
Coursera is also working with states to create the Workforce Recovery Initiative, which will allow unemployed people to take courses to "re-skill" and prepare for new jobs. At the same time, the company has seen increased interest in courses on teaching and especially in virtual education, Maggioncalda said.
"I think what people are realizing … is there's been a pretty long period of time here where we have learned collectively, 'How do you create good online learning?'" he said.
At the higher education level, Maggioncalda said that "there is a tremendous concern" that some high school seniors might decide not to go to college because of the disruption of campus life, or that current college students might take a break because of the pandemic. Coursera could help those students continue learning, he added.
"We are optimistic that having courses available online for students [means] even if they choose not to go to campus, they can continue their study, and they can do it for free or for very low cost," he said.
Disclosure: Walton Family Foundation provides financial support to The 74. 
Support The 74's year-end campaign. Make a tax-exempt donation now.