Putting Rivalries Aside, Media, Education and Tech Giants Come Together to Offer Free Lessons, Activities During Pandemic — All in One Curated Place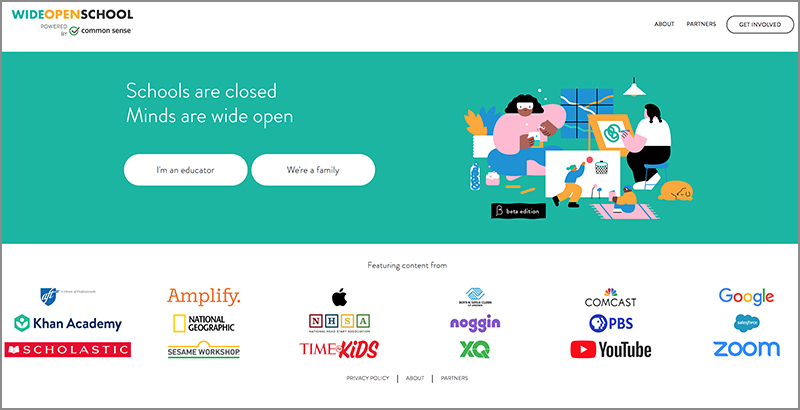 Under normal circumstances, companies like Time for Kids, Scholastic and Khan Academy are competitors; after all, each provides educational content, and teachers can bring only so many apps and websites into the classroom.
But these are not normal circumstances.
So instead, those big names and many others across education, technology and media came together over the past two weeks to create a free, one-stop-shop site for education resources for K-12 students, teachers and parents.
Launched last week, WideOpenSchool.org was created by Common Sense Media, a nonprofit known for rating education and entertainment content based on its suitability for kids, with help from dozens of partners. The site brings together content from a diverse group of companies to help students, teachers and families find free, reliable resources while school buildings are shuttered.
On the site, students will see an interactive daily schedule customized to their age range, a list of live virtual events like story times and concerts, and links to materials for every school subject, all available for free and vetted for quality by Common Sense. The suggested schedule is updated daily with new activities and lessons, and the developers will continue to add to the site as they discover more content and new partners join the project. Some materials are also available in Spanish, and organizers said they are working to add more non-English resources.
Wide Open School also links to resources for finding affordable devices, internet service and food. For teachers, there is information about using Apple, Google, Zoom and other tools with students as well as free content for everything from math and reading to social-emotional learning and physical education.
A team at Common Sense started reaching out to some of the biggest names in education in mid-March. More than 25 organizations are participating so far, and more were reaching out to sign on after the site launched, said James Steyer, founder and CEO of Common Sense Media.
"Everyone has agreed to participate. Even if they're, in many cases, big competitors with each other," Steyer told The 74. "But they all agreed to play ball. … They saw the magnitude of the crisis and the magnitude of the problems facing particularly low-income families and schools … that don't have the same resources to do the distance learning and to do schooling from home."
More than 55 million students are out of class because of the coronavirus pandemic, and at least nine states have said schools will remain closed for the remainder of this school year, according to a running tally by Education Week. Some districts have already implemented robust plans for continuing to teach students from a distance, while others are not offering any academic instruction. Many advocates are concerned that the closures will exacerbate education gaps, especially for already vulnerable students.
Common Sense is curating the content and working with tech companies, such as Zoom, Google and Apple, to make sure families and teachers are aware of and have access to the resources. Organizations with direct ties to school communities, including the American Federation of Teachers (one of the nation's largest teachers unions), Head Start and the Boys and Girls Club, have also signed on to help.
Millions of students in both urban and rural communities still lack internet service, which is a barrier to online education efforts like Wide Open School. In addition to sharing resources that can be used offline — such as packets that districts can print and distribute — the site and most of its partner sites are accessible on cell phones, which many families have even if they don't have broadband at home. Additionally, as part of the initiative, the Southern Education Foundation will document the transition to online learning in a few districts in the South to see what inequities and solutions emerge.
Amplify, a company that provides K-8 English language arts and science curricula and supplemental resources for teaching reading, built the site and has made most of its content free, both through Wide Open School and via its own site.
Part of the motivation for creating the platform was just getting materials organized so teachers and families could find them, said Amplify CEO Larry Berger. Companies from National Geographic to Khan Academy to public television stations were promoting their online lessons, activities and videos in an effort to help teachers, students and families — but they were overloading people's inboxes at an already chaotic time, Berger said.
Additionally, having so many major players working together could help shine a light on what's still needed and give them a chance to step up and solve the problems. Other organizations, including the Center for Education Reform and ISTE, are also curating resources on their own sites to help families and educators.
"America needs some signs of everyone coming together to do something great. And I think this is not the only one of those happening right now, but it is one of them," Berger told The 74. "Moments like this can fragment [people] politically into us-against-them moments, but this should be a place where it's people coming together to do great things around common needs."
As an example, Berger cited a video on the site that shows an elementary school gym teacher and NBA player Mason Plumlee teaching a virtual gym class. Like the students, Plumlee, a forward for the Denver Nuggets, is stuck at home and doesn't know when his season will resume.
"He's as eager to replace [playing in the NBA] with something as kids and parents are to get a workout in the middle of their day," Berger said.
Disclosure: The Bill & Melinda Gates Foundation, Bloomberg Philanthropies, Carnegie Corporation of New York and Chan Zuckerberg Initiative provide financial support to Common Sense Media and The 74.
Get stories like these delivered straight to your inbox. Sign up for The 74 Newsletter