AFT Launches Literacy Campaign, Pledging 1M Free Books for Families As Efforts Spread to Ban Titles from School Libraries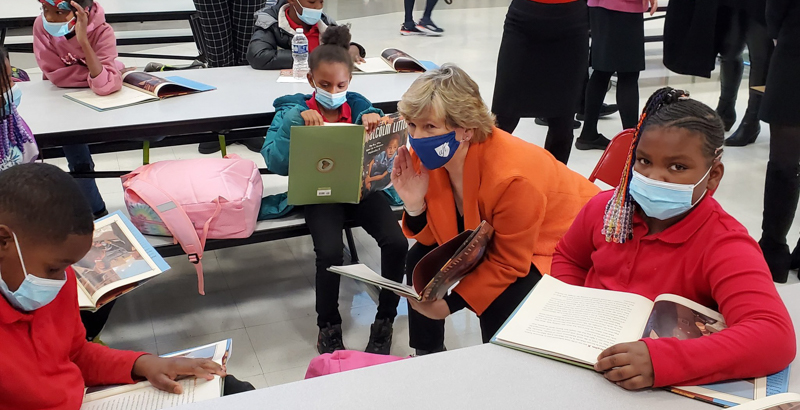 Support The 74's year-end campaign. Make a tax-exempt donation now.
At a moment when attempts to ban books from school libraries have reached unprecedented levels and educators are being threatened for their reading assignments, the American Federation of Teachers is launching a campaign to place 1 million diverse titles in students' hands.
AFT President Randi Weingarten said the union's current effort — to bolster the science of reading, strengthen the school-family connection and give kids "free books to read, love and keep" — pre-dates the backlash, but stands in contrast to it.
"We have [long] been trying to increase the titles that are available for children," Weingarten told The 74. Still, "this [campaign] does counter … all those who are trying to either burn books, or to censor books," she added.
The nation's second-largest teachers union has nurtured a years-long partnership, Weingarten said, with First Book, a marketplace that provides affordable children's books to educators of high-needs students. The "Reading Opens the World" campaign's 1 million books will be sourced from their site and distributed at events beginning this holiday season and running through 2022.
"In the aftermath of this [pandemic,]" Weingarten said, "we thought we would step in and do something muscular and fun."
The $2 million, multi-year campaign kicked off Tuesday in the cafeteria of Malcolm X Elementary School in Washington, D.C., a majority-Black school where a hand-drawn banner reading "My Black is Beautiful" hung above the lectern. After the event, which concluded with read-aloud groups, students were sent home with books by Black authors or that featured Black main characters, including Ada Twist, Scientist and Malcolm Little: The Boy Who Grew Up to Become Malcolm X.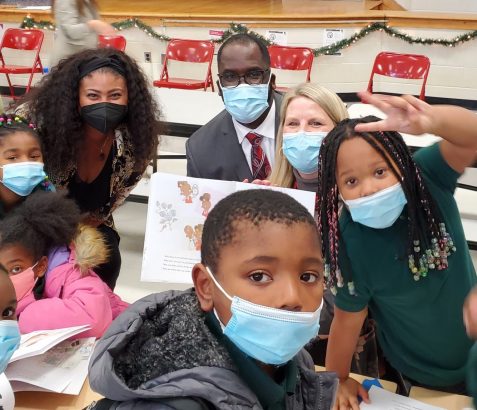 The AFT's ambitious effort drops as controversies over what students learn — and read — roil to fever pitch. In late November, the American Library Association said that schools had seen more attempts to ban books from library shelves than at any previous point in recent decades.
"What we're observing, really in the last year, is a real effort to remove books dealing with the LGBTQ person's experience, or the experiences of persons who are Black, Indigenous or persons of color," ALA Director Deborah Caldwell-Stone told The 74.
Many of those challenges have come from parents and community members who have received materials from conservative groups such as Moms for Liberty, Parents Defending Education and No Left Turn in Education, Caldwell-Stone said. Social media frequently accelerates complaints, she added, noting that the ALA often sees parents from disparate locations object to the same titles in the days after a video or post goes viral online.
In mid-November, Texas Gov. Greg Abbott directed education officials to look into "criminal activity in our public schools involving the availability of pornography" — as legislators also passed legislation tamping down how teachers can approach conversations related to race and gender in the classroom. Amid the fervor, state GOP Rep. Matt Krause reached out directly to superintendents asking whether books on an 850-title list could be found on their shelves.
None of the works that the AFT specified it will give to students are on that list, but many do address race and racial identity.
"The titles that we're distributing today are ensuring that kids have diversity in the books that they're reading," Weingarten said.
Rep. Krause did not respond to requests for comment on the union's new initiative.
Numerous studies document persistent racial and gender gaps in representation within the youth literature genre. In 2018, half of children's books depicted white main characters, while Black, Asian, Hispanic and Indigenous people led 10 percent, 7 percent, 5 percent and 1 percent of titles, respectively, according to numbers from the University of Wisconsin-Madison's Cooperative Children's Book Center.
Throughout the rest of December, 20 local AFT affiliates from Puerto Rico to Houston to Indiana will hold literacy events similar to Tuesday's kick-off in the nation's capital. In the new year, book-laden buses will distribute volumes to students in harder-to-reach areas.
Books will be reflective of those students' linguistic and racial background, AFT communications director Leslie Getzinger wrote in an email to The 74.
In addition to distributing books, the 1.7 million-member union also intends to equip teachers and parents with tips for boosting literacy, including providing instructors with information on the science of reading. The approach, long backed by research, emphasizes phonics and decoding words over text recognition through exposure and context. While more and more teacher training programs have adopted the science of reading, there is still dissension at the district and classroom level over how best to teach reading and confront a national epidemic of illiteracy.
Collaboration between schools and families will also be a lynchpin of the new efforts, the AFT said in a press release.
The union hopes that its campaign will help students catch up on learning they may have missed during the pandemic. The latest research on academic achievement finds that, overall, students are three months behind in reading, and that students at majority-Black schools may be as many as 12 months behind their peers at majority-white schools.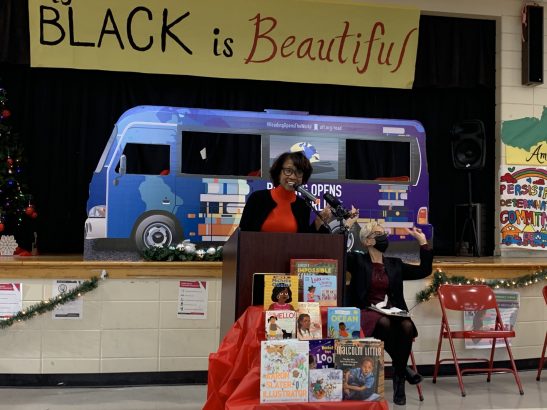 But in addition to making up for academic losses, some officials involved in the literacy effort know that the possibilities extend far beyond the classroom. In the AFT's release, Weingarten refers to reading as "key to life, to joy—to our very existence,"
From the Malcolm X Elementary School cafeteria, D.C. union President Jacqueline Pogue-Lyons read the young students a quote from their building's namesake:
"People don't realize how a man's whole life can be changed by one book."
Support The 74's year-end campaign. Make a tax-exempt donation now.