'My Biggest Challenge and My Biggest Fear:' Teaching Kids How to Read Remotely During the Pandemic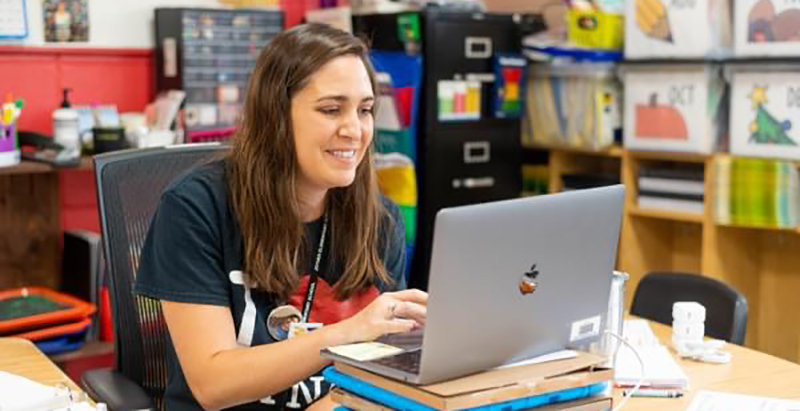 Many students in Jessica Everett's kindergarten class don't yet know how to hold a pencil.
It's one of those foundational skills of literacy — like turning pages, following the left-to-right direction of sentences — that many forget they once had to learn. It's a starting point, and from there, Everett will dive into phonics: teaching the sounds associated with every letter, writing them down, practicing sight-reading and putting words together.
This year, she's doing it all from behind a computer screen.
"That has been my biggest challenge and my biggest fear going into this," she said — teaching kids to read, virtually.
At Joyner Elementary School in northeast Mississippi, Everett is the school's designated instructor for kindergarteners who've opted for full virtual learning. Every day, she teaches a reading lesson in the morning and a math lesson in the afternoon.
Any other year, she would have students shape letters with pipe-cleaners, playdough and LEGOs, trace them out in piles of sand poured out on their desks. Students would be able to work together in small groups and learn from each other.
That "sensory stuff," Everett fears, can't always be replicated online.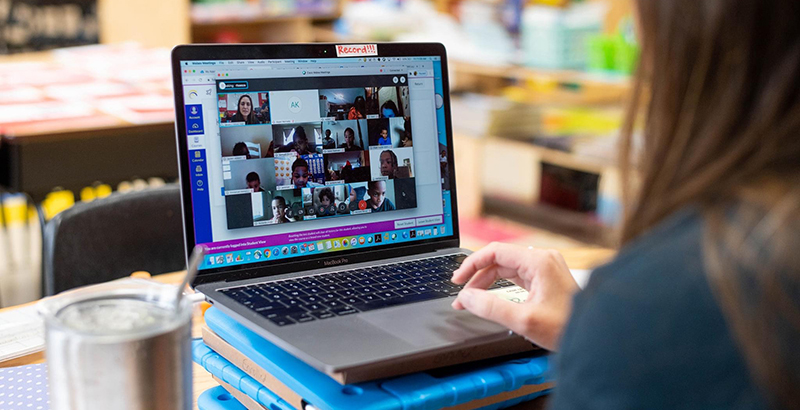 When schools closed in the spring, Everett said her students had already learned most of their letters and how to write sentences. But now she's working virtually with 31 new students, starting from scratch through a computer screen. She worries she won't be able to help them make the same connections among letters, sounds and words without being there in person, in her classroom, directing their attention and offering hands-on lessons.
Experts and teachers like Everett say remote instruction creates obstacles for teaching reading, which is already a complex and rigorously dissected task.
"It's just difficult now," Everett said. "And without these deep foundational skills, every year is going to get harder and harder."
Illiteracy at epidemic levels 
Learning to read was arduous before the pandemic wreaked havoc on the education system. The U.S has under-performed on literacy tests for decades. National Assessment of Education Progress results show fourth-graders' reading scores in several states declined from 2017 to 2019. Only Mississippi's scores improved — and likely due to a doubling down on the science of reading training and instruction, placing more emphasis on phonics.
"Illiteracy is at epidemic levels in all parts of the U.S.," said Matt Cooper Borkenhagen, a language researcher and graduate student in psychology at the University of Wisconsin at Madison. He studies language and learning, focusing especially on how kids develop reading ability.
Reading is an "intrinsically complex" skill, he said, one that requires intense decoding and the ability to recognize the relationship between language and text. That complexity may be what is currently propelling a longstanding debate over the best pedagogy for literacy. The "reading wars" have been ongoing for decades, as policymakers confront philosophical and instructional differences over the use of phonics versus an approach focused on text recognition, often settling around political lines despite clear evidence from researchers. In late October, APM Reports broke the news that the influential Teachers College Reading and Writing Project at Columbia University, whose curriculum is used by millions of children, was shifting some of its focus away from text recognition and toward decoding based on research findings.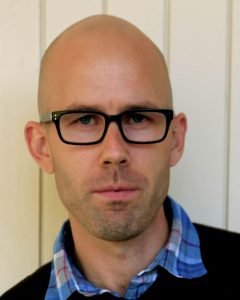 The best teachers, Cooper Borkenhagen said, are the ones who can incorporate diverse strategies — phonics, multi-sensory instruction and text-based lessons. Many will use techniques like Everett, ones that help students visualize and verbalize letters, while also providing physical objects that enhance learning.
In 2020, that's a difficult balance to achieve. Cooper Borkenhagen said he's skeptical such dynamic lessons can be as effective through a webcam.
"All of those ideas are based on the idea that you're in a conventional classroom setting," he said. "You have control over the materials that the kid has in front of them. You can direct their attention in specific and controlled ways. It's not to say that you can't do some of that in an online setting, but it seems to me that online, all of those activities that the teacher relies upon become very difficult."
Dyslexic kids will struggle
The equation gets even more complicated when students' home lives are factored in. Teachers said they've had to work around spotty internet connections, guardians uncomfortable with technology and distractions in the background during lessons. Some students will inevitably be at a disadvantage.
It's also no secret that children with disabilities have been especially challenged by the pandemic and ensuing school shutdowns. Some parents have even filed lawsuits claiming schools failed to accommodate their children's needs with their distance learning plans.
From a reading standpoint, experts say students with dyslexia will be hard-pressed this fall to make progress in their reading.
"These are kids who need the best teaching — i.e., in-person teaching from a caring teacher — the most," Cooper Borkenhagen said.
Sally Shaywitz, co-director of the Yale Center for Dyslexia and Creativity, compared the situation to the learning loss that typically occurs during the summer — what experts often call the "summer slide." New research has already shown the pandemic will cause learning loss unique to itself — the 'Covid Slide' is likely to be especially pronounced in early grades and those already facing inequities, data shows.
The loss in reading is always worse for disadvantaged children and for those with dyslexia, Shaywitz said. Shaywitz estimates the condition affects about one in five children, or 11.2 million K-12 students in the U.S. this year, but often goes unidentified.
She said parents have a greater responsibility than ever before to help their children practice reading aloud, and teachers should limit video calls to five or six students, so they can identify which are struggling.
Getting creative
Thinking optimistically, Cooper Borkenhagen said, the pandemic may spur innovation in some online learning programs — games that incentivize students and make learning to read fun.
And Shaywitz said there are strategies for both parents and teachers to help students with dyslexia. She suggests focusing on short lessons that emphasize reading aloud, activities like slam poetry parties and acting out scripts from plays.
Teachers are adapting. Everett said she's taken to calling parents her "co-teachers" and explaining each lesson to them as she goes, emphasizing the reading and research behind the multisensory approach to teaching reading. Communication is constant, she said.
Jami Balkman, a tutor in Arkansas who works one-on-one with students who have dyslexia, hopes the pandemic provides a broader lesson about being flexible with students and families.
Once her school transitioned to fully online learning in the spring, Balkman continued to meet with each of her students virtually. Students don't always have the same access to materials or the internet as they would at school, she said, but they are often able to improvise. Using a mixture of prepared videos and live meetings over Google Meets, she said she's still been able to watch her students' progress and adapt lessons that would normally be hands-on.
What's more, she said, the pandemic has helped teachers identify priorities in their teaching schedules, collaborate with one another and incorporate new tools they never would have considered before. Balkman said she and other teachers would use document cameras to work through interactive lessons, using objects and tracing letters as they normally would in person but now projected onto their computer screen.
"We've just really gotten creative. It hasn't been easy and it's not ideal and I don't think anybody's students made as much progress as they would have normally," Balkman said. "At the same time, I think we've done a lot of good things to keep them from falling further behind."
Support The 74's year-end campaign. Make a tax-exempt donation now.