With North Carolina Teachers Rallying This Week, a Look Back at a Season of Strikes: What Teachers Asked For and What They Received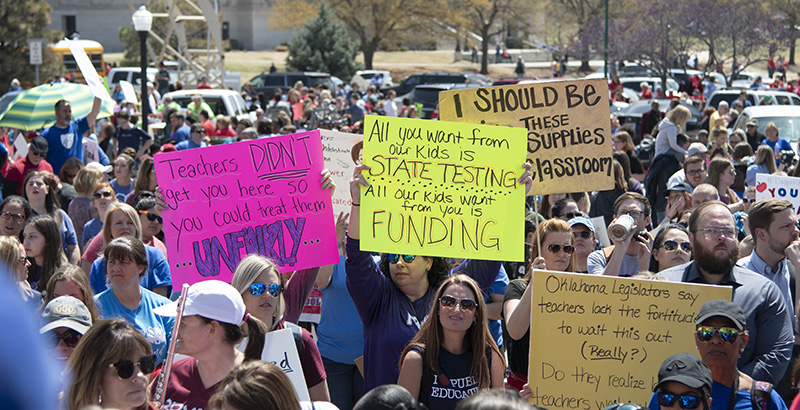 After seeing their counterparts win raises and education spending hikes in West Virginia, Arizona, and elsewhere, teachers in North Carolina are set to rally this week. Thousands of teachers there have requested Wednesday off so they can rally at the capitol in Raleigh.
The announcement caused several school districts to announce closures for the day, canceling class for as many as 70,000 students.
In what some have called a "red state revolt," teachers around the country have taken to the streets to demand higher salaries, more state spending on education, and better working conditions for educators and staff. What started as a nine-day wildcat strike in West Virginia in March quickly spread to Kentucky, Oklahoma, Arizona, and the not-so-red Colorado. The demonstrations also touched a nerve in Indiana and Mississippi.
As we look ahead to Wednesday's rally, The 74 also takes a look back at previous walkouts to compare what teachers asked for and what they ultimately received before returning to the classroom.
North Carolina
What's happening: Educators are planning a one-day event called March for Students and Rally for Respect on May 16 in Raleigh, North Carolina. Teachers are using personal days to take off, but at least 20 districts have announced closures because so many teachers have requested time off. State Superintendent Mark Johnson has said he does not condone the strike but supports teachers.
What teachers want: The North Carolina Association of Educators released a list of priorities Monday that included: raising per-student spending and teacher salaries to the national average within four years; hiring at least 500 additional school nurses, counselors, and social workers; using a $1.9 billion construction bond to improve school buildings and decrease class sizes; and not having any corporate tax cuts until per-student spending and teacher pay reach the national average.
In 2017, per-student spending in North Carolina was $9,329, which ranked 39th nationally, according to National Education Association data. The national average was $11,642. Average teacher pay in North Carolina for 2016–17 was $49,970, which is $9,690 short of the national average.
West Virginia
What happened: The wave of teacher activism started in West Virginia in late February, and the strike was statewide, closing schools in all 55 of the state's counties for nine school days.
What teachers wanted: Teachers demanded a 5 percent raise and refused to end the the strike until the governor locked the raise in by signing it into law.
What teachers got: A 5 percent raise, about $6,000 per year, for teachers and all other state employees was passed into law and signed by Gov. Jim Justice, a Republican, before teachers went back to class. Justice also promised to set up a task force to address teachers' concerns about rising health care costs.
The success teachers found in West Virginia inspired teachers in a number of other states, who did not always reach such clear victories.
Oklahoma
What happened: In Oklahoma, much of the organizing happened at a grassroots level online, casting the union in a support role. Teachers called for a $200 million increase in school funding over three years plus additional funding for health care. They staged a walkout that came to an anticlimactic end after nine school days without much concrete progress to celebrate — and no clear plan to increase education spending.
What teachers wanted: They were looking for higher pay for teachers and support staff, more funding for public education and other services, and a cost-of-living increase for retired teachers, according to the state teachers union website.
What teachers got: The biggest change came before the strike began, when the legislature passed a salary increase worth about $6,000 per year. Several teachers also filed to run for public office during the strike, which coincided with the candidate filing window at the capitol, NewsOK.com reported.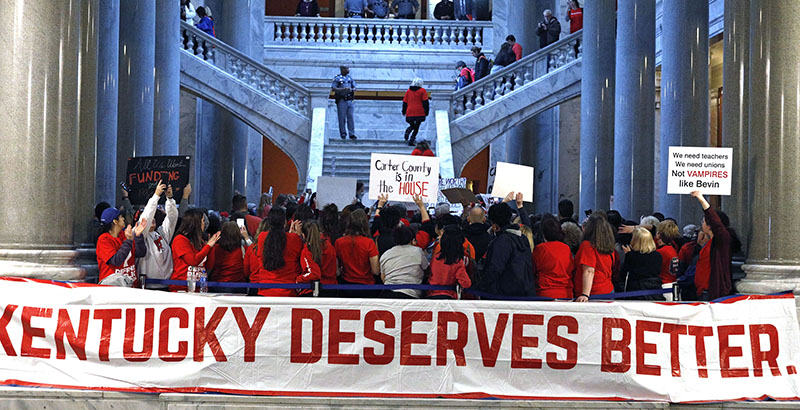 Kentucky
What happened: After staging a series of protests during sickouts and spring break, teachers forced more than 30 districts to cancel classes while they rallied at their state capitol April 13 for more school funding. Teachers there opposed a pension reform bill but did not ask for salary increases.
In a controversial interview, Republican Gov. Matt Bevin blamed teachers for children being exposed to sexual abuse, drugs, and poison on their days off during the walkout. Lawmakers from both sides of the aisle condemned the comments, and he later apologized.
What teachers wanted: Teachers were angry about a plan created by the Republican-controlled legislature to change the state's pension system. Educators also urged state lawmakers to increase education spending.
What teachers got: The pension overhaul was enacted against teachers' wishes, but Republican lawmakers overrode the governor's veto of their budget, which will now increase education spending by raising taxes. Bevin called the budget irresponsible.
Arizona
What happened: The movement in Arizona was largely led by a grassroots group called Arizona Educators United, with some support from the state teachers union, the Arizona Education Association.
Teachers rallied at the state capitol for six days, forcing schools in at least 100 districts to close. During the protests, Gov. Doug Ducey, a Republican, did a number of media appearances to promote his plan to give teachers a 20 percent raise by 2020. Critics of the governor's plan said the funding was based on overly optimistic revenue projections.
What teachers asked for: Organizers demanded higher pay for teachers and support staff and urged lawmakers to return education spending to 2008 levels and refuse to cut taxes until per-student spending reaches the national average. Arizona's per-pupil spending in 2017 was $7,501, about $4,000 below the national average, making it 48th in the nation, according to National Education Association data.
What teachers got: After a late-night legislative session, Ducey signed a plan May 3 to give teachers a 20 percent salary increase by 2020. Although teachers wanted more funding for their schools, some saw the strike as a win because educators put enough pressure on lawmakers to enact some change immediately and laid groundwork for future activism.
Colorado
What happened: Teachers from several districts used personal time off to rally at the capitol throughout April, which forced some districts to close for a day or more.
What teachers wanted: Teachers wanted the state to fully fund schools, which have been underfunded by $822 million per year since 2009, according to The Denver Post. The full funding would allow for higher teacher pay, alleviate teacher shortages, and decrease class sizes.
What teachers got: Gov. John Hickenlooper, a Democrat, acknowledged teachers' concerns at a rally and said he would work to improve education funding, but he didn't offer specifics.
Teachers from Colorado's Pueblo City Schools district staged a genuine strike that lasted five days and officially ended Sunday after teachers secured a 2 percent raise, The Denver Post reported.
Teachers also demonstrated in Puerto Rico in April to protest a plan to close hundreds of public schools and convert others into charter schools.
Support The 74's year-end campaign. Make a tax-exempt donation now.