On Social Media, Striking Teachers Are Organizing for Themselves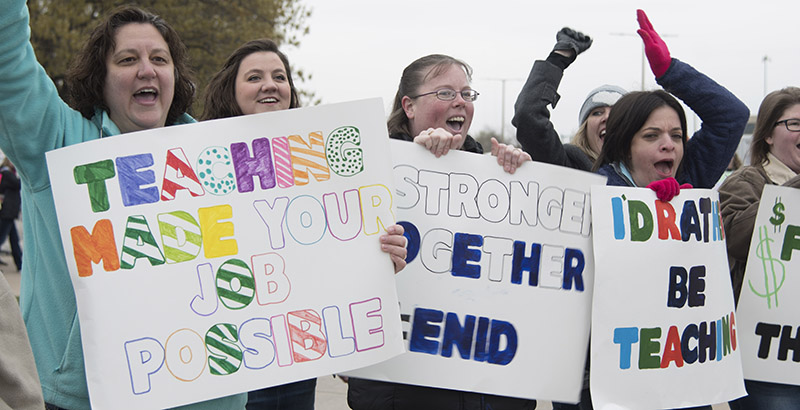 In Kentucky and Oklahoma, thousands of teachers are striking to demand higher pay, better benefits, and more funding for schools. Much of the organizing began online, with teachers using Facebook groups to discuss demands and plan walkouts.
In Oklahoma, the organizing started in March through a Facebook group created by a 25-year-old teacher, Alberto Morejon, and the group now has more than 61,000 members. About 200 of Oklahoma's 500 districts shut down Monday because of striking teachers across the state. The group helped to unify teachers and created a platform for discussion, which could make rank-and-file union members' concerns more accessible to union leaders.
After walkouts continued Tuesday, Oklahoma's three largest districts and some others across the state will remain closed Wednesday for a third day of demonstrations, the Associated Press reported. One state Democratic lawmaker, Collin Walke, told reporters he expects the Republicans will "wait the teachers out," but the path forward is unclear.
Teachers in Oklahoma and elsewhere are taking a page from West Virginia educators, who relied on Facebook during their statewide 9-day strike earlier this year, which resulted in a 5 percent pay raise for teachers.
West Virginia teacher Erica Newsome said the online group helped create a sense of solidarity among teachers who live in different parts of the state. They used the group, which had more than 24,000 members, to share plans, news, and jokes, according to a BuzzFeed News report.
"West Virginia can be an isolating place," Newsome told BuzzFeed. "I'm here in southern West Virginia, which is more impoverished than the northern part of the state. But being on Facebook, I'm like, 'Hey, they're ticked off at the same stuff as we are. They're having the same issues, too.'"
Last week, Oklahoma's Republican-controlled legislature passed a pay raise for teachers that adds up to $6,000, representing about a 16 percent increase, depending on experience. Republican Gov. Mary Fallin signed the package into law, but teachers are demanding a $10,000 increase plus additional funding for schools and higher wages for support staff, The New York Times reported.
In 2016, the average teacher's salary in Oklahoma ranked 49th nationally at $45,276, according to National Education Association data, which has forced many teachers to work multiple jobs outside the classroom to survive. With the raise past last week, they would have ranked 28th in 2016.
Some teachers emphasize that they aren't just asking for more pay but more funding for classrooms. In a statement, Oklahoma Education Association President Alicia Priest said of the package, "While this is major progress, this investment alone will not undo a decade of neglect."
In Kentucky, pay is a smaller concern. Teachers are protesting a bill that would replace their pensions with retirement plans that combine some traditional pension features with elements of a 401(k) plan, the Times reported. The Republican-controlled state house and senate have passed the bill, but Republican Gov. Matt Bevin has not signed it yet. Many of the teachers picketing in Kentucky are on spring break this week, but about 20 districts slated to be open this week closed because of the strike.
If the wave of teacher organizing continues, Arizona could be next. Teachers there are planning "walk in" demonstrations on April 11 when they will stand outside their schools holding signs before classes start, and they have invited parents to join them. They say they will not disrupt classes but will walk into school together, ABC 15 of Phoenix reported. Republicans control both houses of the legislature in Arizona. The governor has rejected teacher demands for a 20 percent raise, which teachers say would make their salaries competitive with pay in other states. In 2016, average teacher pay in Arizona ranked No. 43 nationally, at $47,218, according to the National Education Association data.
As teachers in red states across the country continue to demand higher pay, education funding is emerging as a key issue for the 2018 midterm elections. Additionally, growing numbers of teachers, particularly from states like Oklahoma that have seen decreased funding for education, are running for office.
"We're going to have a lot of teachers at the ballot box who I don't think would normally go in a midterm year," Arizona teacher Noah Karvelis told The New York Times. "If I were a legislator right now, I'd be honestly sweating bullets."
Get stories like these delivered straight to your inbox. Sign up for The 74 Newsletter