With Control of Senate Uncertain, Educators Look to Mitch McConnell, Who Calls Pandemic Relief Package 'Job One'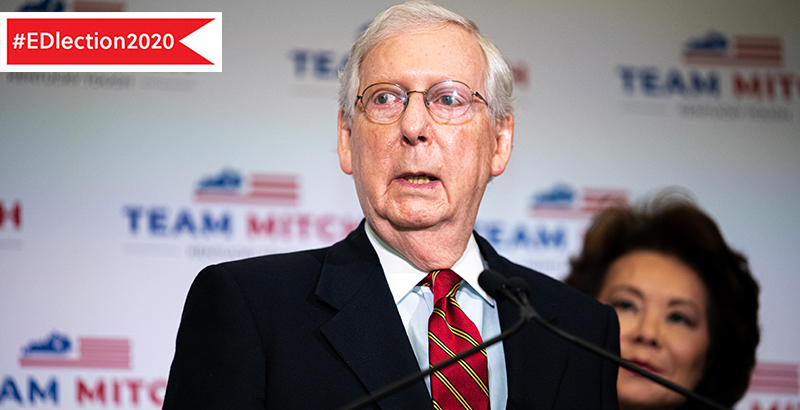 2020's KEY EDUCATION VOTES: See our full coverage of the 46 races that could reshape America's schools following Election Day — and get the latest updates on state policies and students' challenges during the pandemic by signing up for The 74 Newsletter.
For months, the nation's education leaders and advocates have pinned their hopes for another pandemic relief package with substantial funding for schools on changing leadership in Washington.
But the outcome of the presidential contest is unclear at this point, and hopes that the Democrats would take control of the Senate are fading. As a result, some experts are scaling back their expectations.
"Schools urgently need additional federal aid to deal with the coronavirus pandemic, whether they're educating students in person or remotely," said Carissa Moffat Miller, executive director of the Council of Chief State School Officers. "Whatever the final outcome of the congressional and presidential elections, we urge leaders to come together and reach a bipartisan solution quickly."
Senate Majority Leader Mitch McConnell provided some reasons for optimism Wednesday morning in a press conference following his own comfortable re-election in Kentucky, calling the passage of another relief package before the end of the year "job one." He said he is now willing to consider funding for state and local governments, a key priority for Democrats who want to protect schools from cuts due to recession-induced belt tightening.
"We need another rescue package," McConnell said. "Hopefully, the partisan passions that prevented us from doing another rescue package will subside with the election. It's a possibility we will do more for state and local governments."
Phyllis Jordan, editorial director for FutureEd, a think tank at Georgetown University, said his comment "sounds like he's willing to budge on his past opposition."
McConnell added that Republicans haven't been in favor of state and local funding because it's unclear if aid gets to those who really need it and he doesn't want states to cover up issues such as pension debt "that they've created for themselves." But with the virus still raging, he said, "the need is there and we need to sit down and work this out."
Noelle Ellerson Ng, the associate executive director for advocacy and governance at the AASA, the School Superintendents Association, said schools shouldn't have had to wait for the election for more aid.
"That is what leadership is supposed to do, and that is what leadership should have been doing," she said, adding that if Joe Biden wins the White House, "We have to see if Mitch McConnell without a Trump is any different."
Close races
As of Wednesday evening, the Republicans had 48 seats secured, while the Democrats had 45. There was still no clear winner in the North Carolina race between incumbent Sen. Thom Tillis and Democratic challenger Cal Cunningham, even though Tillis declared victory Tuesday night.
In Michigan, incumbent Democrat Gary Peters was trailing Republican challenger John James by less than a percentage point with 96 percent of precincts reporting. In Georgia, both of the state's tSenate seats could end up in runoffs, with incumbent Republican David Perdue holding a slim majority of votes with results still being counted, and Republican Kelly Loeffler, a member of the education committee, headed to a runoff with Democrat Raphael Warnock.
But in Maine, Sen. Susan Collins, a Republican member of the education committee who could be in line to be chair if the GOP retains control, ultimately defeated Democrat Sara Gideon.
'Funding to safely reopen'
The last relief bill, the Coronavirus Aid, Relief, and Economic Security Act, passed in March. While education officials said the funding helped cover the initial costs of implementing distance learning, revamping school meal programs, and sanitizing buildings, they need to continue those efforts, particularly those aimed at students who've lost the most ground during school closures.
In a tweet Monday, Danny Carlson, the director of policy and advocacy for the National Association of Elementary School Principals, suggested a few possible scenarios. If Republicans retain control of the Senate, House Speaker Nancy Pelosi, D-Calif., could agree to a smaller package than she has been pushing for in recent months. The House, for example, passed a $2.2 trillion package in early October that included more than $182 billion for K-12 schools, but the Senate never considered it.
Meanwhile Senate Republicans have tried twice to pass a "skinny" bill that included less than $100 billion for schools along with private school choice provisions and conditions that tied funding to reopening schools for in-person learning. But Democrats haven't gone along with them.
If Democrats end up controlling the Senate, Carlson added, Pelosi could wait until January to secure a larger package — more in the $3 trillion range. But even then, Democrats would not have the 60 votes needed to pass.
In a letter Sunday to Treasury Secretary Steven Mnuchin — who has been negotiating with Democrats on a package that exceeds the GOP's plan — Pelosi said Democrats were still waiting on an answer from the White House on several compromise details, including "funding to safely reopen our schools with separation, ventilation, sanitation, and more funding for teachers and support staff."
But she also indicated Monday that she would likely use the budget reconciliation process to finalize a package. With that procedure, certain committees in the House write bills with specific funding targets and the budget committee combines them into one large bill.
"But if the Democrats don't win a Senate majority, reconciliation won't be as easy as she hoped," Jordan said. "So, while it's hard to handicap it until all the votes are counted, I'd say there is some chance for a bill during the lame duck session."
2020's KEY EDUCATION VOTES: See our full coverage of the 46 races that could reshape America's schools following Election Day — and get the latest updates on state policies and students' challenges during the pandemic by signing up for The 74 Newsletter. 
Support The 74's year-end campaign. Make a tax-exempt donation now.