Trump Calls Off Negotiations Over COVID-19 Relief Package, Leaving Educators Anxious Over State Budget Cuts in Faltering Economy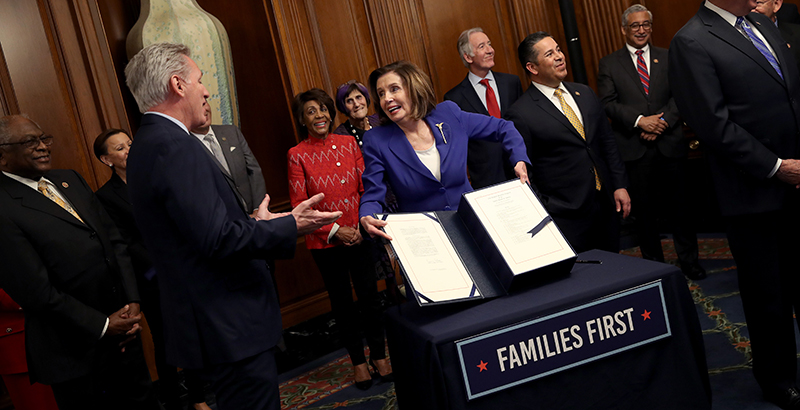 Updated October 6
President Donald Trump on Tuesday tweeted that he is calling off negotiations between the White House and House Democrats over another relief package. "I have instructed my representatives to stop negotiating until after the election when, immediately after I win, we will pass a major Stimulus Bill that focuses on hardworking Americans and Small Business," he wrote. 
Treasury Secretary Steven Mnuchin had proposed a $1.6 trillion package, well below the $2.2 trillion bill the House passed Thursday.
Trump said he is directing Senate Majority Leader Mitch McConnell to focus on confirmation hearings for U.S. Supreme Court nominee Amy Coney Barrett.
The chances that school districts will see more emergency funding before the end of the year slipped further away Thursday as House Speaker Nancy Pelosi and Treasury Secretary Steven Mnuchin seemed unable to reach agreement over another COVID-19 relief package.
The Democrats' scaled-down, $2.2 trillion proposal includes $175 billion for K-12 — significantly more than what was in the first version of the Health and Economic Recovery Omnibus Emergency Solutions, or HEROES, Act. But they were still far apart from the roughly $1.6 trillion, with a total of $150 billion for higher education and K-12, that Mnuchin was proposing.
Drew Hammill, deputy chief of staff for Pelosi, tweeted that the speaker and Mnuchin were scheduled for additional talks in the afternoon. Meanwhile, the House was still expected to debate and vote on its bill Thursday night.
President Donald Trump also on Thursday signed a bill that continues to fund the government, providing almost $8 billion for school nutrition programs and extending school meal waivers through the rest of the school year. The waivers allow schools to serve students for free, whether or not they qualify for free or reduced-price meals. An earlier extension from the U.S. Department of Agriculture would have ended Dec. 31.
On relief negotiations, the White House has indicated that it's willing to go above the Republican-led Senate's top offer of $1 trillion, but that doesn't mean Senate Majority Leader Mitch McConnell will agree.
On Sept. 10, Senate Democrats roundly rejected a plan that would have included $70 billion for K-12, but with two-thirds conditional on schools reopening.
Phyllis Jordan of FutureEd, a Georgetown University think tank, said she suspects that the new HEROES Act shifted more funding from state and local governments directly into education — making it more politically palatable for President Trump, who called earlier proposals a "bailout" for Democratic governors.
One key item left out of the House plan is a school choice provision, which President Trump and Secretary of Education Betsy DeVos have pushed for since negotiations over another relief package began in the summer.
Co-sponsored by Republican Reps. Bradley Byrne of Alabama and Mark Walker of North Carolina and Democrat Dan Lipinski of Illinois, the School Choice Now Act — like its companion in the Senate — would have sent emergency funds to states for private school scholarships at a time when some families can no longer afford private schools.
"More schools will be forced to close their doors and we will see an influx of students into our public-school system at a time when schools are already strained for resources," Lipinski said in a statement. "The easiest way to help these students would be to provide funding to state-certified scholarship granting organizations, which would then send money directly to families."
In a letter, 18 education groups thanked House leaders for their work on the bill but also called for $13 billion for special education, $12 billion specifically for Title I and $12 billion for technology needs.
'Round one' not enough
State and local education leaders say the roughly $13 billion that schools received from the Coronavirus Aid, Relief, and Economic Security, or CARES, Act, which passed in March and included a $3 billion Governor's Emergency Education Relief Fund, addressed initial costs related to remote learning and preparing buildings to reopen.
But now, well into the new school year — and still uncertain as to whether they'll have to go all-remote again — states and districts are clamoring for a firm idea of whether additional funding is on its way to help them plan for contingencies.
"There is still a need for funds for internet connectivity for students and teachers," said state Superintendent Carrie Wright of Mississippi. "Round one of funding was not enough considering the funds districts had to use to address the health-related factors of COVID-19."
Districts that didn't receive a lot of CARES Act funds say they have spread it out as thin as they can. The Howard Lake-Waverly-Winsted Public Schools in Minnesota, roughly 45 minutes west of Minneapolis, received about $200,000. But those funds had a "significant impact," said Jason Mix, principal of the district's one high school.
All middle and high school teachers in the district, who are teaching a hybrid schedule and are livestreaming their lessons to students at home, received webcams. All classrooms in the district's four schools now have interactive whiteboards, and the district purchased additional Chromebooks for students who didn't have them in the spring.
But Mix said he still needs new software to work with the new laptops, hotspots for students who don't have internet at home, and additional staff members to carry some of the load.
"My teachers are physically and mentally exhausted," he said.
In the Freeman School District, near Spokane, Washington, CARES Act funds were used for technology and transportation costs to deliver meals to students' homes across the geographically spread-out area. This fall, said Superintendent Randy Russell, teachers need more professional development for transitioning between in-person and remote learning.
"We're having to stay very flexible, and not get too excited and worked up" about potential funding, Russell said.
Districts have 'borne the brunt'
Meanwhile, state legislatures are working on next year's budgets and need to know what they can expect, Jordan said.
"Before they get back to their statehouses, they need to know with some degree of certainty whether there's going to be some federal aid," she said. "That passes right down to school districts. School districts have really borne the brunt of the changes that come with COVID."
In Minnesota, for example, the state used up a $4 billion surplus on pandemic-related expenses and districts have been told to expect no cost-of-living increases and budget cuts of at least 20 percent, Mix said.
A recent Brookings Institution analysis shows that declines in state budgets might not be as severe as expected, but there's wide variation across the states. "Without promises of further aid, these governments are likely to cut spending now to prepare for future imbalances," the authors wrote.
Some states and districts were so confident that another relief bill was imminent that they included projected amounts in the proposed budgets, said Marguerite Roza, director of the Edunomics Lab at Georgetown University.
"Districts have a lot of money to deliver only in-person learning to kids," she said. The reason many are scrambling now is because they are trying to be ready for in-person, hybrid and fully remote learning. That means they're not laying off or furloughing staff members who might not currently be performing their normal duties.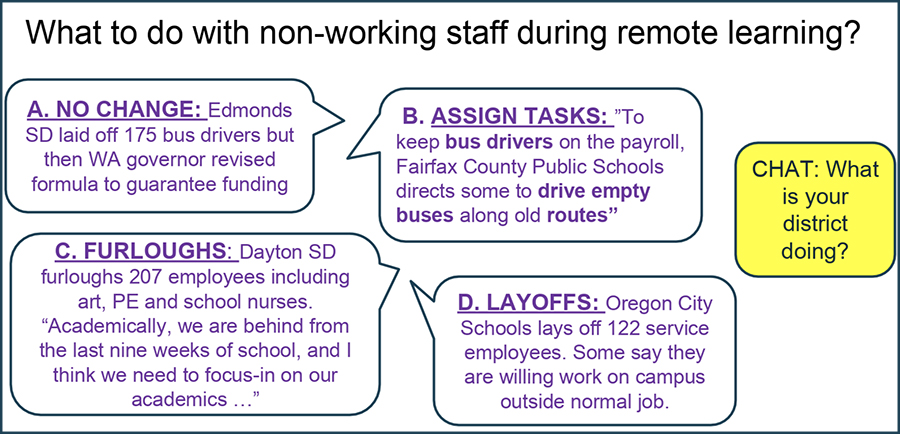 "These are hard decisions, and they don't want to make them," she said. During a presentation she gave Wednesday to school board members, Roza said their answers regarding when they'll reopen are "all over the place."
Some, she said, are dipping into reserve and retirement accounts to cover expenses, which is a risky move, because "revenues for the future don't look strong."
Get stories like these delivered straight to your inbox. Sign up for The 74 Newsletter