Watch Live: Former Teacher of the Year Sydney Chaffee to Speak at National Charter Schools Conference Wednesday at 12 p.m. Eastern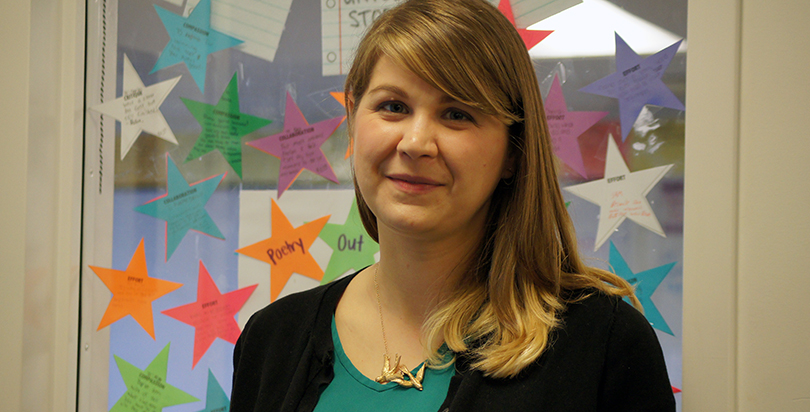 The 2018 National Charter Schools Conference sprinted out of the gate Monday, with the bestowing of this year's Broad Prize for Public Charter Schools to the Denver-based DSST Public Schools (read more about the award and the network right here). Since then, it's a been a full roster of speakers and sessions in Austin, Texas, culminating in today's closing day lineup.
Several of Wednesday's presentations will be livestreamed at the CharterSchools Facebook page, including today's keynote from Mike Marriner, the co-founder of Roadtrip Nation.
Also at noon Eastern (11 a.m. local time), former Teacher of the Year Sydney Chaffee will take the stage to talk about the state of American education and her recent year-long journey across the country to learn from students and other educators.
You can watch Chaffee's session live right here.
In the spring of 2017, The 74's Carolyn Phenicie sat down with Chaffee for an extensive interview about school accountability, student trauma, and social justice. Here's an excerpt from that interview:
The 74: Why did you become a teacher?
Chaffee: I was in college, I was at Sarah Lawrence, and I was studying all these things that I loved. I was studying poetry, and I was studying women's history, and I had these amazing professors and they were all young women, feminists, doing this incredible work. They helped me become a learner … I was just on fire with this learning. So I decided, "I'll never leave, I'll stay here forever, I'll be a professor, and this will just be my life and it will be perfect and I'll become one of these women, and I will get to do for other students what they have done for me and I'll just be learning forever."
Then I ended up working for a summer … with rising seventh-graders and they were amazing, amazing people … It was just this incredible experience of building this community with them over the course of a summer, and taking kids through these educational experiences and these community-building experiences. I realized, this is amazing — actually, I don't have to stay at Sarah Lawrence forever, because I can work with middle schoolers who are just these amazing little people. And I can get this all the time, and I can learn all the time and I can make a difference in the world. Then I became a teacher.
The National Teacher of the Year has a sort of platform she advocates during her year in office. What would yours be?
I'm really interested in the idea of and the power of stories. I really like to talk about, what are the stories that are being told about our students and about our schools and about teachers, and what are the stories that we want to tell and that our students want to tell, and how do we empower students and teachers to tell their stories?
For me, one of the big stories that I want to talk about with folks is the story of equity and the story of social justice, and how do we make those ideas live in our schools and live in our classrooms, and how do we empower our students to take action towards a more just world, and to take action to create a more just world? I feel like all of the other sort of issues that I like to get involved in, it all always comes back to that idea.
What would you wish others know about your classroom, or your students?
My students are such complicated people. Students are whole people, and sometimes when we talk about education or we talk about classrooms, we talk about learning, we forget that …
One thing that I've been really interested in learning about recently and talking about recently is this idea of trauma-informed teaching, and thinking about what are our students coming to us with, what are the traumas that they may have experienced, and what are the traumas that they are currently living through.
My students are overwhelmingly students of color, primarily African-American and Latino students, and so thinking about what some of the trauma that they are experiencing by virtue of being students of color. What are some of the things that they are dealing with in terms of stereotypes that they're facing or the effects of — not for all of them but for some of them — poverty, things like that? What trauma does racism inflict upon them? And how can we understand our students within this larger context of who they are as people and how they're experiencing the world, and how can we hone our practice in the classroom and in the school to best support them in a trauma-informed way?
… I'm just really interested in, how can we help people who aren't in the classroom every day with our kids understand the bigger picture and the broader context of who they are and what they're facing in the world and what they're interested in, and the growth that we're seeing over time with them.
What's been your best moment teaching?
I cannot pick one, so I'm just going to tell you a story from last year. I had this girl in ninth grade, and she is an amazing actress. We were doing a poetry competition where she had to memorize and recite a poem. Everyone in the ninth grade knew she was going to win…. We got to the night of the performance and she becomes a finalist. And then a month later we get to the night of the finals, she gets up there, by this point everyone in the school, not just the ninth-graders, [knows] she's a shoo-in.
Someone sneezes and she messes up … She didn't win; she didn't move on. She declared herself a failure. She had all these reasons why she shouldn't have won and she didn't deserve it and it's terrible.
At the end of the year we always put on a play. So having seen this power that she had, my co-teachers and I made her the title character in the play. Of course at first she was sort of like, "Well, why would you give this to me? I messed everything up. I can't handle it. I'm gonna mess up." On the night of our play, she was a star.
She sort of came out and had this real redemption, and I attribute that both to her passion and her talent, but also the way that her fellow classmates sort of rallied around her in the lead-up to the play. They said, you know, "Hey, we know you're amazing, and how can we help you?" and "Let's make sure that you know your lines by heart," and "Let's make sure that sometimes when you're rehearsing we do something distracting and let's see what you can do." She was able to see, "Oh, this one moment things didn't go well, but that doesn't mean I'm a failure, and actually I'm gonna pick myself up and I'm gonna do this other thing."
Everyone in that audience witnessed this magic of this beautiful performance. That to me is such a great story because I just feel like I fail all the time. We all fail all the time. To be able to see a student fail in that moment and then come back and have such triumph that is like the beauty of this theater work that we do, but also just education.
…Read the full interview here. And watch Chaffee's livestream here at 12 p.m. Eastern.
Go Deeper: Find more great, in-depth interviews with educators and experts at our "74 Interview" section.
Get stories like these delivered straight to your inbox. Sign up for The 74 Newsletter