DSST Public Schools Wins the 2018 Broad Prize for Public Charter Schools, Will Soon Serve One-Fourth of Denver's Middle & High Schoolers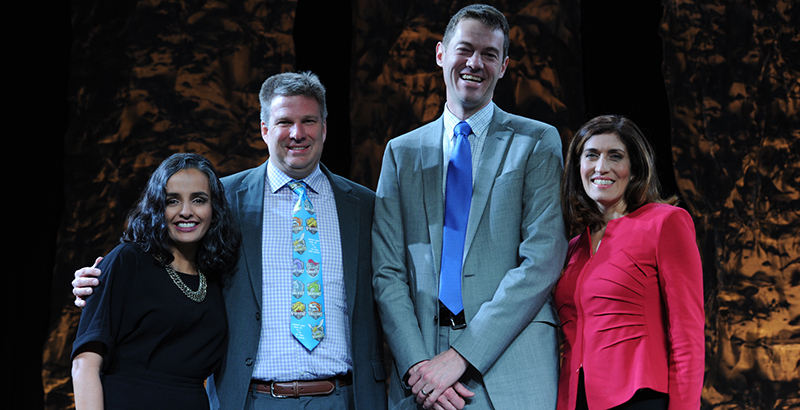 To the long list of accolades DSST Public Schools has amassed over its 14-year history, add one more: The Denver network of diverse-by-design schools is the 2018 recipient of the Broad Prize for Public Charter Schools. Conferred by The Eli and Edythe Broad Foundation and the National Alliance for Public Charter Schools, the award was announced Monday at the National Charter Schools Conference in Austin, Texas. It comes with $250,000 for DSST to spend on college-readiness efforts.
The first Denver School of Science and Technology opened in 2004. Starting with its inaugural class 10 years ago, 100 percent of graduates of the network's 13 schools have been accepted to four-year colleges and universities. A 2017 study from Stanford University's Center for Research on Education Outcomes found that DSST schools posted some of the biggest gains in reading and math of all the charters studied, equivalent to more than 100 additional days of learning.
"DSST is a great example of the much-desired and elusive combination: a network that ensures outstanding results for all types of students while growing to serve more students," CREDO director Macke Raymond, a member of the Broad Prize review board, said in a statement. "They have cracked the code for success."
DSST was one of three finalists for the award last year, the first year in which it was eligible. The 2017 prize went to Success Academy. This year's three finalists were DSST, Achievement First, and Uncommon Schools. Uncommon Schools is the first recipient to be nominated again after winning.
On state assessments, most DSST schools score well above Colorado's mean test scores. Impoverished students, who make up 66 percent of the student body network-wide, posted higher average SAT scores in 2017 than their affluent Colorado peers. The network boasts four of the top five high schools and five of the top eight middle schools in Denver, based on the district's school performance framework. And U.S. News and World Report ranks the flagship Stapleton campus as the second-best high school in Colorado and No. 97 in the country.
Right now, DSST serves 5,300 Denver secondary-school students. Under the terms of a 2015 contract with the Denver School Board, which oversees the city's charter schools, the network is expected to grow to 22 schools across 11 campuses by 2025.
It will eventually serve one-fourth of Denver's middle and high school students.
DSST has said it hopes to send 60 percent of next year's senior class to "match schools," colleges that offer support and strong financial aid to students from low-income families and that graduate two-thirds of students. More than half of DSST's 2016 graduates were the first in their families to attend college.
In addition to its strong academic performance, the 10-member Broad Prize review board cited DSST's integration model, recently featured in a Century Foundation report.
A graduate of DSST's Cole campus, Charles Kendee will attend Yale in the fall, according to the school network. Prompted by exposure to the field during a summer engineering course, he is considering studying electrical engineering.
"I am excited about my future because I'm going to be able to leave the state I've lived in for my entire life and experience a ton of new things," Kendee said. "I'll be able to meet new people, learn about other cultures, and explore things that interest me. The possibilities are endless, and I can't wait to explore all of them."
Disclosure: The Bill & Melinda Gates Foundation and Walton Family Foundation have provided funding to both DSST and The 74; the Walton Family Foundation also provides financial support to the Century Foundation's project on charter school diversity. The 74 also receives funding from the Eli and Edythe Broad Foundation, which funds the Broad prize.
Get stories like these delivered straight to your inbox. Sign up for The 74 Newsletter