Trump Issues School Choice Executive Order Allowing States to Repurpose Funds for 'Emergency Learning Scholarships'; Critics See Biden Swiftly Revoking Pandemic Measure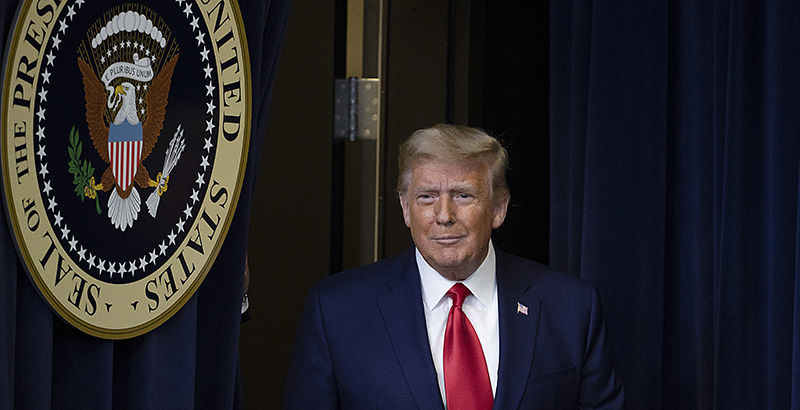 After failed attempts in Congress to shift more funding to parents wanting their children to return to in-person learning, President Donald Trump on Monday issued an executive order directing the Department of Health and Human Services to allow block grant funds to be used for pandemic-related private and homeschool expenses.
States would be able to use Community Services Block Grant funds to issue "emergency learning scholarships" to "disadvantaged" families. The funds could also be used for participating in microschools and pods, as well as therapy services for students with special needs.
"The prolonged deprivation of in-person learning opportunities has produced undeniably dire consequences for the children of this country," the order said, noting that more than 50 percent of all public-school students in the U.S. began school remotely this fall.
The block grant, funded at $775 million for fiscal year 2021, is used for a wide swath of anti-poverty programs in low-income communities, ranging from employment, nutrition, housing, and health care. Education is an allowable use for the funds. Trump, however, actually recommended eliminating the block grant in his budget proposal earlier this year, as well as throughout his administration.
The order came on the same day that departing Secretary of Education Betsy DeVos commented on the $2.3 trillion pandemic relief and funding bill Trump signed Sunday, saying that the legislation "took the same tired approach" by not including provisions in the School Choice Now bill, which would have set aside 10 percent of federal relief funds for scholarships for private and homeschooling expenses. In a tweet, she said, the order "demonstrates our continued commitment to empowering students with the resources they need to find the right fit for their education."
The Trump administration hinted in mid-November that the president might make such a move, but observers and public school advocates characterized it as "more bluster for the base" and an executive action that wouldn't hold up in court.
They had the same reaction today.
"It's super weird," Sasha Pudelski, advocacy director at AASA, the School Superintendents Association, said about the executive order. "This will obviously not go into effect."
She said that Biden would be able to reverse the order once he takes office Jan. 20. Biden's transition team did not respond to a request for comment.
Derek Black, a law professor at the University of South Carolina who has opposed attempts in his own state to use earlier relief bill funds for school vouchers, said, "this move is a day late and a dollar short — a day late because the students have been waiting on federal leadership on the issue of school reopening for over half a year and a dollar short because this random idea to use health and human services funds is very unlikely to move the dial for many families."
But school choice advocates celebrated the announcement.
"This is big, welcome news," said Leslie Hiner, vice president of legal affairs at EdChoice, an advocacy organization. "Microschools, private schools, and homeschool co-ops are excellent options. Kids need help now; they don't have time to wait."
The order references guidance that the Department of Health and Human Services issued in August allowing federal child care funds to be used during the hours that students would normally be in school. But it adds that "virtual instruction is an inadequate substitute for in-person learning opportunities and this aid is insufficient to meet current needs."
Keri Rodrigues, president of the National Parents Union, said she took exception to "deficit mindset perspective" of the order, but said the organization's polling shows that more parents, especially parents of color "would love to participate in learning pods and other innovative educational approaches if funding and resources were available to them."
"The key," she added, "will be ensuring the equitable distribution of this funding to typically underserved and underresourced children who need it the most."
Get stories like these delivered straight to your inbox. Sign up for The 74 Newsletter