This Week in Education Politics: Federal Funding, Simplifying College Financial Aid, 21st Century Ed Reform & More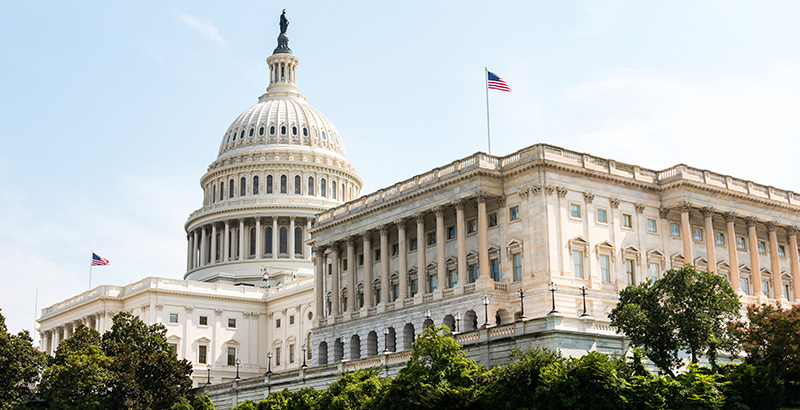 THIS WEEK IN EDUCATION POLITICS publishes most Sundays. (See previous editions here) You can get the preview delivered straight to your inbox by signing up for The 74 Newsletter; for rolling updates on federal education policy, follow Carolyn Phenicie on Twitter @cphenicie.
It's a short week in Washington, but a busy one. Again, if you have tips or suggestions, please forward them to carolyn@the74million.org.
INBOX: ALL ABOUT THE MONEY — Current government spending runs out Friday, though House leaders said late last week there's likely to be another short-term extension.
Education programs took major cuts this year, both in the Trump administration's 2018 budget proposal and a House bill that passed that chamber in the fall. Congressional leaders are in discussions to raise overall spending levels, which could provide breathing room to boost some education programs.
When (or if) lawmakers can come together to write a new bill funding the government for the rest of the year (an omnibus, in D.C.-speak), keep an eye on the following:
Title II funding — The Trump administration proposed eliminating the program, which pays for teacher training and class size reduction, and House Republicans ended it in their final Education Department funding measure. A Senate bill, however, continued funding for the program, and most education advocates have urged lawmakers to maintain it.
Charter School Program — Federal supports for charters have had bipartisan support, and an increase here is one of only three school choice initiatives the Trump administration requested that Congress was willing to fund. (Proposals to make Title I funds follow children as they transfer among public schools, which opponents say would undercut the program's goal of attacking pockets of concentrated poverty, or to start a $250 million voucher program, were met with skepticism on the Hill.)
Special education — Increasing the federal share of special education dollars has also long had bipartisan support, and members could be eyeing it for an increase in the wake of the Endrew Supreme Court decision that will require schools to meet a higher standard when educating children with special needs.
Tied up in the funding issue is debate over continuing protections for DACA recipients. At least two groups of lawmakers are working to come up with a deal that would both extend protections for young people brought to the U.S. illegally as children and increase border security.
TUESDAY: 21ST CENTURY ED REFORM — The American Enterprise Institute, a conservative think tank, will hold an event on education reform under Presidents George W. Bush and Barack Obama. Four panels will discuss what lessons can be drawn from those years, including on issues of accountability and the role of the federal government. (In case you missed it, check out The 74's coverage of the 15th anniversary of the passage of No Child Left Behind.) Education Secretary Betsy DeVos will also make remarks, followed by a Q&A.
WEDNESDAY: SCHOOL DISCIPLINE — The Center for American Progress, a liberal think tank, will hold an event Wednesday morning on rethinking school discipline. The Obama administration worked to end the school-to-prison pipeline, with the idea that harsh discipline, particularly for boys of color, makes them more likely to end up in the criminal justice system.
In 2014, the Obama administration issued a "Dear Colleague" letter advising that discipline policies could constitute "unlawful discrimination" if they disproportionately affect students of one race, even if they don't explicitly mention race. Opponents have said it's overly burdensome and makes schools unsafe, and the Trump administration is considering scrapping it.
Sen. Chris Murphy, Democrat of Connecticut, will give remarks. A panel discussion, including Scott Pearson, executive director of the D.C. Public Charter School Board; Brittany Packnett, a VP at Teach for America; Bren Elliott, chief of equity for D.C. Public Schools; and Abigail Gray, a researcher at the University of Pennsylvania, will follow.
THURSDAY: SCHOOL CHOICE — Rep. Luke Messer, Republican of Indiana, and Sen. Tim Scott, Republican of South Carolina, will hold a rally on Capitol Hill for National School Choice Week. Several hundred students from D.C.-area schools of choice will also attend. National School Choice Week is next week, beginning January 21, but House lawmakers will be on recess.
Last year's rally was held in the midst of Education Secretary Betsy DeVos's bitter confirmation battle; this year's event is sure to mention the new tax law and its expansion of 529 tax-advantaged savings plans to cover private K-12 tuition.
THURSDAY: HIGHER ED — A reauthorization of the Higher Education Act, already several years overdue, is at the top of lawmakers' agenda. The House Education and the Workforce Committee passed its version before the holidays.
The Senate HELP Committee on Thursday continues its series of higher ed hearings, this one on financial aid simplification and transparency. Members could discuss issues "one grant, one loan" proposals, which would cut down on the number of federal aid programs available. Some advocates have warned that doing so could ultimately harm low-income students.
Get stories like these delivered straight to your inbox. Sign up for The 74 Newsletter