DeVos Upstaged by NBA Star in Visit With Florida Shooting Survivors, Criticized After Cutting Press Conference Short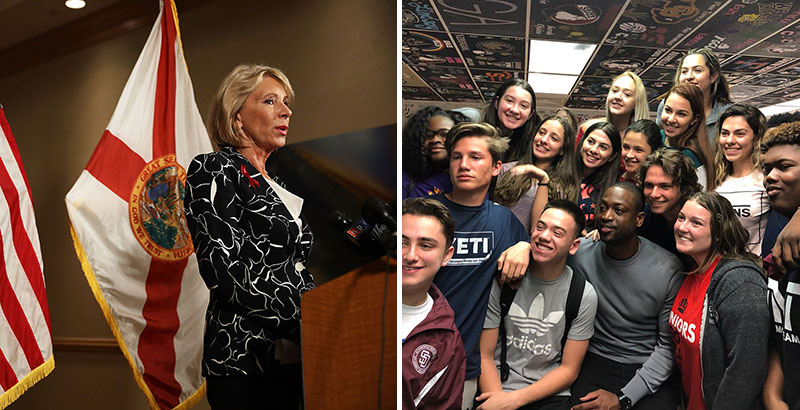 It isn't hard to believe a professional athlete is more popular with teenagers than a Cabinet secretary.
That unhappy comparison fell Wednesday to Education Secretary Betsy DeVos, whose visit to Marjory Stoneman Douglas High School was marked by criticism from students, an aborted press conference, and a stark comparison to the star power and warm reception enjoyed by NBA player Dwyane Wade, who visited shortly afterward.
DeVos and Wade visited the Parkland, Florida, school as full-day classes resumed for the first time since 17 people were killed on February 14 and the same day a Florida grand jury indicted former student Nikolas Cruz for the massacre.
Wade, who has played for the Miami Heat all but two seasons in his 15-year career, dedicated the rest of the season to Joaquin Oliver, one of the shooting victims, who was buried in a Wade jersey. He has praised the Parkland students' advocacy, particularly their joining forces with teenagers in Chicago who are affected by grinding day-to-day gun violence.
One student on Twitter said Wade's visit was the "greatest moment of my life," and a teacher called it "a real bright spot for our kids," the Orlando Sun-Sentinel reported.
DeVos, on the other hand, was distinctly less well received, particularly among Parkland students who have become vocal advocates for increased gun control.
Some students panned the visit when it was announced last night. One student said on Twitter Wednesday that DeVos "came to my school, talked to three people, and pet a dog." (DeVos in a press conference mentioned therapy dogs at school to help grieving students.)
The school visit itself was closed to the press "out of respect for the students and faculty who are returning to their first full day back in the classroom," the Education Department said Tuesday evening.
Some students also said DeVos wouldn't take questions from student journalists.
The Education Department released its own description of the visit Wednesday afternoon, saying the secretary met with teachers, students, and administrators; talked with guidance counselors; and laid a wreath on the fence outside the building. She also visited a "personalization course" to talk with students and teachers working on individual projects.
A school newspaper reporter, broadcasting student, and yearbook photographer "accompanied the secretary throughout the visit," the department said.
"The program for the visit was developed in conjunction with the requests and recommendations of [the school's principal] to provide minimal disruption on students' first full day back in the school," officials added.
DeVos held a very brief press conference after the closed school visit, but even that was not without incident.
She said there has been "an oversimplification and a mischaracterization" around the issue of arming teachers on campus, which she has backed in the past. Adults carrying weapons should be held to high standards and trainings, and armed educators shouldn't be required of all communities. Video below:
The issue didn't come up in conversations with students, DeVos told reporters.
DeVos offered few details on what gun control or school safety measures she would support, and she walked out on a question about specifics, saying there would be "more on that in the future."
Get stories like these delivered straight to your inbox. Sign up for The 74 Newsletter