Thousands of Puerto Rico Students Fled to Florida Schools. Now, District Wants Waivers So They Can Graduate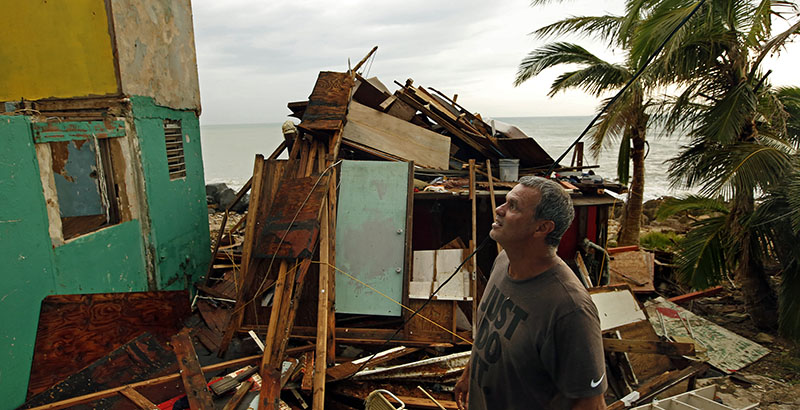 Since hurricanes devastated Puerto Rico and the U.S. Virgin Islands last fall, more than 8,500 of their students have flocked to public schools in Florida, aided in part by state waivers that eased their enrollment process amid the crisis.
With these students now integrated into classrooms, however, Florida school district leaders are calling on state officials to lower roadblocks to the graduation stage.
Alberto Carvalho, the superintendent at Miami-Dade County Public Schools, is urging state Education Department officials to waive testing requirements for displaced students who landed in Florida schools late in their high school careers. Without state accountability waivers, he said, dozens of students displaced by the storm could be held back, even though they were on track to graduate before they fled their island homes.
"It seems just fair to work with the state in terms of extending some protections, number one, for speedy, swift registration," Carvalho said. "But then also — particularly for senior high school students who are expecting to graduate this year or next year — to not necessarily put before them barriers for graduation requirements specific to the state of Florida that could hold them back."
Specifically, Carvalho and other district leaders are requesting that the state allow some displaced students to skip the Florida Standards Assessment, a state test administered to students in 10th grade that's required for graduation. Requiring students in 11th and 12th grade to take the exam if they've met all other graduation requirements, "particularly in English if they are English-language-limited," he said, "would not be a fair condition for them." Puerto Rican schools operate in Spanish, whereas Florida's state tests are administered solely in English.
"That's why I'm fighting for these kids," he said. "I think that if they were demonstrating on-grade proficiency in Puerto Rico, if they were on track in terms of credits necessary for graduation, if they have met the prerequisites for graduation, then I think a degree of compassion ought to be extended to them and provide them safe passage to the graduation stage."
Hurricane Maria hit Puerto Rico on Sept. 20 and closed all 1,113 public schools on the island. After months of roadblocks, Puerto Rico Education Secretary Julia Keleher told Education Week earlier this week that 1,075 schools have now reopened, while 38 campuses have been shuttered permanently because of storm damage. Meanwhile, the island's "fluid" student enrollment, Keleher said, stands at 331,000, compared with 350,000 before Maria hit.
So far, more than 7,750 students from Puerto Rico and more than 750 from the Virgin Islands have enrolled in Florida public schools, according to the state's most recent tally Nov. 28. Orange County Public Schools in Orlando has seen the largest share, enrolling more than 2,200 kids from the two territories, followed by the School District of Osceola County in Kissimmee, which has enrolled more than 1,200 students. In Miami, nearly 800 students from Puerto Rico and the Virgin Islands have landed in Carvalho's classrooms, according to the latest state tally.
Carvalho said new students continue to arrive each week in his district. And although Miami-Dade is used to embracing students displaced for environmental, political, or economic reasons, he said their long-term challenges — both emotionally and academically — remain unclear. In order to embrace the influx, however, district leaders say they'll need more state and local money to best serve the new arrivals.
In October, Rep. Stephanie Murphy, a Democrat who represents part of Orlando in Congress, sent a letter to members of the House Appropriations Committee seeking emergency funds for districts that enroll students displaced by hurricanes. On Nov. 17, the White House Office of Management and Budget's supplemental disaster funding request to Congress included $1.235 billion for affected districts. In another letter to appropriators dated Dec. 1, Murphy said even more will be needed.
"Although we believe the $1.235 billion request is a good start, we write to respectfully request that this figure be reasonably increased and that the appropriations language be crafted so as to ensure that a substantial percentage of the funding will be swiftly allocated to school districts and post-secondary institutions that enroll displaced students," Murphy wrote in the letter, which was co-signed by Republican Rep. Carlos Curbelo. "These school districts and institutions of higher education could not have anticipated — and therefore could not have planned and budgeted for — a contingency of this magnitude."
A Florida Department of Education spokeswoman didn't answer emailed questions about plans to assist the new students, but she pointed to several letters Education Commissioner Pam Stewart has sent in recent months to district leaders and to Keleher.
Among them is a Nov. 17 letter to Keleher, in which Stewart said displaced students could pursue a Florida diploma, but they'd be required to meet the state's graduation requirements. Additionally, Stewart noted in the letter, displaced students from Puerto Rico could enroll in Florida schools and, after completing the island's high school curriculum, receive their Puerto Rico diploma so students can graduate on time "rather than risk potential delays inherent in attempting to complete the different curriculum necessary to obtain a Florida diploma."
Carvalho called that collaboration unprecedented but noted advantages specific to the Florida diploma, primarily access to in-state college tuition. "There are some additional dimensions beyond life in high school that we are trying to proactively anticipate, to be fair and land these kids on an equal playing field as those who have been in Florida from the very beginning."
Additionally, a spokeswoman for Orange County schools said that letter raised red flags, with that district's concerns focusing primarily on students who attended private schools in Puerto Rico. The letter, she said, appears to apply only to students who previously attended public schools on the island. The graduation pathway for displaced students who arrived from places beyond Puerto Rico, including Texas and the Virgin Islands, is also unclear, she said.
Get stories like these delivered straight to your inbox. Sign up for The 74 Newsletter