NYC Schools Chancellor Carmen Fariña to Step Down in 2018, Leaving Behind Robust Pre-K Program but Struggling Renewal Schools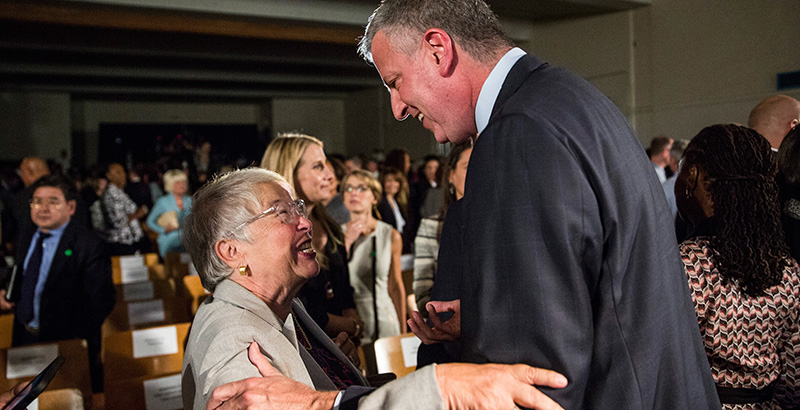 Updated Dec. 21
New York City Schools Chancellor Carmen Fariña confirmed her retirement today at a noon press event at City Hall where Mayor Bill de Blasio said she "will go down in history, not only as one of the longest-serving chancellors in New York City, but as one of the most effective we've ever had."
Fariña, who came out of retirement in 2013 at de Blasio's urging to take over the nation's largest school system, said, "I never joined this job to be loved or win a popularity contest. I came to be respected." Citing familiar themes to her leadership philosophy, she said she was "most proud of bringing dignity to teaching, joy to learning, and trust to the system."
De Blasio, who was joined by his wife, First Lady Chirlane McCray, in wishing the outgoing chancellor well, called Fariña's departure "bittersweet"; he is expected to launch a national search for her replacement as he begins his second term.
Michael Mulgrew, president of the powerful United Federation of Teachers, released a brief statement Thursday saying, "Carmen has a lot to be proud of during her tenure. Her decades of experience in the system gave her a deep understanding of how our schools work. She managed the historic introduction of universal pre-K and oversaw significant gains in student achievement from test scores to high school graduation rates. We wish her well."
New York City Schools Chancellor Carmen Fariña is stepping down after four years of running the nation's largest public school system, according to multiple news reports. The story first broke on Politico.
She is set to announce Thursday morning that she will retire early next year. The New York Times printed excerpts from a letter Fariña is planning to release in announcing her retirement: "Four years ago, Mayor de Blasio asked me to unretire at age 70 to join his leadership team and become schools chancellor," the Times reported. It continued, noting that she "took the job with a firm belief in excellence for every student, in the dignity and joyfulness of the teaching profession, and in the importance of trusting relationships where collaboration is the driving force," and that she plans to "retire (again) in the coming months."
Fariña had no comment about the reports following a Wednesday night meeting of the Panel for Educational Policy, Chalkbeat reported. Mayor Bill de Blasio also declined to comment.
The 74 reported exclusively Wednesday night that the mayor is not considering Fariña's list of internal candidates to serve as her successor.
Fariña, a former teacher, principal, superintendent, and deputy chancellor, was persuaded by the incoming mayor to take the chancellor's seat in 2013. During her tenure, she oversaw two of de Blasio's signature education initiatives: a broad expansion of universal 4-year-old pre-K that is now extending yet further, to serve 3-year-olds; and the Renewal Schools program, a troubled-turnaround program that has become the target of widespread criticism. (Just two days ago, she announced that nearly a dozen additional schools in the program were slated for closure.)
The Renewal program, which has cost taxpayers $582 million, provides failing schools with extra supports and social services to try to turn them around. Its creation marked a dramatic shift away from the policies of de Blasio's predecessor, Michael Bloomberg, who shuttered failing schools and replaced them with new, better options rather than try to keep them afloat.
As of press time, only an initial few reactions to Fariña's resignation from prominent education advocates and advocacy groups had rolled in.
"Chancellor Carmen Fariña has dedicated her career to public service, and no one can question that she has fought tirelessly for what she believes in," said StudentsFirstNY Executive Director Jenny Sedlis. "However, after four years of Mayor Bill de Blasio's control of public schools, far too many low-income students remain trapped in struggling schools. We hope that the next chancellor will push the mayor to embrace evidence-based policies and parental choice."
Evan Stone, co-CEO and co-founder of Educators for Excellence, said, "Chancellor Fariña has always placed students at the center of our city's education policy through her leadership at the classroom, school, and district levels. … As Mayor de Blasio begins his search for a new chancellor, it is critical that he engage students, teachers, and school communities in order to ensure that we find a dynamic leader who will continue to fight for equity by supporting and rewarding great teachers, improving school climate and culture, and ensuring all students have access to great schools."
During her tenure, Fariña saw test scores and graduation rates rise, re-engineered support networks for principals, and was credited with helping to improve conditions for teachers. But she was also criticized for moving too slowly to address segregation within the school system and for reviving the forced hiring of teachers from the city's Absent Teacher Reserve pool.
As The New York Times observed Wednesday, Fariña's approach was a notable departure from that of her predecessor. "Where the Bloomberg administration was known for its love of data, Ms. Fariña, a career educator who was a teacher, principal, superintendent, and deputy chancellor during her 50-year career, preferred to depend on her intuition, or that of her deputies. Early in her tenure, she walked into a meeting where officials were poring over spreadsheets looking for model schools and said, 'I know a good-quality school when I'm in the building.' "
Now, speculation turns to who will replace Fariña as head of the 1.1 million–student school system. A nationwide search is already underway, according to Politico.
—Mark Keierleber contributed reporting for this story.
Disclosure: The 74 is partially funded by Bloomberg Philanthropies, and Howard Wolfson, head of Bloomberg Philanthropies' education programs, serves on The 74's Board of Directors. Co-founder & CEO Romy Drucker previously worked at the New York City Department of Education.
Get stories like these delivered straight to your inbox. Sign up for The 74 Newsletter