Take Two: Julia Keleher, Former Puerto Rico Education Secretary, Indicted in Second Round of Corruption Charges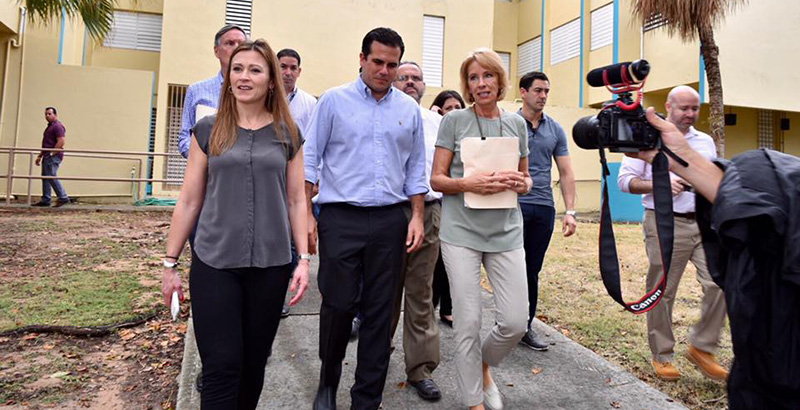 Julia Keleher, Puerto Rico's former education secretary, has been indicted on federal charges alleging that she offered up public school land in exchange for help buying a luxury apartment, officials announced Wednesday. It's the second time in six months that federal law enforcement officials have accused Keleher of public corruption.
Keleher, who became Puerto Rico's top public schools official with goals of reforming the island's lackluster education system, faces as many as 30 years in prison in connection with the alleged bribery and fraud scheme, according to the federal indictment.
Keleher is accused of giving 1,034 square feet of space at the public school Padre Rufo to a real estate company that owns the ritzy Ciudadela apartment complex, located a block away in San Juan. In return, Keleher was allowed to rent an apartment in Ciudadela from June to December 2018 for just $1, though an agreement valued the monthly rent at $1,500, the indictment said. Under the alleged scheme, Keleher ultimately bought a two-bedroom at Ciudadela for $295,000 and received a $12,000 incentive bonus. Also indicted was Ariel Gutiérrez-Rodríguez, a consultant who federal officials say helped facilitate the lease agreement with Keleher.
New charges against Keleher include bribery, wire fraud and conspiracy to commit honest services fraud. Keleher faces up to 10 years in prison for conspiracy and federal program bribery and 20 years for wire fraud.
"Public corruption continues to erode the trust between government officials and our citizens," W. Stephen Muldrow, U.S. attorney for the district of Puerto Rico, said in a media release. "Government officials are entrusted with performing their duties honestly and ethically. When they fail to do so, they will be held to account."
Neither Keleher nor her attorney responded to telephone calls requesting comment on the new charges.
Keleher was Puerto Rico's education secretary from January 2017 until her resignation last April. Less than a year into the job, Puerto Rico's schools were devastated by Hurricane Maria, a tragedy Keleher seized upon to close hundreds of schools and usher in new education reforms, including charter schools and private school vouchers. As secretary, Keleher received an unusually high salary of $250,000 a year. Prior to the indictments, Keleher consistently portrayed herself as a crusader against widespread corruption within Puerto Rico's education department.
Coincidentally, the latest federal charges against Keleher come amid a new crisis: Puerto Rico's public schools are currently closed after a series of earthquakes shook the island.
In July 2019, Keleher was indicted on federal allegations that she participated in a conspiracy to steer more than $15 million in government contracts to unqualified, politically connected businesses. Five others were also indicted in that alleged corruption, including the former director of the island's health insurance administration and an executive at a major accounting firm that worked on some of Keleher's more ambitious reform efforts.
The previous charges were announced shortly before Keleher's former boss, former governor Ricardo Rosselló, resigned amid his own public scandal. Unlike the new charges, Keleher's previous indictment didn't accuse her of benefiting personally.
Court documents filed by Keleher's attorneys in that case depict her as a uniquely polarizing figure. In a motion last month, Keleher asked a judge to move her trial to a courtroom off the island. Widespread media coverage and public awareness of her indictment, Keleher argued, prevents her from receiving an impartial jury. "The volume of negative publicity coupled with the charged political atmosphere has created considerable widespread bias against" Keleher, the motion said.
In a separate filing, Keleher asked the judge to lift a gag order that barred Keleher, her attorneys and others from discussing the case with reporters.
After living in an upscale Washington, D.C., neighborhood following her resignation in Puerto Rico, court documents from August indicate, she moved in with her parents in Pennsylvania. Last month, communications specialist Andy Plattner sent out an email requesting that people chip in to pay for Keleher's defense.
"She's had to sell her home, move in with her parents and work in a retail store while her lawyers prepare her case for trial," Plattner wrote in the email. "She's put the proceeds from her home, her life savings and her retirement account into her legal fees and that will not be near enough."
Get stories like these delivered straight to your inbox. Sign up for The 74 Newsletter